Amazing Creamy Carrot and Sweet Potato Soup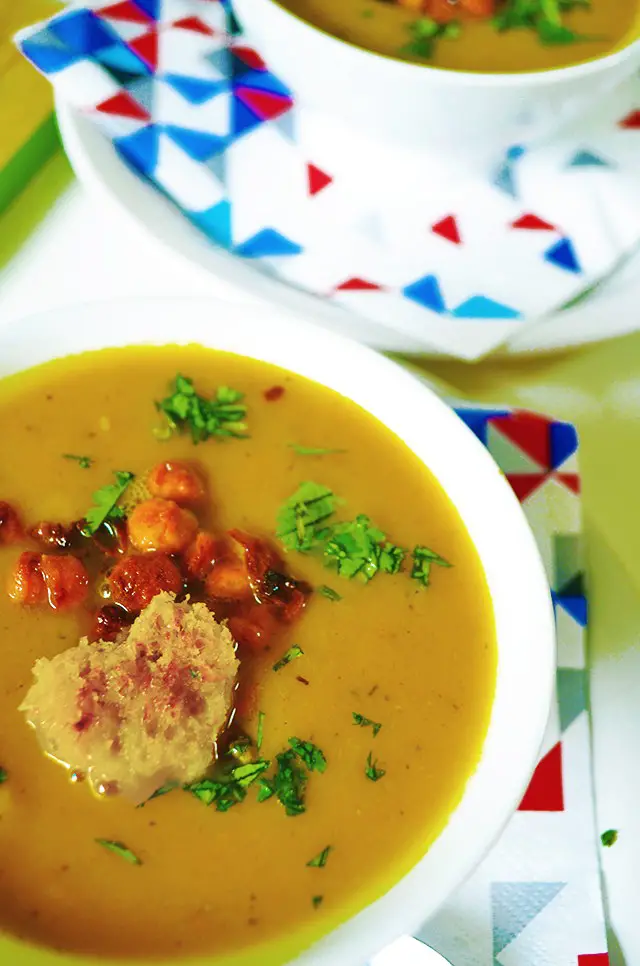 My Amazing Creamy Carrot and Sweet Potato Soup is spring soup at its finest. Spring is such a great soup season, don't you think? I usually think of fall weather as soup weather, but spring always surprises me with its finicky temps and delicious produce.
You may or may not have heard that Texas has been having some weather this week. Days before the storms the weathermen had been telling us to prepare for crazy flooding. I'm pretty high strung so it's not hard to stress me out, and weather is a big anxiety trigger for me. I know, I know. It's a waste of energy. I'm working on it.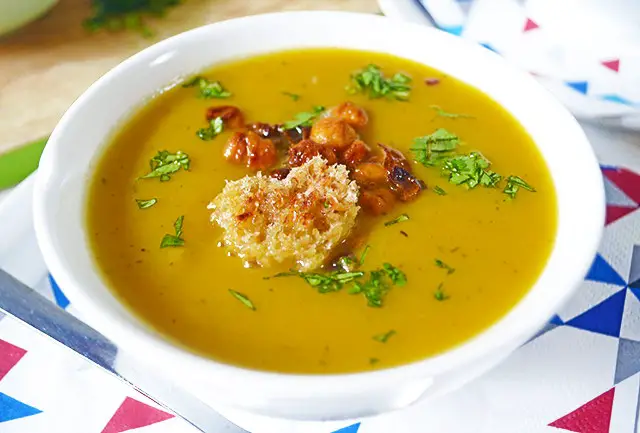 The bad weather was supposed to start here on Sunday so I expected to spend most of the day in a couch fort with my storm-phobic cat. However, my husband somehow convinced me to join him at a community event instead. Knowing the downpours were supposed to start during the time of the event, I packed an umbrella and hoped for best.
When the downpours started something unlikely happened: I was chill about it. I was sitting outside under an awning when the first wave of heavy rain hit. I had a beer in one hand and my phone tuned into the forecast in the other. As soon as I heard the rain start I looked up and saw a group of children running around barefoot in the courtyard. They were completely delighted to be in the rain. They ran circles around each other playing a sort of unorganized tag, their feet splashing dirty water in every direction with each uncaring stomp. There was no anxiety on their faces, just pure and uninterrupted exhilaration.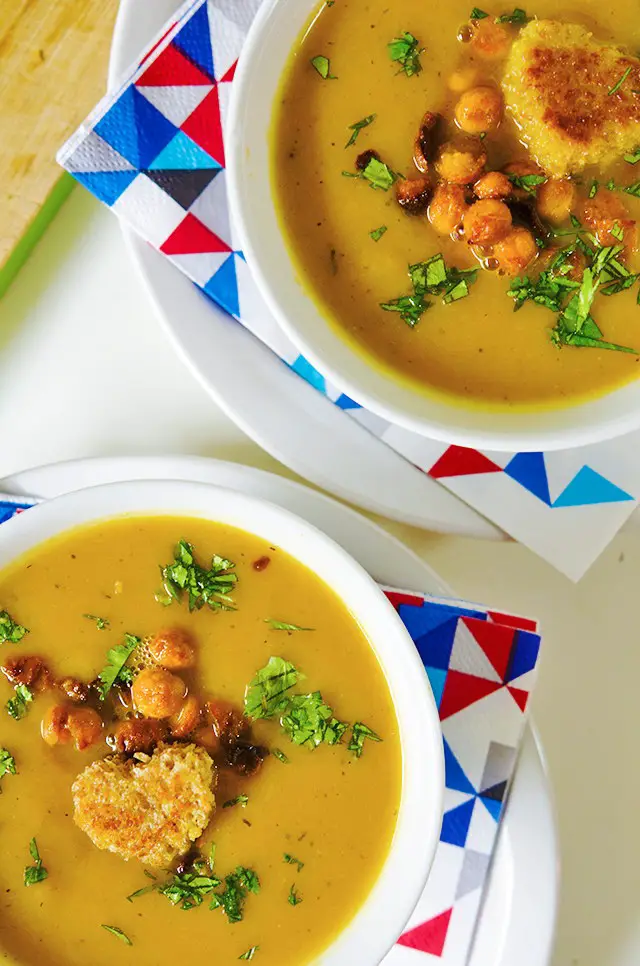 Watching those kids took me back in a real way. Over the years I've forgotten how much I used to enjoy jumping in puddles, slipping on wet grass, and just exhausting myself with stormy enjoyment. Growing up in Texas there were plenty of moments when the weather frightened me, but it also brought me joy. I need to remember those happy moments too.
This springy soup goes perfectly with the relaxation of a rainy day. It's so creamy and velvety in texture with a wonderful vegetal sweetness. The addition of leeks gives this simple dish a savory depth with very little work from the chef. They're ever-present in each spoonful without overpowering the other veggies.
I don't know about you, but we're getting in as much soup as we can before summer. We still eat soup in the summer, but it loses something when it's 98 degrees outside. This recipe will be made again and again until our CSA dictates that we must move on.
Mentioned in This Post and Recipe:
Amazing Carrot and Sweet Potato Soup
Ingredients:
1 tablespoon olive oil
2 medium sized leeks, thinly sliced
2 pounds carrots, peeled and thinly sliced
1 pound sweet potatoes, peeled and thinly sliced
6-7 cups vegetable broth
2 teaspoons dried thyme
1 teaspoon dried basil
1/2 teaspoon ground cumin
1/2 teaspoon smoked paprika
1 tablespoon apple cider vinegar
2 tablespoons chopped fresh cilantro or parsley (depending on your mood)
Directions:
1. Heat the olive oil in a large pot over medium heat. Add the leeks and cook them, stirring often, until they've softened – about ten minutes.
2. Add the carrots, sweet potatoes, 6 cups of the broth, thyme, basil, cumin, and smoked paprika to the pot. Bring the mixture to a boil, and turn the heat down to a simmer. Cover the pot, and simmer the soup for 30-45 minutes, or until the carrots and sweet potatoes are tender enough to pierce with a fork.
3. Remove the pot from the heat, and carefully use an immersion blender to puree your soup completely. It should be totally smooth and creamy. Once it's pureed assess whether or not it's too thick for your liking. If it is, feel free to add the last cup of broth to the soup.
4. Stir in the apple cider vinegar and add salt to taste. Serve your soup warm and sprinkled with cilantro or parsley.
Shared to: