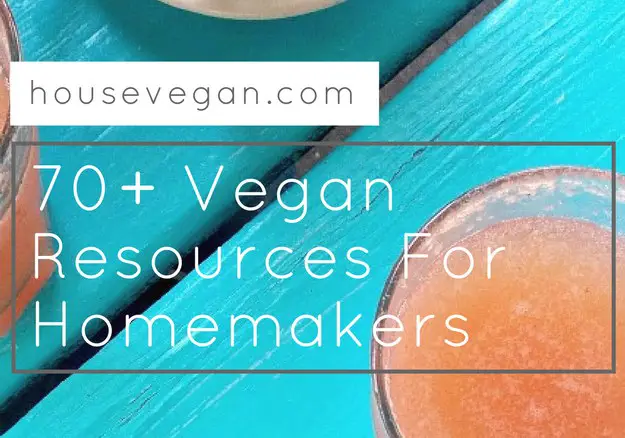 Obviously this list isn't only for homemakers, but as a vegan homemaker myself I can say that these products, books, and websites are musts for my home.
If you have questions regarding any of these resources or recommendations, please feel free to get in touch!
These are items that I use often, but are not always easily found in standard grocery stores.
For a more in depth look at my recommended kitchen staples, please read my article "Veganinzing Your Fridge and Pantry"
Bee Free Honee – Honey was one of the last things I stopped eating when going vegan because I just loved the flavor so much. To me, finding Bee Free Honee was like finding manna from heaven. On its own it tastes apple-y (it's made from apples), but in recipes it tastes very honey-esque. You could use agave in recipes like these Sweet Corn Honee Donuts or Coconut and Brandy Hot Toddy, but why not go for the best here?
Earth Balance Mac and Cheese – In my Vegan Bacon Mac and Cheese Empanadas I call for a "6 ounce box of vegan macaroni and cheese". This is the boxed mac and cheese that I recommend. There are many vegan mac and cheese options on the market now, but Earth Balance's is by far my favorite. It's creamy and salty, and has no weird aftertastes. We're big fans in this house!
PB2 – A lot of people like this powdered peanut butter because of its low fat and calorie content, but we just appreciate the convenience of powder. This is a great ingredient to add to smoothies, soups, and even hot chocolate (as seen in my Peanut Butter Hot Chocolate Mix in Fall FoMo No More)
Dandies Vegan Marshmallows – Dandies are one of my all time favorite vegan food items. They're fluffy and delicious and contain zero animal ingredients. You'll need these for better Cinnamon Hot Chocolate, S'more Cups, and vegan Rice Crispy Treats.
Kitchen Equipment That I Use
Stand Mixer: KitchenAid – I use my beloved KitchenAid to mix cookie dough, whip up coconut whipped cream, play with aquafaba, and knead bread. In a well-used kitchen it makes food prep so much easier!
Coffee/Nut Grinder: Hamilton Beach 80365 Custom Grind Hands-Free Coffee Grinder – True story, our old coffee grinder died while I was trying to grind beans for my morning coffee. My husband saved the day by immediately going to a coffee shop to get me some coffee, and ordering this (much better) grinder on Amazon Prime Now. I use this grinder for everything from coffee to spices to nuts. It works perfectly, it's easy to clean, and the custom grind never ceases to blow my mind.
Cast Iron Skillet: Lodge – I'm so used to my cast iron skillets that I've almost forgotten how to cook on anything else. They're not as fussy as numerous articles would have you believe, and they make cooking just so much easier. You can use them on the stove or in the oven, and a well-seasoned cast iron will get your food perfectly brown with no sticking. Our kitchen will forever be a cast iron kitchen.
Spiralizer: Veggetti Pro Table-Top – We got this for Christmas last year, and have loved using it this summer. You'd think that something like zucchini noodles and pesto is going to be whatever, but it's so so good. While it seems like a weird tool to have, it's pretty invaluable when you want a good zoodle.
Ceramic Pour Over Coffee Filter – I've been drinking coffee for almost 20 years, and in that time my kitchen has seen machine drip, instant, espresso, french press, and ceramic pour over coffee. Ceramic pour over is hands-down my favorite. I'm the only coffee drinker in our house, so being able to make just what I need at a time is really convenient. Plus it takes up minimal space in our kitchen, and allows me to make a fresh cup without waste whenever the mood strikes. Here's a tutorial on how to use one: How to Make Coffee Using A Ceramic Filter
Books


But I Could Never Go Vegan – A great modern cookbook that answers any concern someone would have about vegan food with delicious recipes.
Veganomicon – A classic written by vegan chef legends, Isa Chandra Moskowitz and Terry Hope Romero. Many refer to it as a vegan recipe bible.
The Homemade Vegan Pantry – My husband and I are obsessed with this book. We genuinely use it to stock our own kitchen with items like Unchicken, Unsteak, homemade vegetable bouillon, homemade mac and cheese powder, homemade soy milk, homemade granola, and even homemade mustard. We've only had this book for a few months, but rely on it heavily to feed our little family quality and inexpensive vegan staples.
The Asian Vegan Kitchen – This was one of my first favorite vegan cookbooks, and remains beloved to this day. It includes recipes from India, Japan, China, Korea, Burma, Thailand, and more. If you love Asian food this book is a must.
Lay The Table: Fall FoMo No More – Ok yes I wrote it so I may be biased, but I really love my book. I refer to it to help my fall planning, and the recipes included are some of my favorites. Obviously, that's why I shared them! If Quinoasage and Potato Tofu Scramble, Weekend Seitan Chili, Gravy-Smothered Stuffed Seitan Sausages, and Chocolate Hazelnut Dessert Rolls sound good to you then give it a look. You can read the first chapter here for free!
Vegan Food Gifts – This book contains really great recipes for vegan food gifts, but we actually use it to make staples for our own home. It's nice to be able to reach into our pantry for a jar of Cheesy Potato Soup mix for a quick meal on busy nights.
Apartment Therapy: The Eight-Step Home Cure – While the Mrs. Meyer's book taught me how to clean, this book taught my husband and me how to live like grown ups. It instructed us on how to think of where we live as "home" even though we're renters. If you don't love where you live, I promise this book will teach you how to change that.

Self Care
Lush – If you follow me on Instagram you probably already know about my love for Lush. This company is mostly vegan, and dedicates its efforts to minimizing its environmental impact, and advocating for others to do the same. I would have to say that at least 90% of our personal care items are purchased at Lush. We love their bar soaps, shower creams and gels, shampoo bars, conditioner bars, and shower jellies a whole bunch. And while I use their Full of Grace Moisturizing Serum on my face everyday, my husband similarly enjoys their Kalamazoo Beard and Facial Wash.
mykind Organics Supplements – This is the brand that my husband and I use for vegan B12 and Vitamin D3 supplements. I'm a baby with pills so I really appreciate the fact that these are sprays. And they taste really good! 
Vega Plant Based Nutrition – Vega just makes the best tasting vegan protein powder, y'all. They're also nutrient dense, and made without dairy or soy ingredients, artificial flavors, colors or sweeteners. We love their All-In-One Nutritional Shake as well as their Performance Protein powders.
Vegan Food and News Resources
One Green Planet – Recipes and vegan news