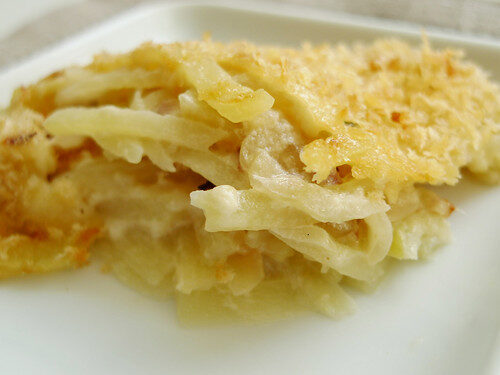 The text on the jacket of  gorgeous cookery book Snowflakes and Schnapps by Sydney chef turned publisher Jane Lawson describes it as 'a culinary journey though the magnificent cold-climate cuisines of the snow-cloaked regions of Northern, Central and Eastern Europe…from the seaside towns of Scandinavia, to the Alpine villages of Austria, from the ski fields of France, to the fairytale castles of Germany, and as far afield as the white-blanketed cities of Russia and beyond'. It sounded perfect to me, particularly as I love books that are culinary journeys.

Once I opened it though, I realised it wasn't really what I was expecting. I like to learn about the origins of recipes, but the book doesn't provide any background information to the featured dishes. The two page introduction describes the author's German heritage and the time spent over the last few years collecting recipes in 'Germany, Austria, Hungary, Russia, the Baltic countries of Lithuania, Latvia and Estonia, the Czech Republic, Sweden, Denmark, Finland, France, Switzerland and Italy'. She then admits that her recipes are 'hybrid versions' and that 'purists would never appreciate such meddling, preferring to stay true to a traditional or national version of a dish'.

The rest of the book  consists of numerous recipes, which look and sound incredibly delicious, but my eyes glazed over from reading the lengthy ones, some running to two pages of instructions. I can certainly imagine these as wonderfully exciting dishes in restaurants in mainland 'Europe' (countries not specified!), but I would never have the time nor inclination to recreate these at home.

The recipes, perfect for cold winters, are heavily skewed towards meat, with just a few fish dishes, but hardly caters for vegetarians (savoury buckwheat kasha with dilled mushrooms is one notable dish). Examples of  meat dishes include crisp roast pork hock with spiced red cabbage and apple horseradish; meatballs with vodka dill cream sauce, poached veal with beetroot spaetzle & herbed cream; liquorice lamb with roasted fennel & carrots, havarti cream and sweet carrot jus; caraway roast pork rack, pear sauce and mustard onion mash.

The food styling and photography are truly stunning and the book as a whole would make a desirable present for a keen home cook who just wants to create gorgeous 'European' dishes without needing to know their origins. For me, however, it's not the type of book I like to read.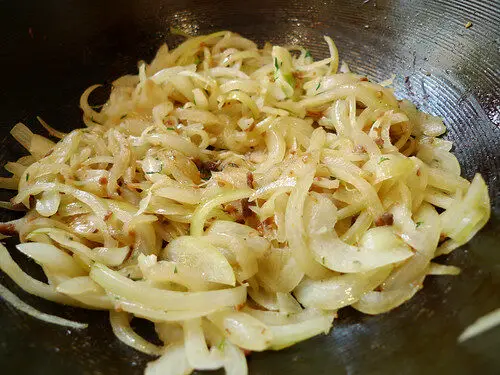 However, as always, I chose to make something from the book and found a dish that I've always wanted to make, Janssen's Temptation – a Swedish classic (that much I know).

Janssen's Temptation –


Ingredients: (serves 6 as a side dish)


4 large all-purpose potatoes, such as Desiree
2 brown onions, finely sliced
8 anchovy fillets, very finely chopped
½ tsp finely chopped thyme leaves
large pinch of white pepper
250 ml / 9 fl oz / 1 cup pouring (whipping) cream
125 ml / 4 fl oz / ½ cup full-cream (whole) milk
20 g / ¾ oz / ¼ cup fresh white breadcrumbs (I used up the rest of my panko breadcrumbs instead, as I didn't have any fresh bread to make crumbs with)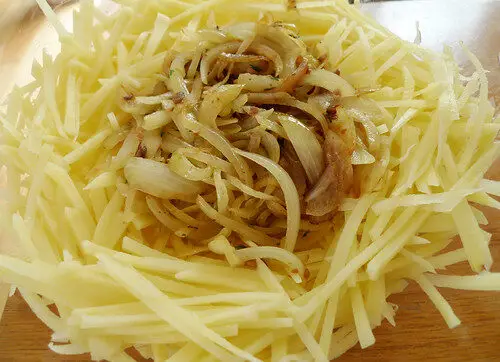 What to do next:


Preheat oven to 200°C / 400°F / Gas mark 6. Thinly slice the potatoes using a mandolin or a very sharp knife, then cut into matchsticks. Put in a bowl and cover with water until ready to use.

Melt the butter in a frying pan over medium heat, add the onions and sauté for 10 minutes, or until softened but not coloured. Add the anchovies, thyme and white pepper and mix well (then set aside). Drain the potatoes, shaking off any excess water.

Place them in a large bowl and add the onion and anchovy mixture. Season well. Combine gently so you don't break up the matchsticks.

Tip into a 30 x 25 cm (12 x 10 inch) greased baking dish. Spread out evenly.

Pour cream and milk in a saucepan and bring to a simmer over medium heat. When warm, pour over the potato mixture and press it all down so that the top is as level as possible.

Sprinkle the breadcrumbs evenly over the top and cook in the oven for about 1 hour, or until the potato is tender. If the crumbs start to brown too much, cover with foil (as you can see, it did start to burn, and the crumbs didn't brown as much or as evenly as I had expected).

Lawson serves slow-cooked lamb shanks with Janssen's Temptation. We had ours as a main with garlicky Swiss Chard on the side. Janssen's Temptation was delicious, altjhough the taste of the anchovy was far more subtle than I expected.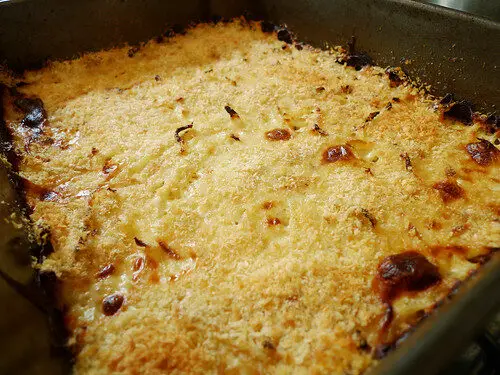 Thank you to Murdoch Books for sending me the review copy.

Other book reviews on Lay The Table.


@ Lay The Table