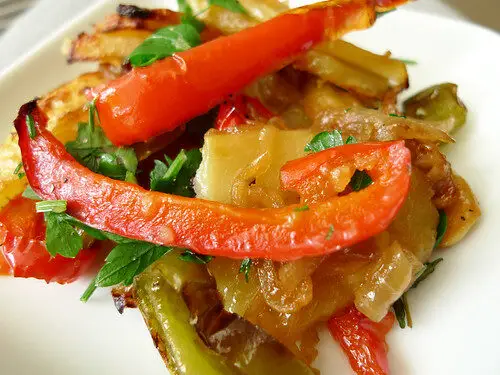 Quadrille Publishing sent me a review copy of Modern Spanish Cooking by Sam and Eddie Hart a long time ago, but I've only just recently had a chance to go through it. I only wish I'd read it a lot sooner, as Post-it notes now mark most of the recipes that I'd like to try. There's a reason for this. The Hart brothers own one of my favourite restaurants in London, tapas bar Barrafina, as well as their original restaurant Fino, which has been sitting on my restaurant wishlist for ages. Some of the modern Spanish dishes featured in this book can be found on the Fino menu.

I love simple dishes prepared using good quality ingredients. Amongst the ones I hope to make in the near future are jamón croquetas, which I've had at Barrafina, potato and chorizo chips, arroz negro with pan-fried squid, tiger prawns with alioli, baby octopus salad and churros and chocolate. I also enjoyed reading the little sections dotted throughout the book on tapas culture, the Iberico pig, sherry, the Spanish seafood obsession, cooking a la plancha, Spanish fiestas, and olives and olive oil.

I always like to make something from a cookery book that I review, because I think it's the best way of seeing whether I like the style of recipe writing and instruction. The husband made pimientos de Padrón (the recipe is below, although he's made this before and so didn't follow the recipe), because he happened to see some Padrón peppers in our local supermarket. It was like playing Russian roulette eating these. Most are mild and sweet, but once in a while, you get one that's really hot, and there seems to be no way of telling which these are (I tried large ones, little ones, thin ones, fat ones)!

I chose to make patatas a lo pobre, literally 'poor man's potatoes', because it was one of the few recipes that didn't contain seafood or meat, and because I love potatoes. I also liked the fact that I hardly had to buy any ingredients to make the dish, as the bay leaves, thyme and flat-leaf parsley all came from our garden. We had these delicious dishes with a salad using ciccoria romanesco leaves from the garden and some fresh bread.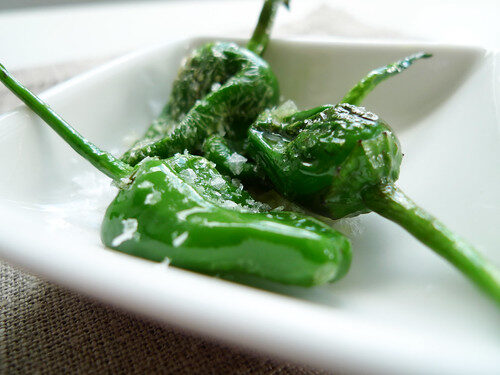 Pimientos de Padrón –

Ingredients: (serves 4-6)

2 tbsp good quality light olive oil
4 large pinches of sea salt
What to do next:

Wash peppers and pat dry. Place a large frying pan over a high heat, add olive oil and heat until smoking. Add the peppers, cover with a lid and cook for 4-5 minutes, turning occasionally, until blistered and slightly charred. Drain on kitchen paper, sprinkle generously with salt and serve.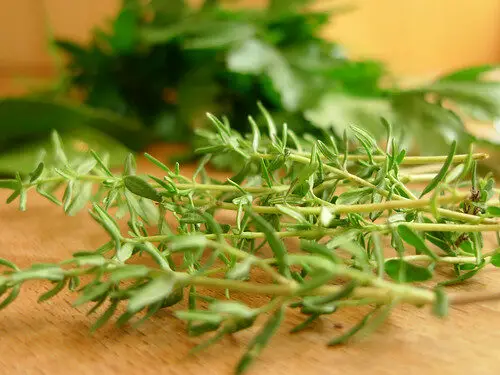 Patatas a lo pobre –

Ingredients: (serves 4 as a side dish)

3 onions, peeled and chopped
2 large red peppers, cored and deseeded
2 large green peppers, cored and deseeded
1kg Desirée or waxy potatoes
3 garlic cloves, peeled and sliced lengthways
1 large thyme sprig, plus extra leaves to garnish
sea salt & freshly ground pepper
2 tbsp chopped flat leaf parsley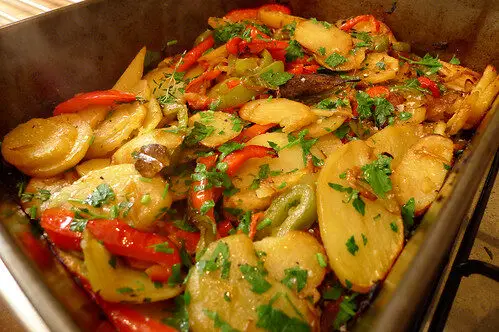 What to do next:

Cut peppers into 1cm strips. Peel potatoes and cut into 1cm thick slices.

Preheat oven to 180°C / Gas 4. Heat olive oil in large, ovenproof frying pan over medium heat. Add chopped onions and fry for 10-15 minutes, turning occasionally. Add garlic to onions and fry for 2 minutes.

Add pepper, bay leaves and thyme and fry for 6 minutes, stirring occasionally. Add potato slices, mix well and fry for a further 5 minutes.

Transfer frying pan to oven and cook for 10 minutes. Remove pan from oven, stir vegetables, return to oven and bake for a further 10 minutes. Season with salt and pepper to taste and scatter parsley and thyme over the caramelised vegetables. Serve straight away.

If you liked reading this, have a look at my other Book Reviews…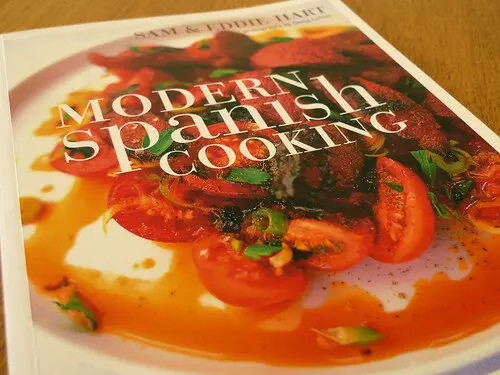 @ Lay The Table