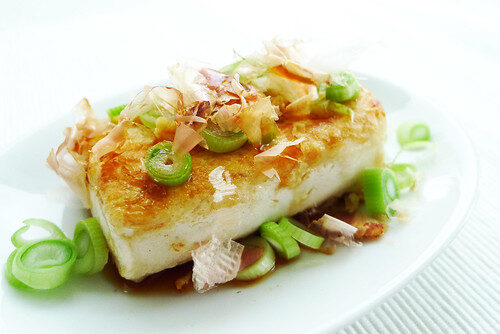 Everyday Harumi is Japanese housewife turned cookery writer Harumi Kurihara's latest book, produced in the UK and photographed by über-food photographer Jason Lowe. I bought an earlier book, Harumi's Japanese Home Cooking, a couple of months ago, and to be honest, wasn't overly impressed with it. No matter how many times I went through the book, I struggled to find anything that inspired me enough to want to make it. I finally settled on ginger pork or buta no shoga yaki, which is a favourite of mine and the recipe was easy to replicate. When Octopus Books asked me to review her current book, I was therefore a little reluctant. However, I wanted to see what the new book was like and hopefully change my mind about Harumi.

A Japanese friend in Tokyo told me that Harumi was incredibly popular 10 to 15 years ago, but it seems that people are turning to other cookery writers and TV presenters, as her 'homemaker' image doesn't appeal to many modern working women. However, she is still very famous outside Japan, probably because there aren't that many Japanese food writers published in English, and more importantly, she focuses on home-style cooking that is easy to replicate in the kitchen. If I have time, I'll do some more research on Harumi when I'm in Tokyo next week and visit one of her many cookware shops.

I have to admit, I enjoyed Everyday Harumi much more than I thought I would. 18 mini Post-It notes currently mark the recipes that I'm planning to try, including yakitori (on the winter barbecue!), tsukune with teriyaki sauce (tsukune is like a minced meat patty or hamburger), simmered sea bream, rice cooked with sea bream, tuna tataki salad and chawan mushi (steamed savoury custard). The explanations that accompany each recipe are more detailed and unlike the last book, here she finally acknowledges that a few of her dishes are Chinese in origin, adapted to suit Japanese tastes, such as the classic Sichuan mapo dofu. The section on store cupboard essentials is a clear and simple introduction to basic ingredients, cooking Japanese rice, making dashi stock and various basic sauces. This would be a good book for anyone wanting to make some simple Japanese dishes at home.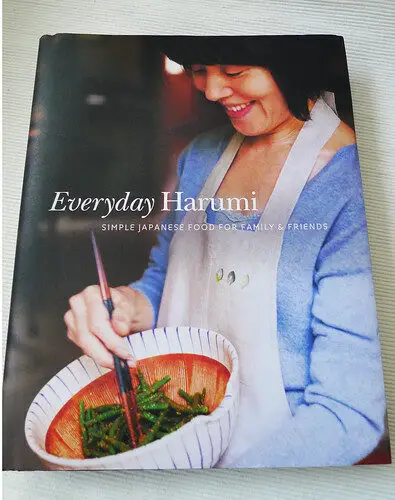 From all the recipes, I chose to make tofu steak. This is similar in some ways to agedashi tofu, but without the broth. The recipe was easy to follow and the result was a simple but delicous and healthy recipe that is sure to please friends and family. I'll have to test it on my Japanese stepmother-in-law next time…

Tofu Steak
(serves 4)

Ingredients:

4-5 tbsp potato starch or plain flour – for coating
3-4 tbsp sunflower or vegetable oil – for frying
2 tbsp grated or finely minced garlic
25g fresh grated ginger – to garnish
50g chopped spring onions – to garnish
katsuobushi (bonito fish flakes) – to garnish
banno soy sauce – to serve
Banno sauce:

10cm piece of kombu seaweed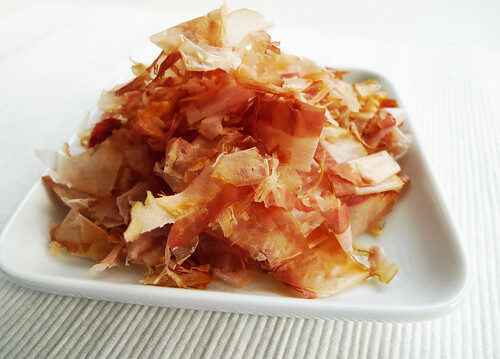 What to do next: (my comments in italics)

Banno sauce: in a small saucepan, bring mirin to the boil, reduce heat to low and cook for a further 2-3 minutes to burn off the alcohol. Remove from heat and add soy sauce and kombu. Leave to cool for a couple of hours, remove the kombu, then refrigerate. Harumi notes that this is milder and sweeter than regular soy sauce. This is enough to make a large batch, which can be kept in the fridge for up to 3 weeks. (As I only wanted to make enough for this dish, I reduced the quantities of each ingredient).

Drain the tofu (I have to emphasise that this part is really important, otherwise the tofu will not fry properly. So use plenty of kitchen towel to soak up as much moisture as possible. I also used two blocks of the pre-packaged silken tofu that comes in small boxes (350g each)). Cut into four pieces (I cut mine into eight).

Season the tofu on both sides with salt and pepper, then spread with grated or minced garlic.

Peel and grate the ginger. Finely slice the spring onions.

Lightly coat the tofu pieces in the potato starch or plain flour.

Heat a little oil in a frying pan and when hot, add the tofu, cooking until it is crispy and browned.

Serve with ginger, spring onions and katsuobushi on top. Finish by dressing with banno soy sauce.

****************************

Everyday Harumi is published by Octopus Books and costs £20.00.