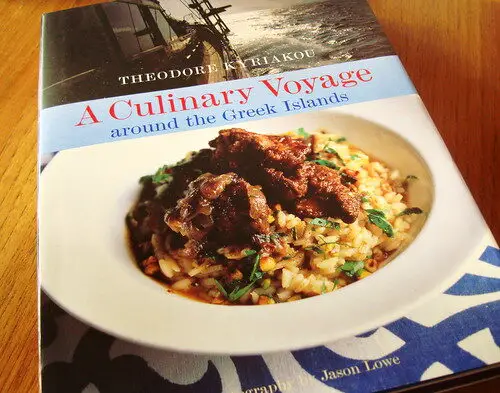 Theodore Kyriakou's A Culinary Voyage Around The Greek Islands is another of Quadrille Publishing's 'traveleating' books that I have chosen to review as part of my new Book Reviews series. I particularly love reading about people's food journeys and would have very much enjoyed the sailing trip around the Greek Islands undertaken by food writer and chef Kyriakou (who founded The Real Greek chain of restaurants) as a means of collecting together the mouthwatering recipes for this book. Leafing through the pages and gazing at the gorgeous photos by food photographer Jason Lowe, I can almost feel the sun and Aegean sea breeze on my face.

Interestingly, the recipes are organised into chapters representing the different times on a typical sailing day, so there are intriguing breakfast dishes under 'At The Mercy Of The First Breakfast' (trahana soup with manouri cheese, thyme honey and strawberries; bougatsa (warm savoury filo pie); omelette with honey and sesame seeds); and heartier dishes under 'Cooking While Heading Into A Thunderstorm' (revithosoupa (chickpea soup);elephant bean casserole with orange and fennel) and 'Dinner Time Under The Night Firmament' (pot-roasted eel; rabbit spread; slow-cooked veal cheeks). Towards the back of the book you will find a brief guide to the Greek Islands, a calendar of flowers, festivals, sounds and smells, and a useful glossary of Greek ingredients.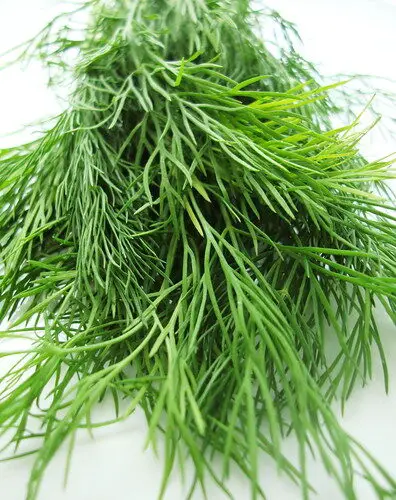 As always, I struggled to choose a dish to replicate, simply because there were so many I would have liked to have tried. Any of the seafood ones would have been perfect, as would the meat dishes. However, in the end I selected a most simple dish.

Koliosalata – smoked mackerel salad dip

Ingredients: (serves 6 plus)

60ml extra virgin olive oil
bunch of dill, finely chopped
150g strained Greek yoghurt (I used Greek-style yoghurt, but click here for more information on strained yoghurt)
salt & freshly ground black pepper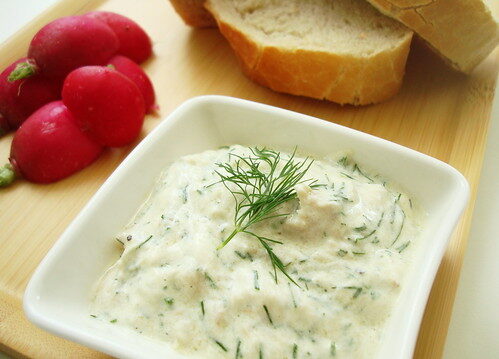 What to do next:

Clean the fish and remove bones and skin.

With a fork, mix the flesh with the oil, lemon juice, dill and yoghurt. Add a little salt (but not too much as the mackerel is already salted) and plenty of black pepper. Mix well in order to make a pulp with a smooth-coarse texture, similar to the texture of taramasalata.

Serve with good bread.

I'm so glad I chose to prepare this, because we were busy gardening and this eaten with chunky fresh bread was perfect on a hot sunny day! It was almost like being on one of the Greek Islands…

Thank you to Quadrille Publishing for sending the book for me to review. And do have a look at some of my other book reviews on Lay The Table.

@ Lay The Table