Black butter recipe. I was sent some Jersey Black Butter to make a recipe with. To be honest, when they first sent the email, I sent back "Yes I love Jersey butter, especially the one with salt crystals in."
– To which I was sent an explanatory reply of what exactly Jersey Black Butter is…that is to say Jersey Black Butter is "peeled and cored apples are cooked down with black treacle, liquorice, cider, brown sugar and spices. This is then cooked slowly over an open gas flame, stirring continuously for several hours."
I was a bit sceptical about the liquorice element, it's not really for me and even though I could smell it in the jar, when I made the buns it wasn't obvious at all. I scoured the internet for recipes, but nothing much came up apart from the ones on Jersey Black Butter's site. But I wanted to do something different and so I racked my brain. And I came to thinking about the cinnamon flavours in it and thought that I could substitute the cinnamon paste for the jersey black butter. I'd also been wanting to make cinnamon buns for ages and thought this was a great time to do it!
I'm really pleased how they turned out and of course, I had to add my own little changes too. I added a sprinkle of white chocolate chips instead of raisins or sultanas, and swapped out cream cheese frosting with a salted caramel drizzle and slivered almonds. The recipe seems to use a heck of a lot of yeast; the recipe called for fresh, but I substituted the dry equivalent (which is 50% of the weight) but it still had a very yeasty taste – not that I mind!
Jersey black butter recipe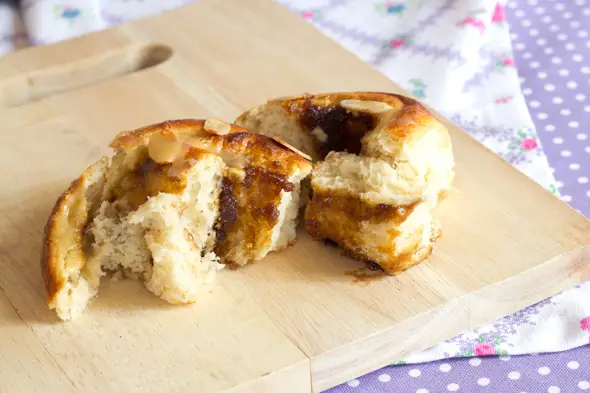 Ok, so now for the recipe…first we're going to make a dough and leave it to rise for an hour. Making it in a mixer is best – I did start by hand and ended up putting in the mixer which achieved the silky texture that was described.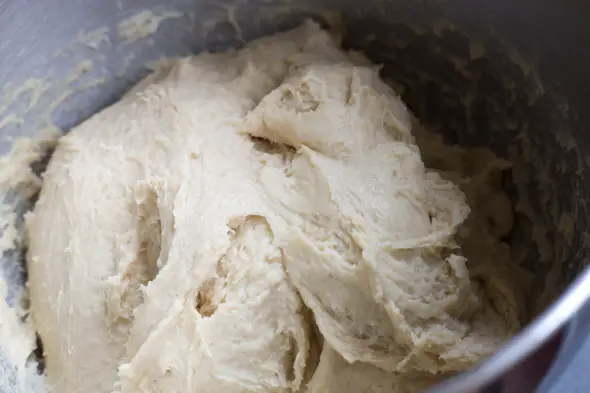 Roll out the dough…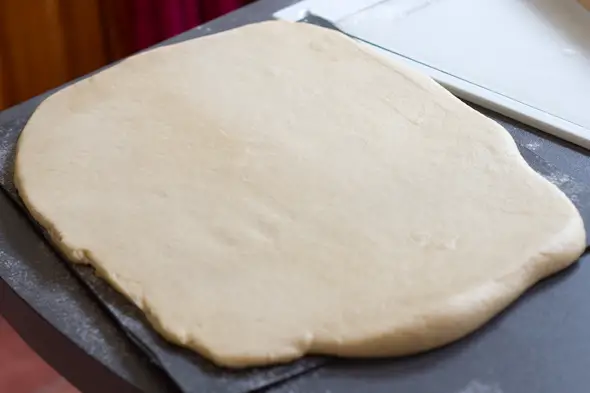 Spread on Jersey Black Butter, brown sugar and white chocolate chips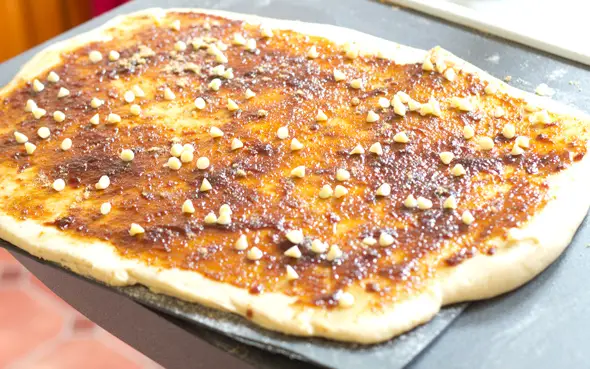 Carefully roll up the dough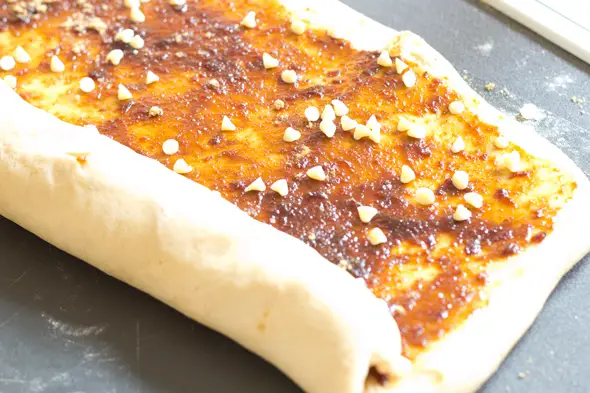 Once it's rolled up, we start slicing…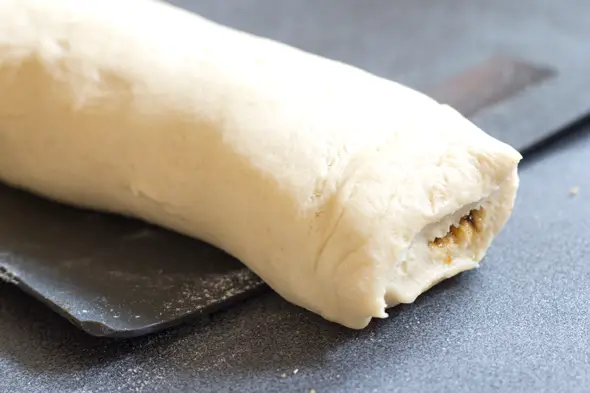 Place the sliced dough onto a greased tray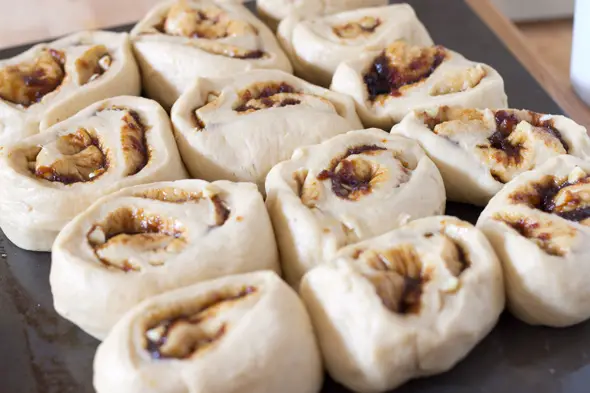 Sprinkle with slivered almonds and bake for 15 minutes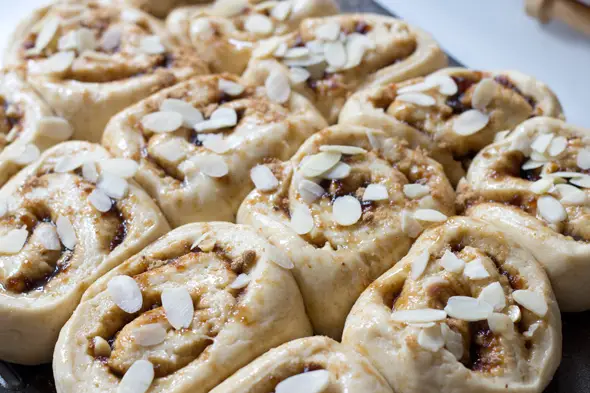 Once removed from the oven, make a quick salted caramel sauce and drizzle over the buns while still warm.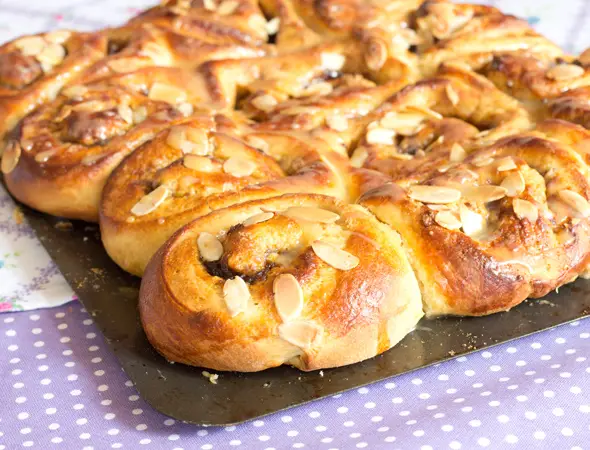 INGREDIENTS
FOR THE DOUGH
Recipe adapted from Leila Lindholm's "A piece of cake"
300ml full fat milk
25g dried instant yeast
130g caster sugar
½ salt
150g unsalted butter, softened
1 medium egg
700g bread flour, sifted
FOR THE FILLING AND TOPPING
75g caster sugar
75ml double cream
¼tsp sea salt flakes
2 good handfuls white chocolate chips
40g + 30g light brown sugar
1 handful of slivered almonds
⅓ jar Jersey Black Butter
1 medium egg
INGREDIENTS
Heat the milk for 40 seconds in the microwave – it needs to be under 38°C/100°F.
Pour the milk into a mixing bowl and stir in the yeast, then add sugar, salt, butter and egg.
Add the flour bit by bit. The mixture takes on a beautiful silky texture when it's ready.
Cover bowl with a tea towel and leave to rise for 60 minutes.
Grease a large baking tray.
Roll the dough out into a large rectangle – I rolled mine out to just bigger than my board which was 38cm x 30cm. If you make it wider, you will have more "swirl", i.e. more room for black butter. If you make it longer, you will be able to slice more buns.
Spread the Jersey Black Butter all over one side and sprinkle with 40g light brown sugar and white chocolate chips.
Carefully roll the long side to the long side and carefully seal the edge to the dough roll.
With a sharp knife, slice 1.5cm thick slices. Place on a baking tray, close together but not squashed together. Cover with a tea towel and leave to prove for 45 minutes. 20 minutes in, preheat the oven to 200°C/400°F/Gas Mark 6.
Beat the egg and brush the tops of the buns, sprinkle with the remaining 30g light brown sugar and sprinkle with slivered almonds.
Bake in the over for 15 minutes, but check after 10 (we don't want to overdo them!), then slide off tray and leave cool on a cooling rack.
Quickly make the caramel: over a medium high heat, place a frying pan with the sugar in it. Allow to bubble and brown around the edges then add a splash of water and stir. Then add in the cream and stir until just bubbling.
Pour into a bowl then add the salt crystals and stir until mixed, then drizzle the mixture over the cinnamon buns.
Once cooled you can tear the buns apart, if you want!