Normally, ready meals are anathema to the principles of the Recipe Shed. Here, I like to cook everything from scratch. Even when Im sent products to review, I try to use them as component ingredients in recipes. But Im discovering is that there are a lot of high quality products out there that stand alone as meals in themselves. 
Recently, for example, Ive been reviewing Higgidy Pies. Yes, I get sent these for free, but I always appraise them honestly, and Ive been impressed by the standard, which is so high I wouldnt even attempt to compete with them by creating a rival from scratch.
Another line Ive reviewed a few times in recent weeks is Tescos finest*. It has launched 400 new products to bring the finest* line up to 1500 and, clearly, Tesco is keen to spread the word via blogs like the Recipe Shed.
To be honest, some of these products are a bit Meh! so I dont bother writing about them. I dont post about everything I eat, just those products and recipes that have got something interesting or unusual about them: products that spark a reaction, good or bad. Its what keeps eating (and, hopefully, this blog)  interesting.
To that end, last week I was sent a selection of Tesco finest* ready meals and rather than ignore them because, well, I dont do ready meals, I decided to give them an honest try. Serendipitously, I was also having a week from hell with work and childcare, so I needed a mini-break from start-from-scratch cooking.
Besides, even if they were bad, I figured, they couldnt kill me or my fellow tester, my wife.
And thus, last week, we had five nights of meals from the Tesco finest* collection. Heres our honest appraisal.
We have rated these purely on the basis of tastiness. This is not a healthy eating blog and I never want it to be, so I havent considered information about salt, fat and sugar content. My philosophy is that if you eat in moderation, then nothings going to be bad for you. But aslo, it is highly unlikely I will ever eat any of these meals again, for the simple reason that I love cooking from scratch too much.
However, as an exercise in sampling whats available for people who are pushed for time or inclination, it was quite illuminating.
MONDAY:
THE PRODUCT: finest* a la carte Venison Lasagne 400g, 6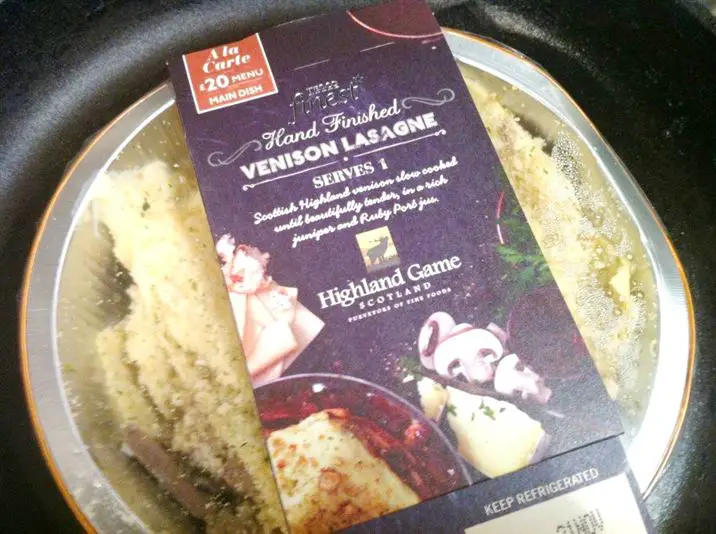 WHAT TESCO SAYS: A classic and much-loved family favourite, but with a unique and contemporary twist.  This dish uses Scottish Highland venison which is then slowly cooked in its own juices to ensure great texture.  Its then complemented by a full bodied rich port jus made using port, stock, tomato puree, redcurrant jelly and juniper creating a wonderfully intense flavour then used in the layering of the venison, free range egg pasta and indulgent Wensleydale sauce.  To finish, this mouth-watering dish is topped with a ciabatta parsley crumb and a layer of oven roasted chestnut mushrooms layer the base of the lasagne ensuring a warm, earthy taste.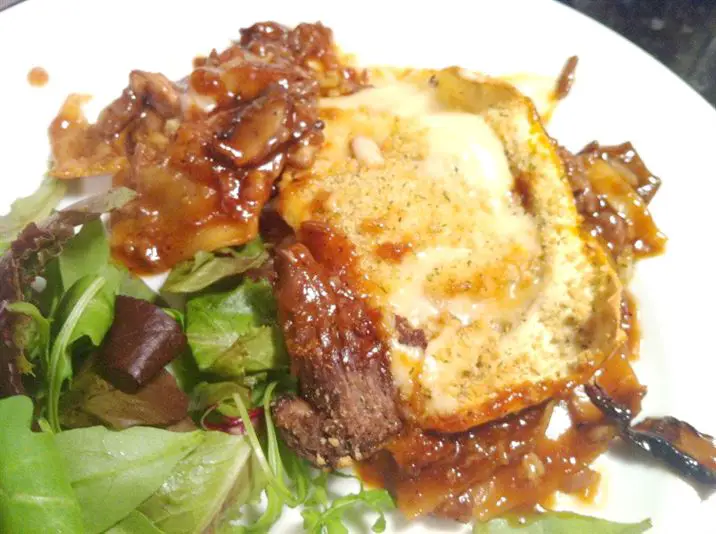 THE VERDICT: We were expecting this to be quite sloppy, with a mince meat filling and flabby pasta, so we were pleasantly surprised to find big chunks of venison in a thick, porty gravy. The pasta sheets were form and al dente and the overall taste was deep and rich. This was a single persons portion, but we stretched it to two of us with the help of finest* Red Watercress, Spinach & Rocket Salad. A good start to the week.
TUESDAY:
THE PRODUCT: finest* Japanese Style Stir Fry & finest* Japanese Style Stir Fry Sauce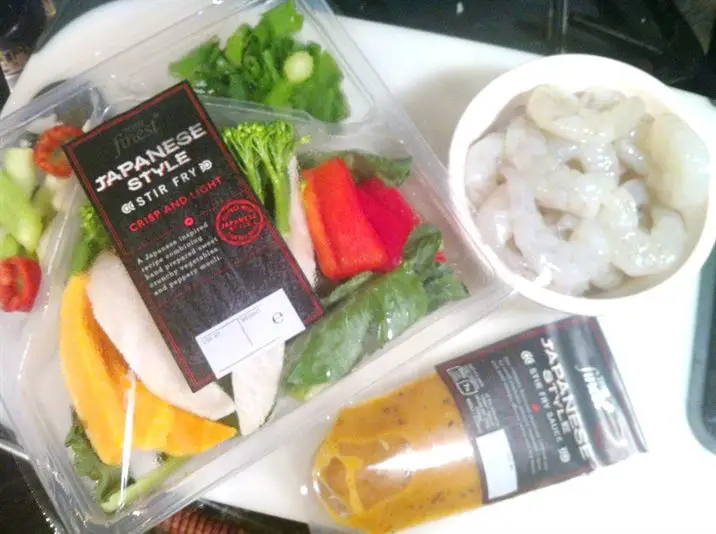 WHAT TESCO SAYS: Taking inspiration from cuisines of the Far East, the Japanese stir fry vegetable mix includes hand prepared ingredients such as mooli and a Japanese seven spice mix giving a wonderful depth of flavour.  To add an intense fresh twist, finish off with the Japanese style stir fry sauce with its traditional combination of orange, sesame seed and Japanese pepper.  Thai style or Oriental style stir fry and sauce are also available in this new range.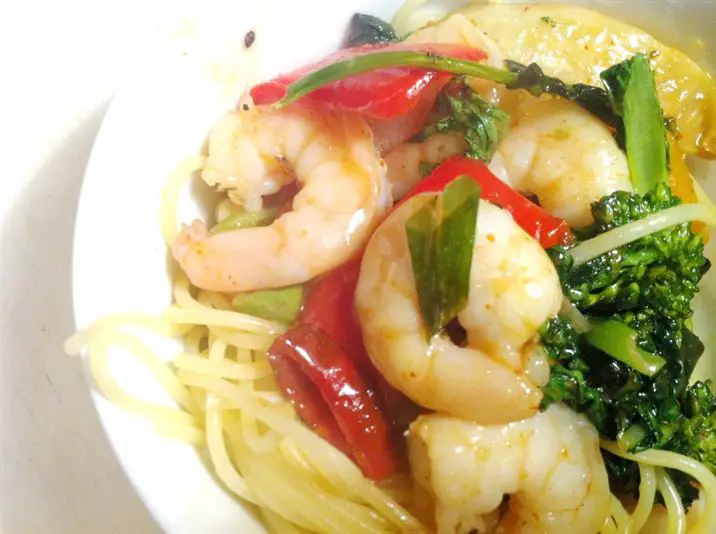 THE VERDICT: A very pleasant taste and texture combo: the veg had great crunch and the stir-fry sauce was sweet and tangy. I added raw king prawns to the mix and served it all on a bed of noodles. After the venison winter warmer from the night before, this was a light and refreshing change of pace.
THE PRODUCT: finest* 2 Bramley Apple Caramel & Pecan Pudding (200g), 2.95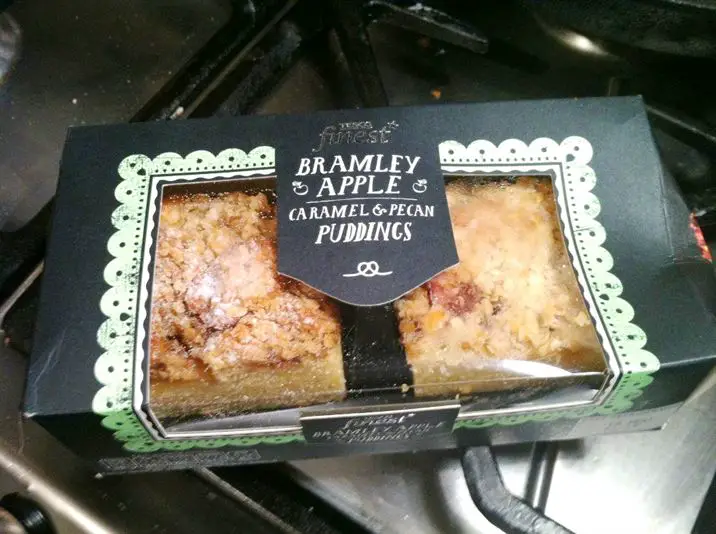 WHAT TESCO SAYS: These all butter sponges topped with Bramley apples are delicious, but taking it one step further these desserts are covered with a decadent caramel sauce made with West Country whipping cream and finished with an oaty flapjack, pecan topping and a dulce de leche caramel drizzle.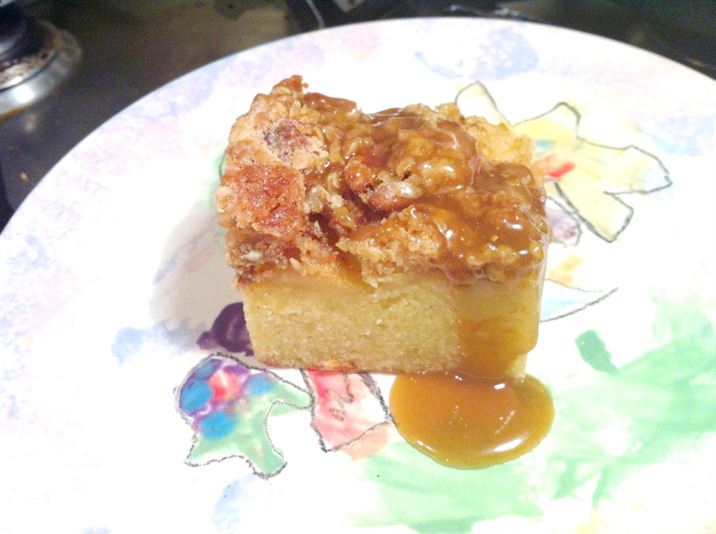 THE VERDICT: Absolutely delicious. Dense and rich, buttery, sweet and salty. One downside was there wasnt enough caramel sauce, so I used some a friend of ours, Sarah, had made for us.
WEDNESDAY:
THE PRODUCT: finest* Chicken Dhansak With Pilau Rice 500g, 4.50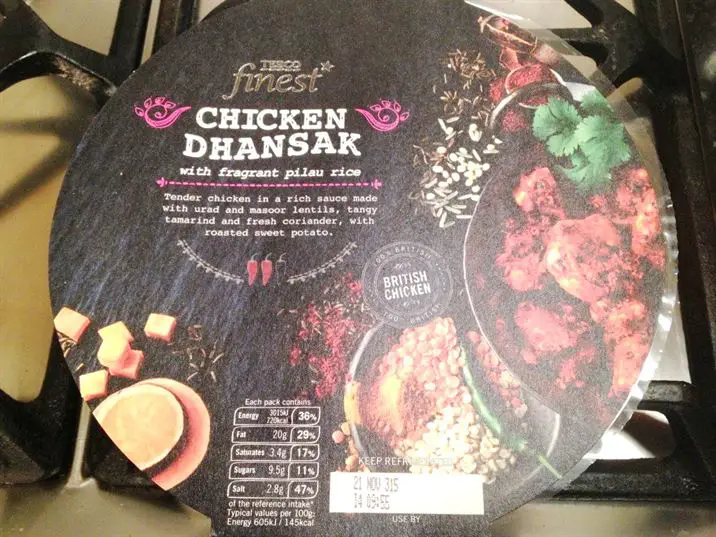 WHAT TESCO SAYS: Deliciously tender pieces of tandoori marinated chicken breast in a fragrant slow-cooked masoor and urad lentil sauce then finished with tamarind, lemon and fresh coriander and topped with roasted sweet potatoes this dish just oozes flavours of a true Parsi cuisine classic. Whole spices and lentils are toasted through rice to add a fragrant and nutty accompaniment.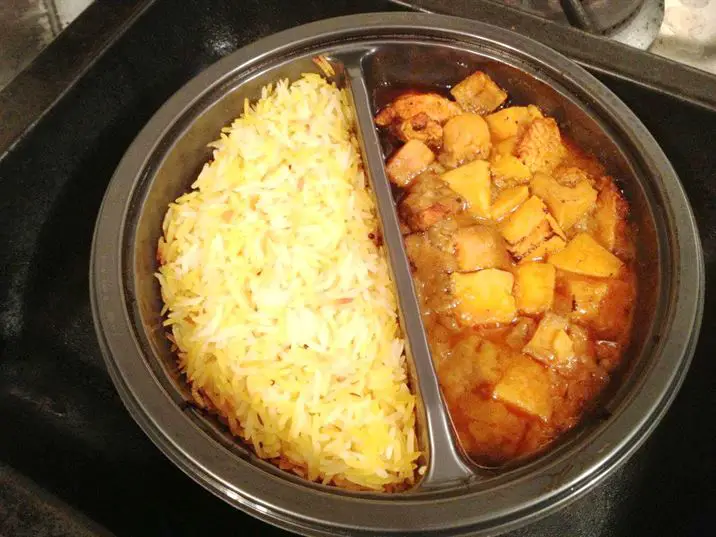 THE VERDICT: My wife had this while I was out for the night. She described it as very satisfying: big chunks of chicken, nicely spiced (not too hot, not too mild) with a hint of sweetness from the sweet potato. As a portion for one person, it was spot on.
THURSDAY:
THE PRODUCT: finest* a la carte Wild Mushroom Open Ravioli 350g, 6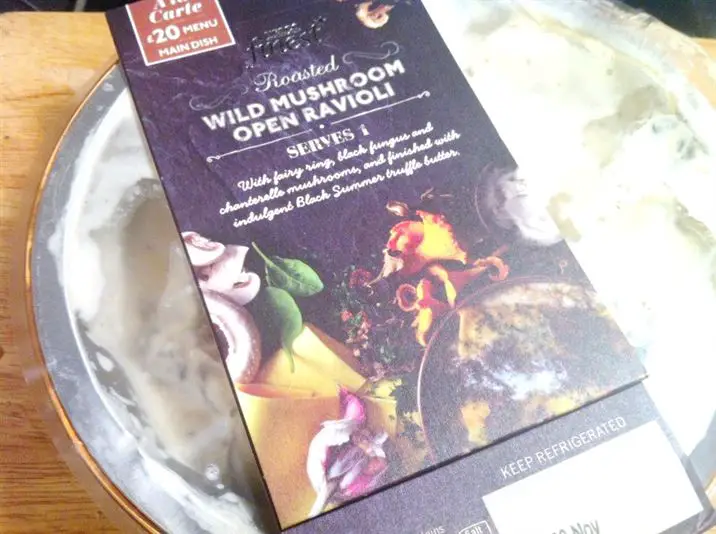 WHAT TESCO SAYS: This wonderfully scented open ravioli is made using a wild mushroom mix consisting of chanterelle, porcini, fairy ring and black fungus mushrooms enveloped in fresh free range egg pasta sheets. To make it even more sumptuous, this dish is then coated with an Italian white wine sauce, sprinkled with pecorino cheese and finished with Black Summer truffle butter delicious.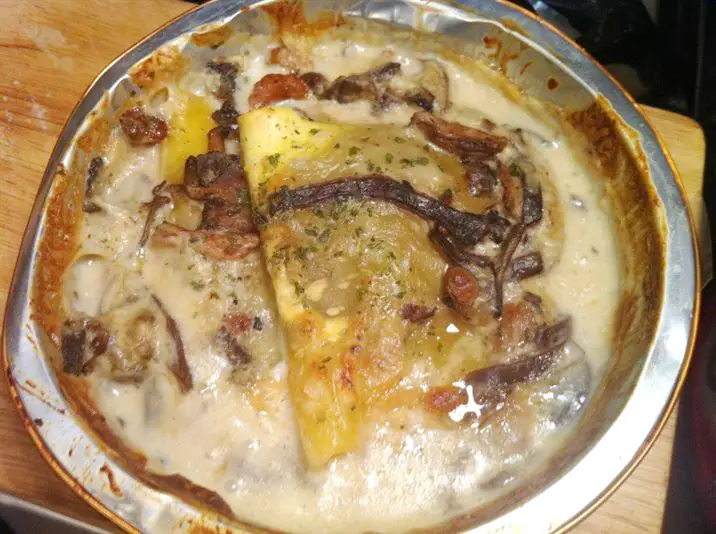 THE VERDICT: The flavours were excellent very mushroomy but the sauce was quite thin and would have benefitted from being reduced more to thicken. A good portion size for one person and would be a ver quick pop-in-the-oven dish when you get home from work. It isnt something Id want to eat again, though.
THE PRODUCT: finest* Sauvignon Blanc Furmint 2012 7.99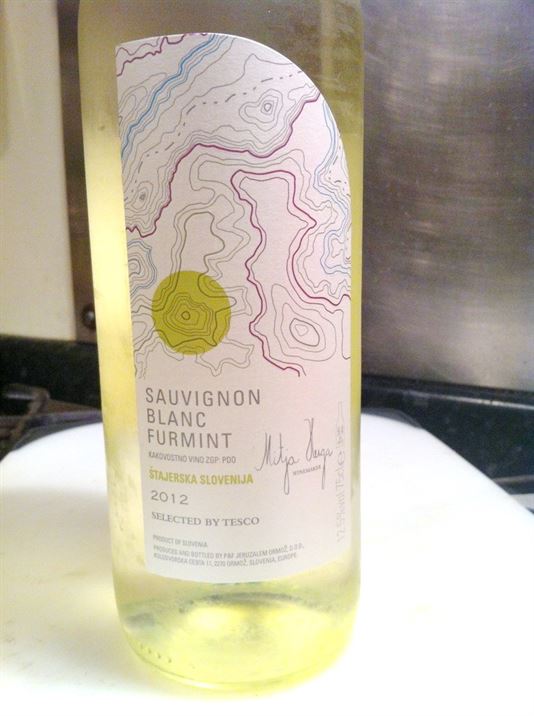 An exciting new wine from Slovenia, created using a blend of Sauvignon Blanc and Furmint. It has a wonderful citrusy zing running through it with a subtle hint of pear, making it a refreshingly light accompaniment to any meal
THE VERDICT: Slovenia? My God. I didnt even know they made wine. As a member of a wine club, I was very impressed with this. Very light, very refreshing. A perfect midweek drop without breaking the bank. Good stuff.
THE PRODUCT: finest* Pots au Chocolat (2 x 77g), 2.95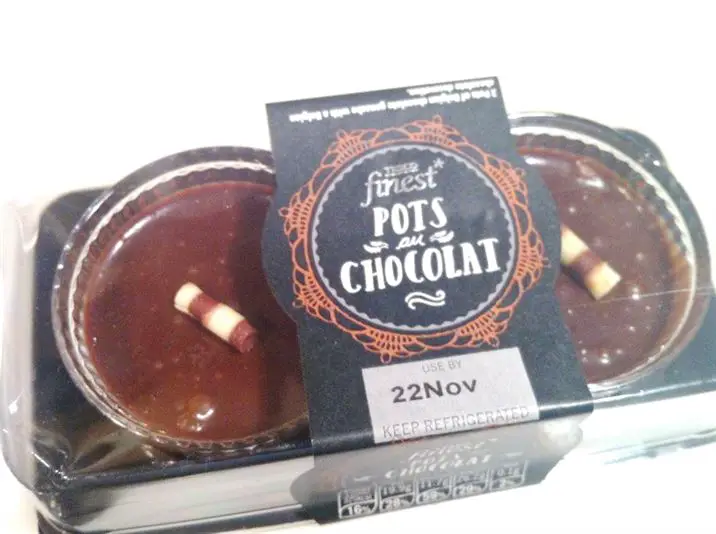 WHAT TESCO SAYS: Enjoy something a little luxurious once in a while with this decadent softly set chocolate ganache made with the finest Belgian chocolate, West Country double cream and free range eggs.  This dessert is hand decorated with a Belgian chocolate curl to ensure that extra special touch.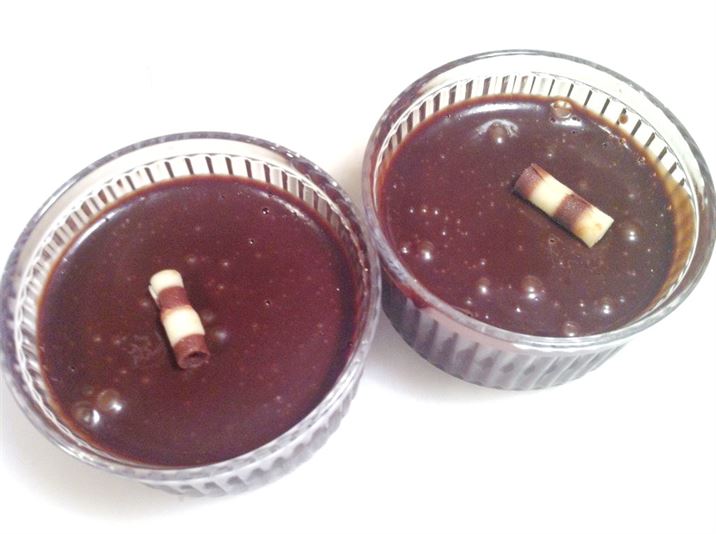 THE VERDICT: I found these very disappointing. Very cloying chocolate that stuck to the roof of my mouth. But, also, the chocolate was too dark and bitter.
FRIDAY:
THE PRODUCT: steak, 6.99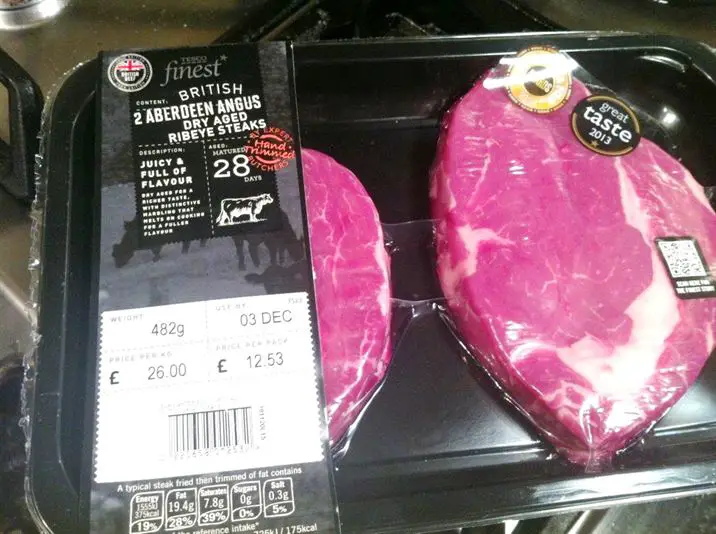 WHAT TESCO SAYS: From breeding and feeding to cutting and slicing, the production of the Aberdeen Angus beef is a real team effort. Relying on long established agricultural methods and traditional ways of farming, the cattle are fed on grass for a minimum of swix months and subject to rigorous checks ensuing desired weiht and fat content. Then to ensure the utmost tenderness and intense flavour, the steaks are matured for 28 days.  They are dry-aged in a controlled environment so they can mature and reach absolute perfection. Each steak has a close-grained texture and distinct marbling-effect which when cooked only adds to the juicy flavours of this succulent meat perfection!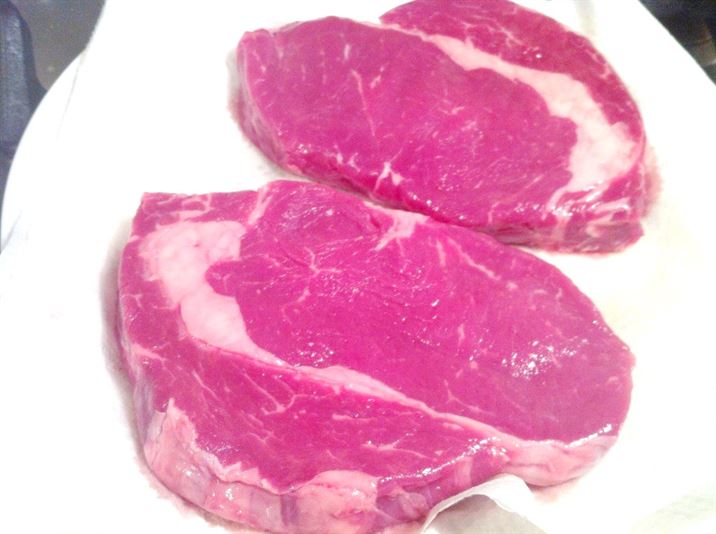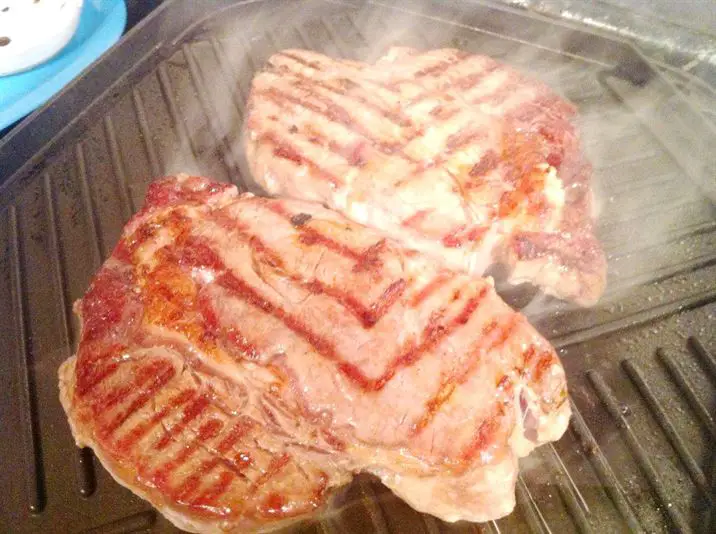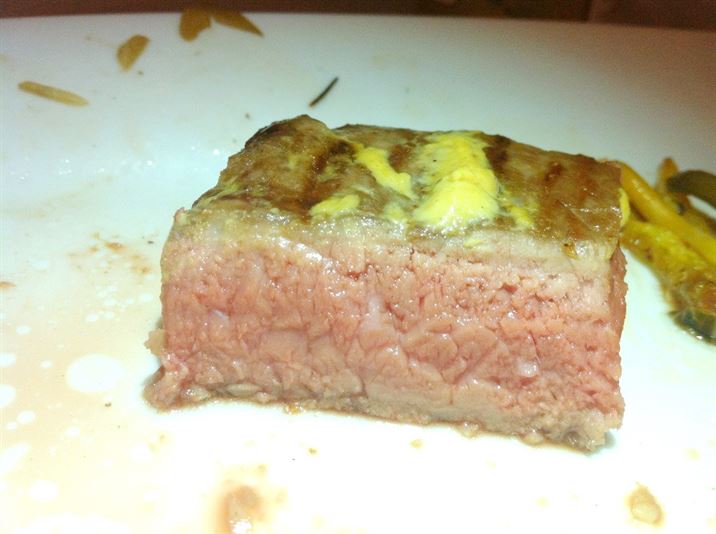 THE VERDICT: OK, steak isnt exactly a ready meal, but its still about the quickest food you can cook. I lightly oiled these and chucked them on a smoking hot griddle pan and…well, they were quite disappointing, to be frank. This possibly says more abut me than the steak,  but as Ive written her many times before, Ive tried and tasted some of the best steaks ever as part of the Recipe Sheds Rare Breed Steak Challenge (with Australian Wagyyu finishing on top) so it was never going to be a fair comparison. However, even my wife expressed disappointment. Rib-eye should be the tastiest cut on the animal because of the band of fat running through the middle that is meant to melt and lubricate the meat, but the end result was a little dry and the texture rather mealy. I put this down to a lack of intramuscular fat. You can see from the photos that the meat is very red (surprising for a steak that has had so much ageing) which might look aesthetically pleasing on the supermarket shelf, but to me signifies a lack of flavour.
THE PRODUCT: finest* Wild Mushrooms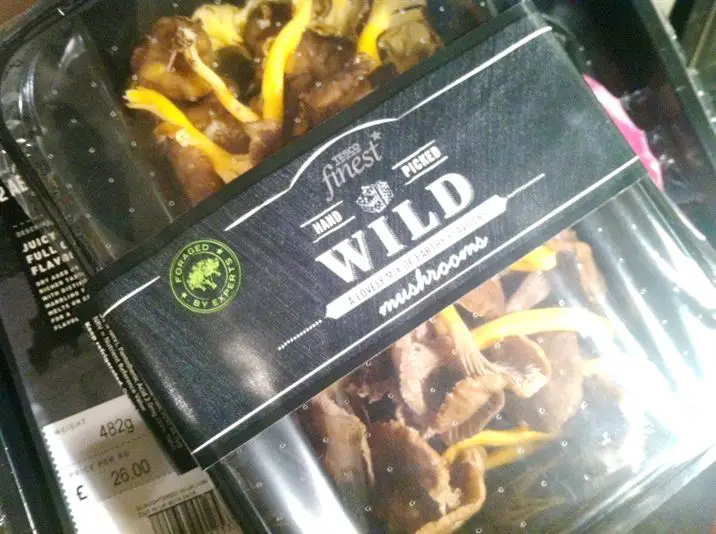 WHAT TESCO SAYS: From Scotland to Germany and Sweden, these mushrooms are hand foraged in lowlands and high in the forests from around the world.  Our pickers have years of  experience passed down through generations of family and still use traditional wicker baskets when gathering the mushrooms to both protect them and to allow spores to fall back down to the ground seeding potential new growth areas of mushrooms.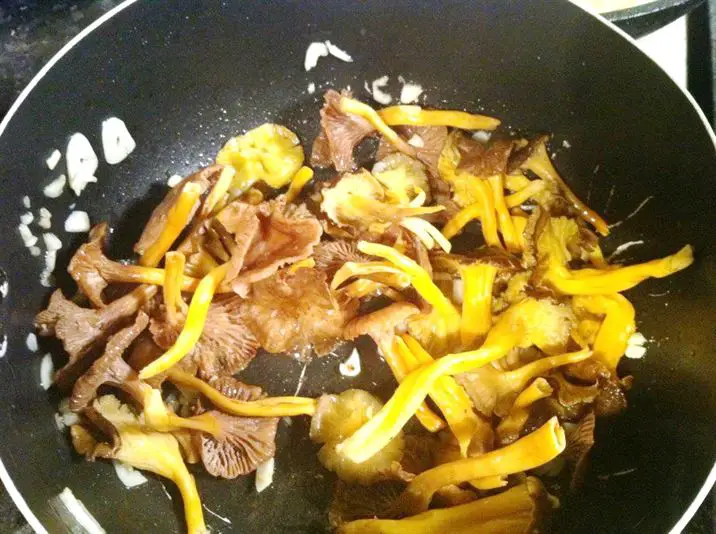 THE VERDICT: Fresh wild chanterelle mushrooms! Whats not to like? These were lovely, gently sauteed for a couple of minutes in a knob of slightly salted butter.
THE PRODUCT: finest* Cotes Catalanes Grenache 2012, 6.99
WHAT TESCO SAYS: Produced in the south of France, this full-bodied red wine encapsulates the smooth luscious flavours of plum and black cherry with hints of chocolate and treacle perfect with those winter warming stews.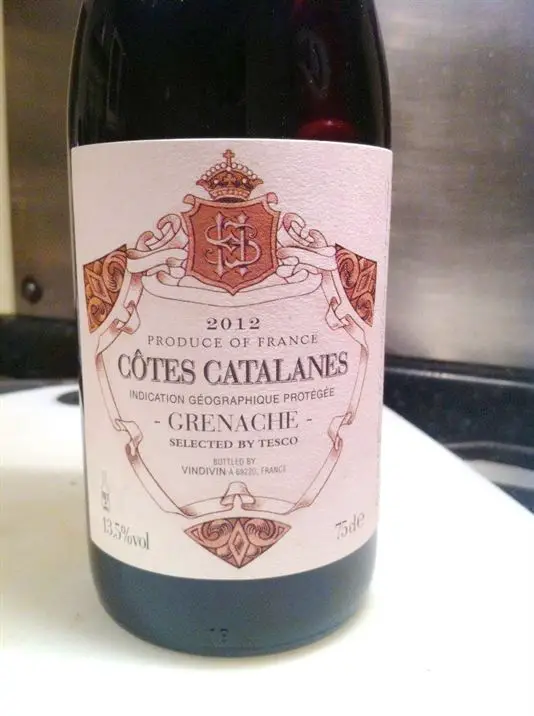 THE VERDICT: This was lovely. Velvety and smooth, ripe with berries and cherries. Perfect with steak.