If you'd like a pestle and mortar like this, please get in contact with Malcolm at Sutton Pottery
I'm so happy to show you my latest kitchen gadget – a pestle & mortar similar to the one featured on Nigel Slater's Simple Suppers that I was given my Mummy LTT! There's a fair bit of story behind it, so are you sitting comfortably? Then we'll begin…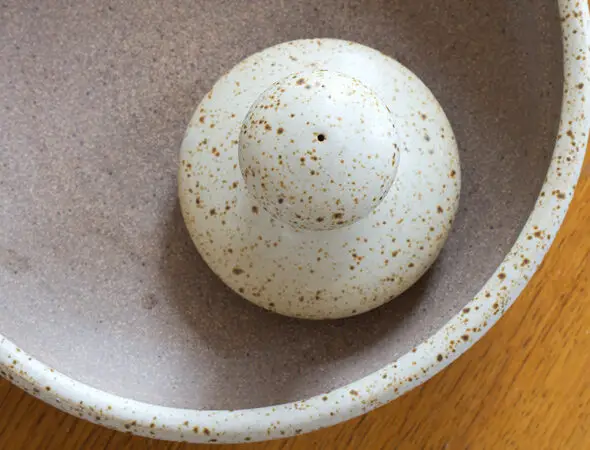 If you watched any of Nigel Slater's Simple Suppers you will more than likely have seen his amazing pestle and mortar. I spied it of course and instantly fell in love with it. The sort of love that had me scouring the internet within 2 minutes of seeing it (although Mr LTT will tell you I'm ALWAYS looking stuff up on the internet. I am an insatiable knowledge hunter, that much is true), finding out who it was made and where I could get my hands on one. I discovered one of the suppliers was in fact Peter Maturi, my favourite cookshop in Leeds. I enquired and they said they were no longer able to supply it (their supplier couldn't supply it) and I turned into a puddle like that bit in the film Amélie where she is heartbroken, and eventually came to terms with the fact I would never own one.
So imagine my surprise when my mum came to stay the other week and presented me with this pestle & mortar. I don't even really remember telling her about it but she's one of those super awesome observant people that squirrels something silly that you mention once away in her brain until even you've forgotten about it, only for her to surprise you somewhere down the line with it!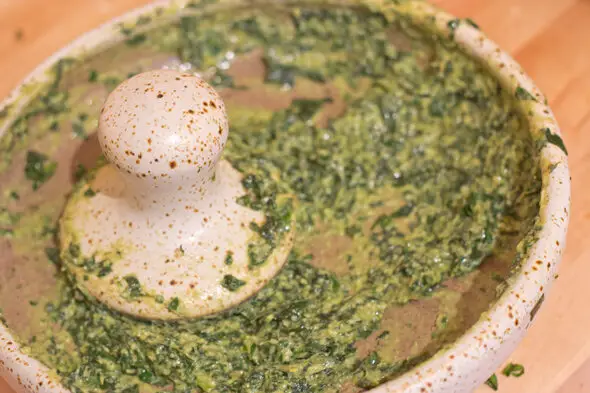 She told me the gift was originally intended to be my Christmas present and she'd contacted the original designer about it. He'd promised her he'd get one sorted for me but just a few weeks before Christmas he said it wasn't possible. My ever resourceful mother decided to contact a local potter, Malcolm Flatman of Sutton Pottery in Norfolk who came up with a slightly improved design. Malcolm doesn't use an industrial kiln – the door is bricked in. As this takes a while he waits until the kiln is full before he fires it. Hence my present didn't arrive until just recently.
The changes Malcolm made have suited me well – the smaller dish means it fits in my small kitchen. Let's face it, not everyone has a lovely kitchen extension like Nige in which to store all our kitchen goodies. Malcolm also made the dish more bowl-like so that it would keep all the contents in it. The inside of the dish has been left rough to allow for improved grinding too. It is so good for crushing nuts and peppercorns! The pestle is also really comfortable to hold in your hand and it's glazed all over (I shiver if I touch terracotta because it's unglazed, just thinking about it is putting me on edge!).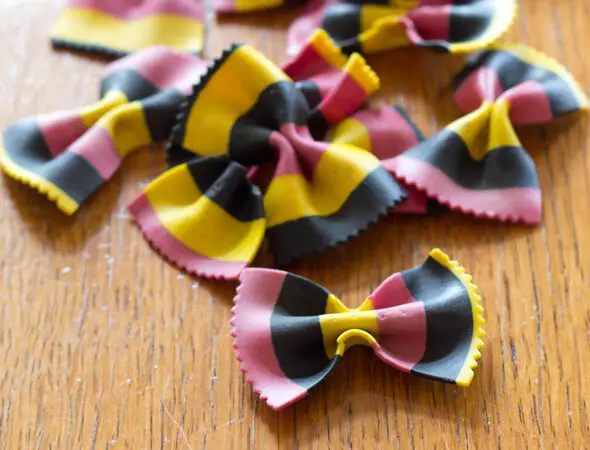 I thought I'd show you the first thing I made with it – pesto! Love this coloured pasta I bought, though sadly the pink didn't stay true when I cooked it. Pesto was damn good though.