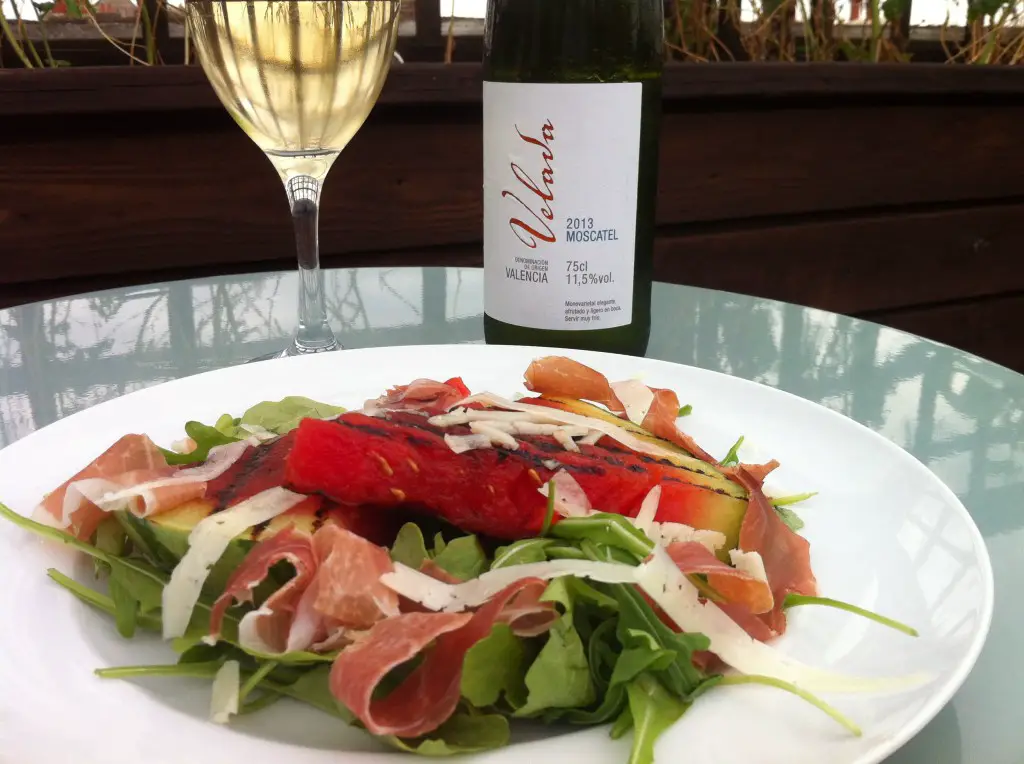 Rejoice! The sun has got its hat on and its happy face is beaming. And with the school summer holidays just around the corner, it's time to make heavenly food while the sun shines.
For the last few weeks, I've been making salads of every kind for my wife and three kids, but sometimes a Housedad needs inspiration, and these new products from Lidl to celebrate Spanish & Portuguese Week (from July 17) are not just OK, they're ole (you will, I'm sure, see what I did there).
Everything you'd expect to find in a tapas restaurant on the Costa Brava or the Algarve is available, ranging from superb jamon (translation: ham) to splendid chorizo (translation: chorizo) to tortilla, paella and langostinos to ensaimadas (sweet pastry swirls), churros and Torta Imperial (white Spanish nougat with almonds and honey). There's even chorizo pizza to complete the Flavours of the Med theme.
Much of the Lidl produce is from the Sol & Mar brand (translation: Sun and Sea. But you knew that didn't you?) along with lots of fresh stuff, like juicy nectarines, chin-wiping watermelon and sweet Spanish oranges.
What's not to like? Nothing.
But my challenge here is how to put all this lovely stuff together to create a Flavours of the Med menu to inspire your hot nights in the way I've been inspired by this authentic Spanish and Portuguese produce.
Laissez la leçon commence cuisine/ Deixar a aula de culinária começar/Let the cookery lesson begin!
This Lidl-inspired menu is to serve 2-4 people – all washed down with a bottle of crisp white Moscatel 2013 white wine from Valenca.
TO START:
CHARGRILLED WATERMELON WITH PATA NEGRA AND MANCHEGO
You'll need a griddle pan for this
2 x 5cm-thick slices watermelon, skin on
1 tbsp olive oil
2 tbsp Balsamic vinegar
A couple of handfuls of pea shoots, rocket or green salad
100g Sol & Mar Manchego cheese
4-6 slices Sol & Mar Pata Negra ham
Preparation
1. Heat the griddle pan until its very hot.
2. Brush the watermelon slices with oil and lay on the ridges of the pan. Cook for 2-3 mins, until the surface of the watermelon starts to char and caramelise.
3. Turn each slice over and brush with Balsamic vinegar. Cook the other side for 2-3 mins.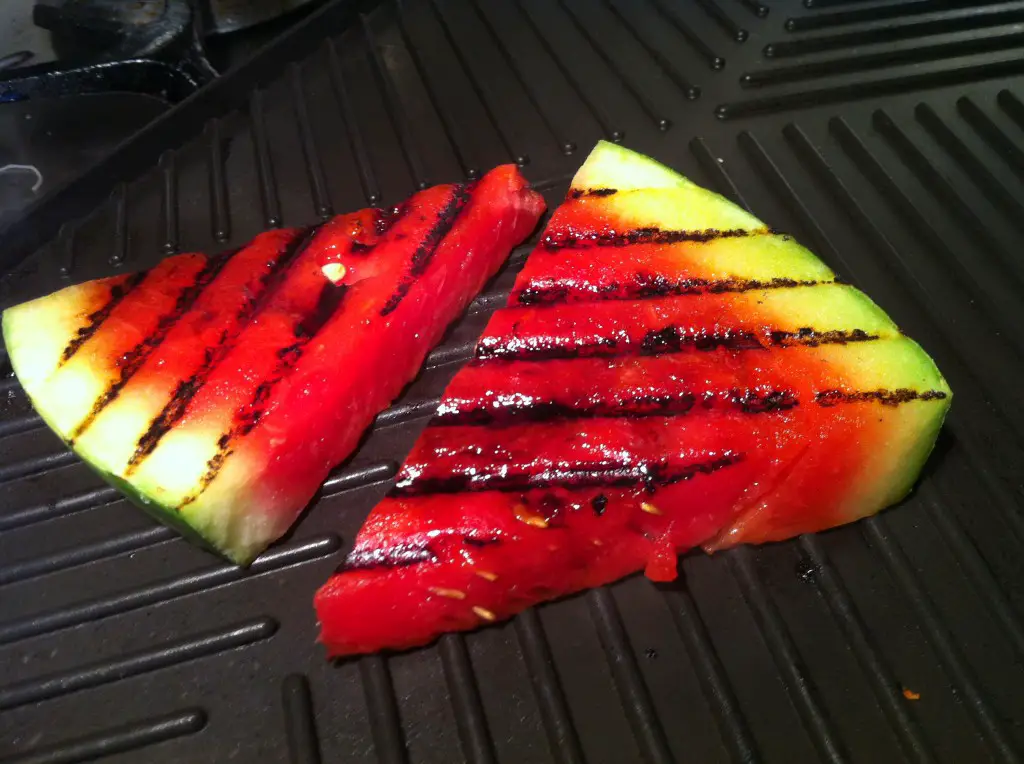 4. Meanwhile, pile a handful of leaves onto a couple of plates.
5. Transfer each watermelon slice onto the top of the leaves.
6. Drape slices of Pata Negra ham over the watermelon.
7. Grate or shave nutty Manchego cheese onto the watermelon.
8. Drizzle with a little more Balsamic to finish and serve.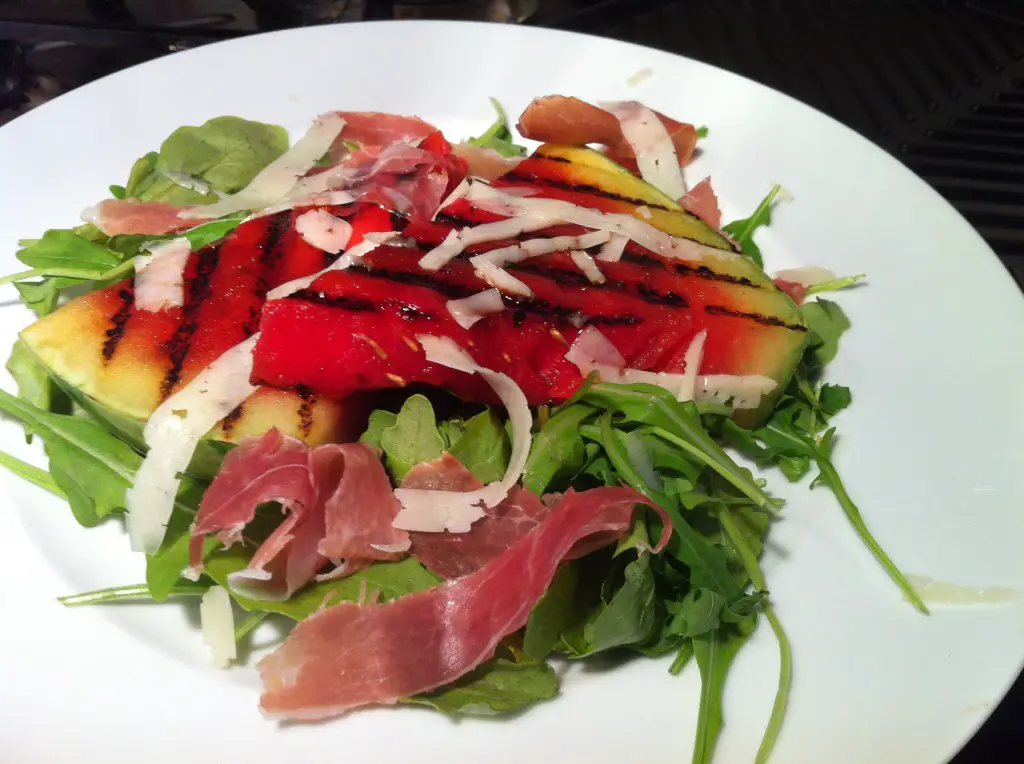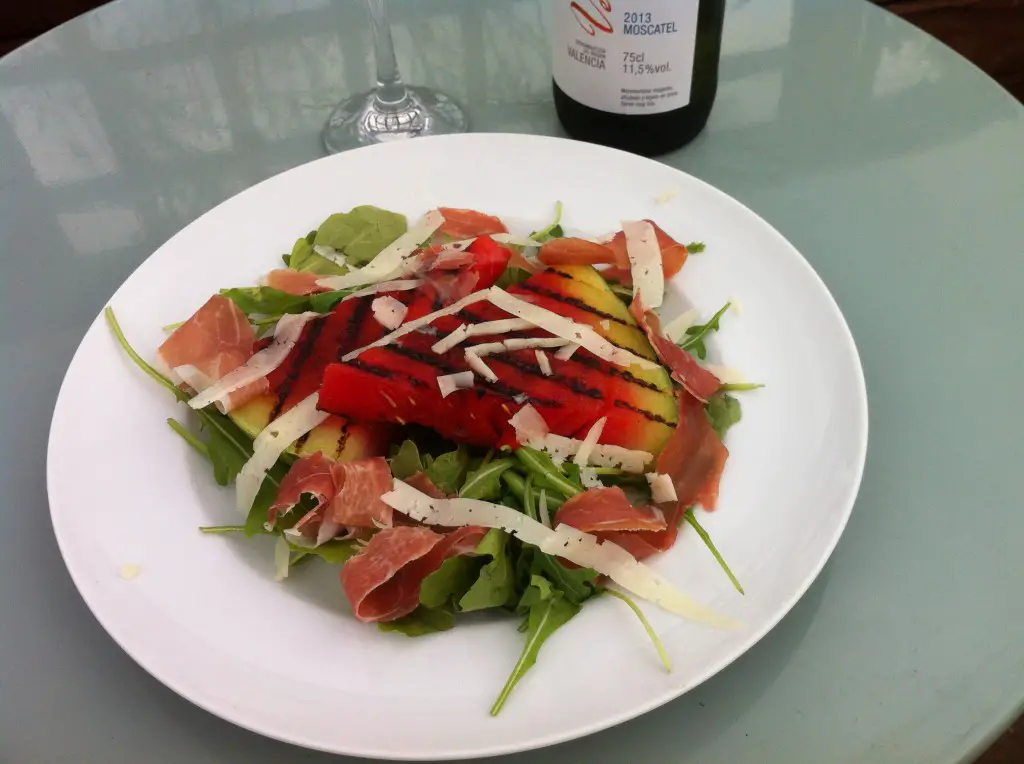 FOR THE TAPAS
• Sol & Mar Mini Paprika Kebabs.
Mini chorizo pieces, threaded onto skewers with slices of ripe nectarine and cubes of Manchego cheese. A Mediterranean twist on the class buffer favourite of cheese, ham and pineapple on cocktail sticks.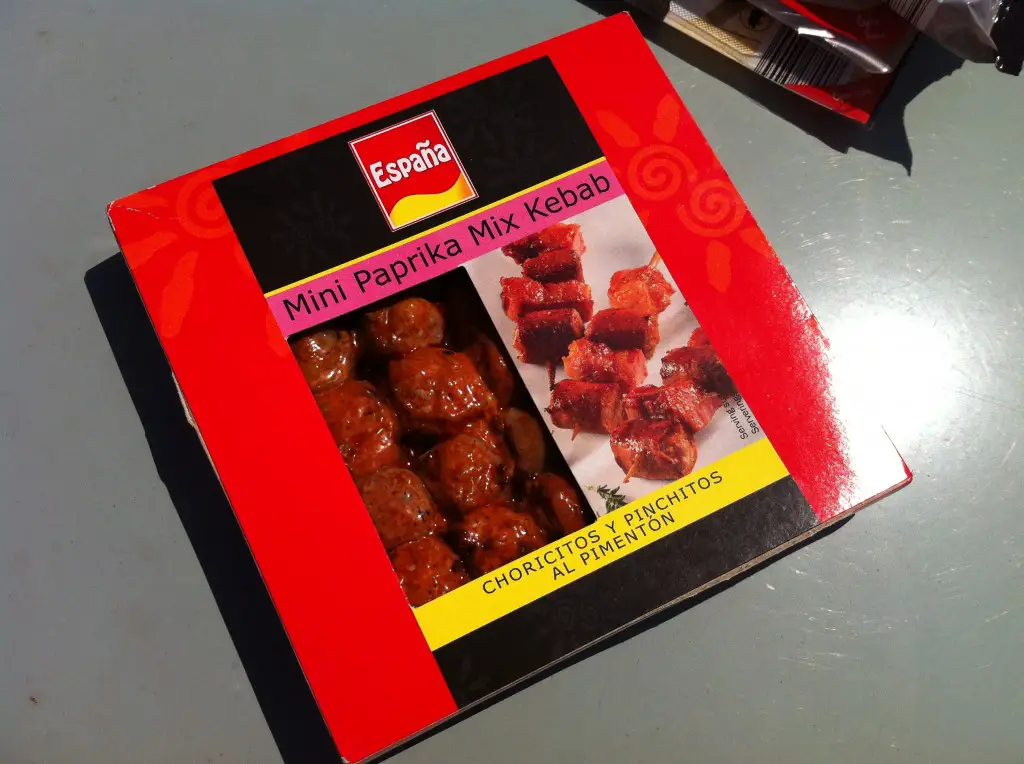 • Soly & Mar Patatas Bravas with Spiced Tomato Salsa.
Bake the Patatas Bravas according to the pack instructions, then smother with a spiced tomato salsa.
How to make the salsa…
1 x 400g can chopped tomatoes
1 jalapeno pepper, deseeded and sliced
1 tbsp lime juice
2 tbsp olive oil
Salt and freshly ground black pepper, to taste
1.Put tomatoes, pepper, lime juice, and olive oil in a blender and puree until smooth. Season with salt and pepper.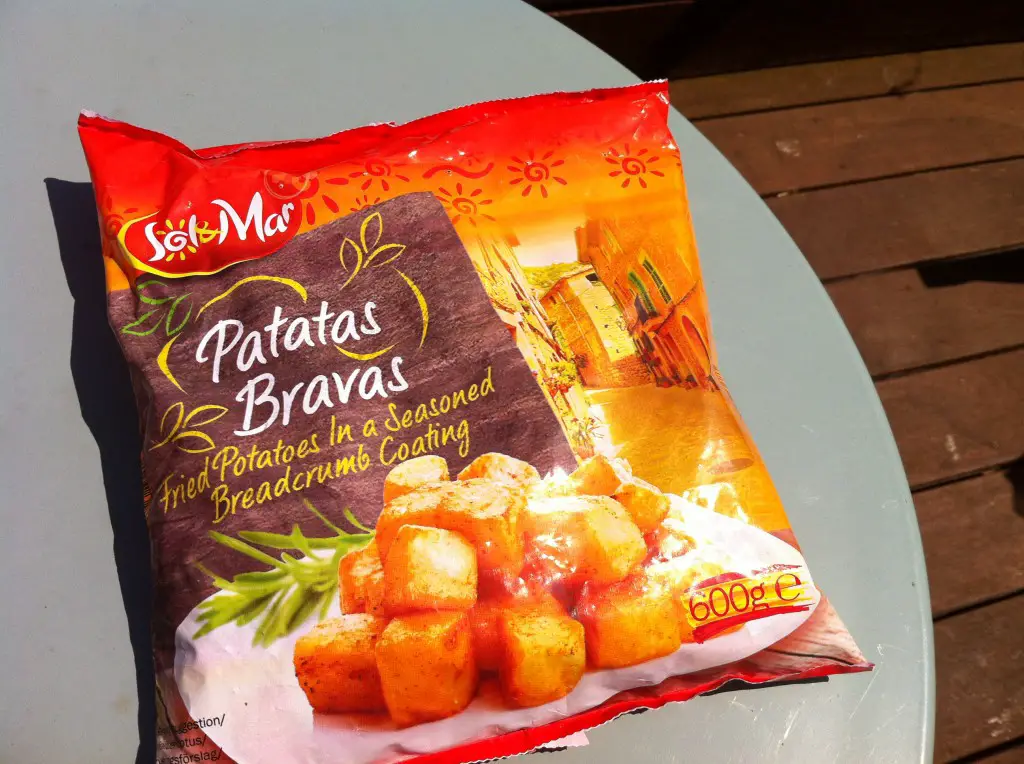 • Sol & Mar Langostinos Cocidos with Garlic Aioli.
These plump beauties come whole, so prepare for some shelling. All part of the fun. Just de-frost and serve them with this very garlicky aioli, which takes seconds to make. 2-3 garlic cloves (depending on how garlicky you like it)
1 tsp Dijon mustard
1 egg
1/2 cup extra-virgin olive oil
125ml vegetable oil
2 tsp lemon juice
Salt, to taste
1. Put the garlic, mustard, and egg in a blender and whiz for 10 secs until everything is combined.
2. Now, with the blender running, gradually add the olive oil in a thin stream followed by the vegetable oil, until completely combined. This will take around 2 mins.
3. Stop the blender, add the lemon juice and season with salt. Pulse until thoroughly mixed.
4. Let the mixture rest for at least 30 minutes before using. Transfer to a container with a tight-fitting lid and refrigerate for up to 3 days.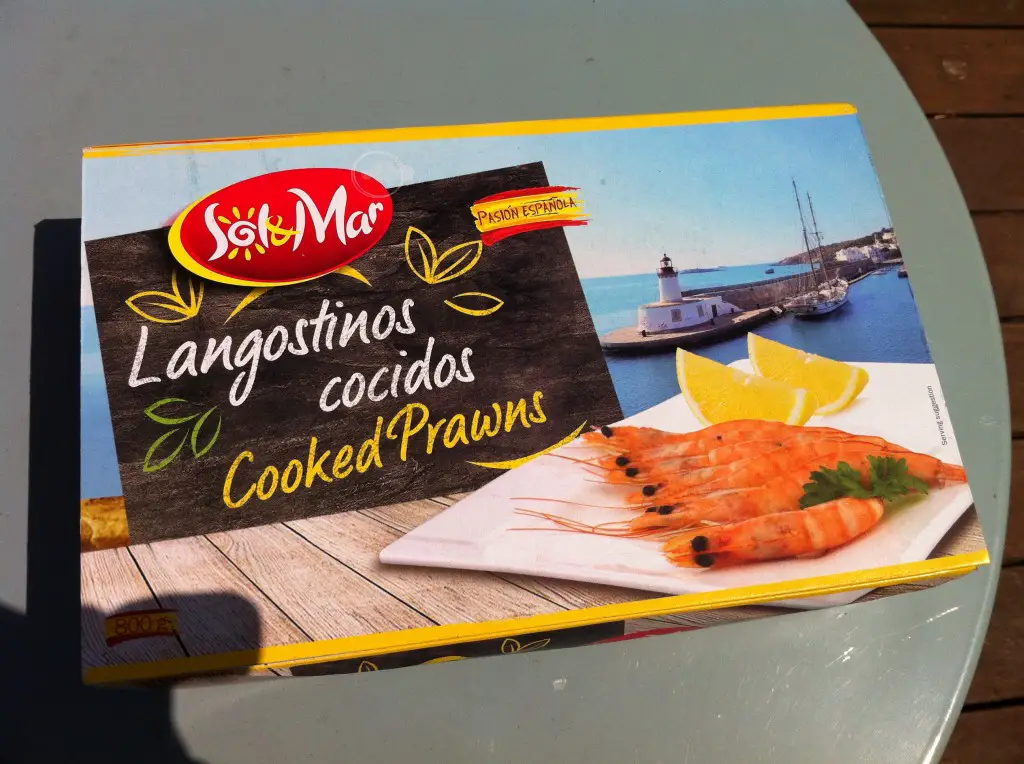 • Sol & Mar Salchichon (that's salami, btw)
Stuffed with chopped green olives and cream cheese. This is very simple, but very effective. Chop some olives and mix with cream cheese in a bowl, then take a round of salami and add a dollop of the olive;/cheese mixture on top. Fold over to make a little parcel. Delicious.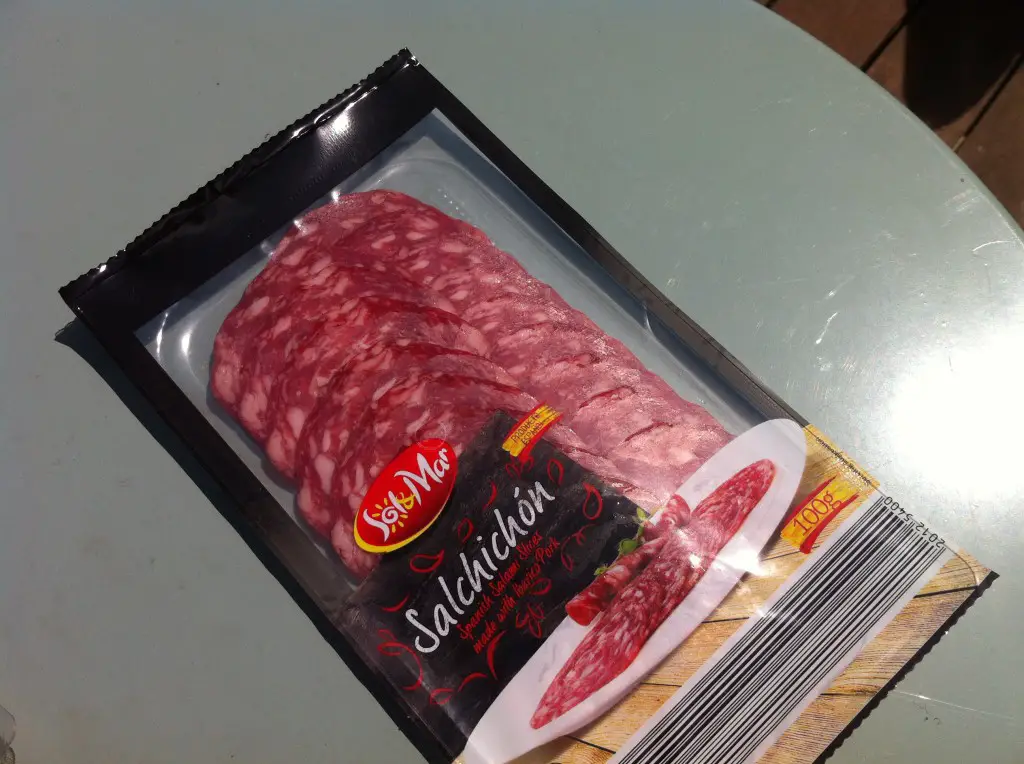 • Sol & Mar Chorizo Extra, Pea and Mint Canapés.
(No, not a can of peas, canapés!). These are fresh, smoky, herby and superb served on rounds of sliced baguette.
Handful of fresh or frozen peas
1 tbsp olive oil
100g chorizo sausage, cut into small dice roughly the same size as the peas
Salt and freshly ground black pepper, to taste
1 tbsp finely chopped mint
1. Cook the peas in a pan of boiling water for a couple of minutes, until just tender. Drain, then refresh them by tipping into a bowl of cold, salted water. Drain again.
2. Heat a trickle of oil in a frying pan over a medium-high heat. Add the chorizo and fry until just turning crisp.
3. Add the blanched peas and fry for a minute longer, stirring them in the hot, spicy fat. Season sparingly (the chorizo is already highly seasoned).
4. Spoon the mixture onto rounds of freshly cut baguette.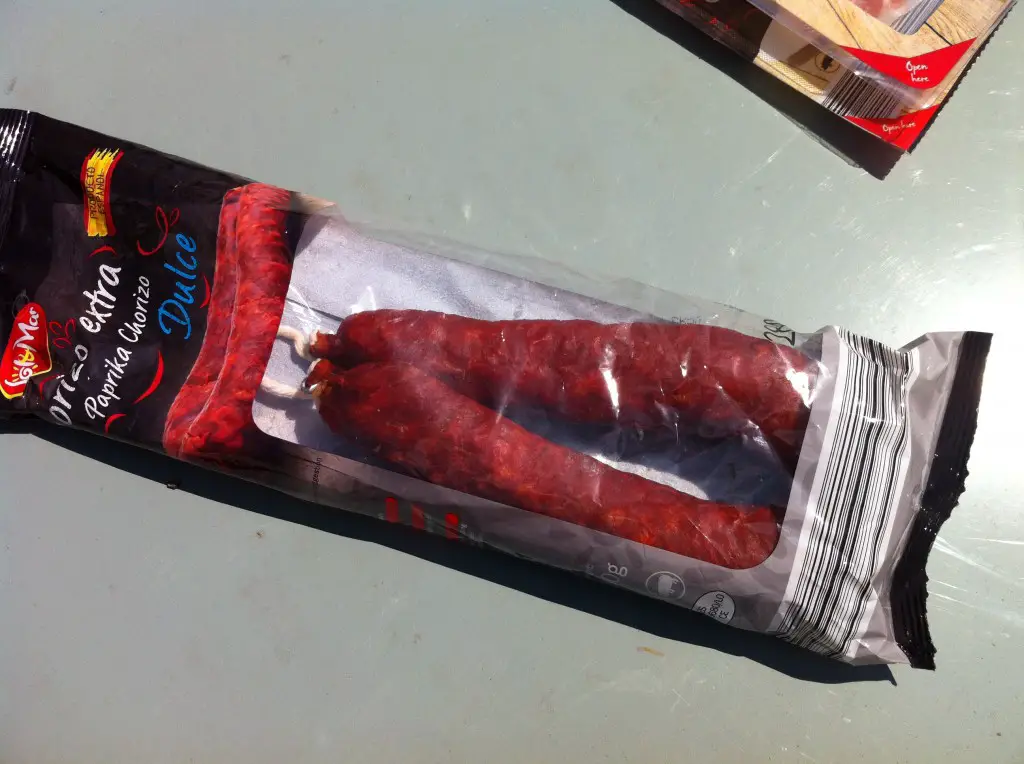 FOR DESSERT
To be honest, I'm stuffed, but why not try the Sol & Mar Ensaimadas – swirls of sweet pastry. Wonderful dipped into Marsala wine or served with whipped cream flavoured with vanilla.
And that, my amigos, is that. Despedida/Tchau!