Clean Eating Pancakes with Chocolate and Raspberries. I get the feeling that I`ve lost you already and no matter what I`ll say next, except to the actual recipe, will be completely useless. What I really want to share with you are the highlights of this wonderful recipe, that is:
It has no flour. ZERO.
It contains no added refined sugar. Not the batter, nor the chocolate, which is sweetened with stevia.
It is extremely healthy. 1 serving is packed with 107 grams of carbs, 38 grams of protein and only 18 grams of fat, but also provides high levels of potassium, Vitamin C and A, Calcium and Iron.
If that wasn`t convincing enough, I`ll leave you in the company of the picture: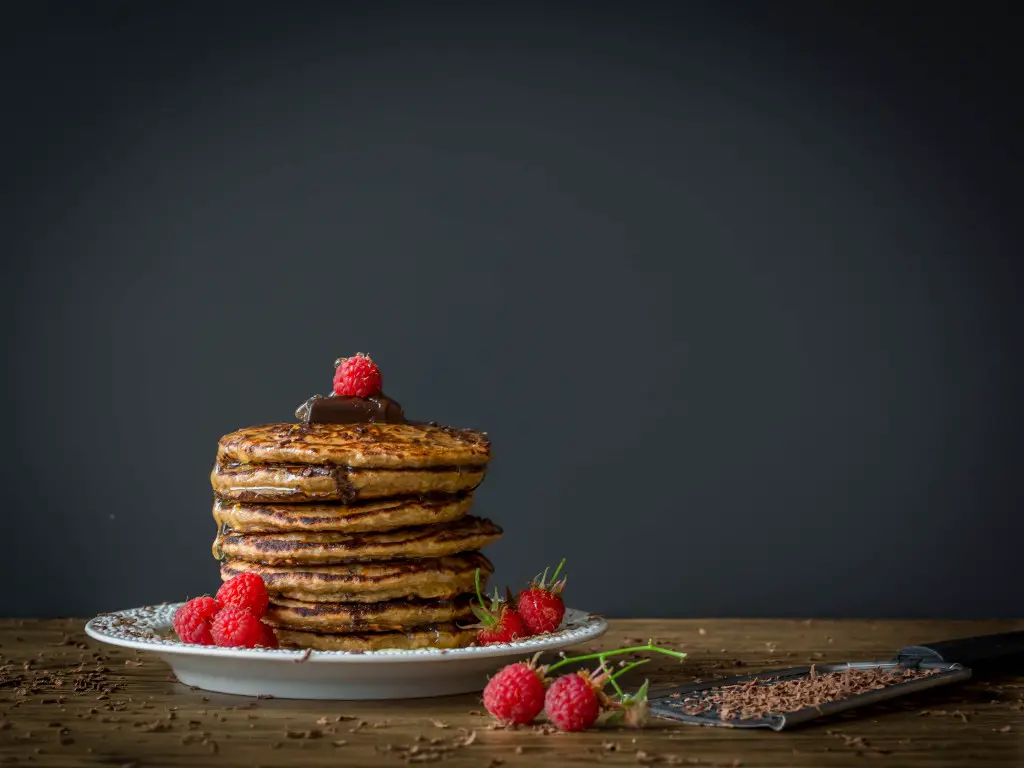 The whole clean eating pancakes with chocolate and raspberries madness started a few weeks ago, when Gabi discovered on the Instagram account of Nick Cheadle, his fitness inspiration, a picture depicting the most amazing protein pancakes in the world, in his exact words! The recipe was shared from the account of Pancake Guru, so when we surfed his page, we were instantly hooked. That's how we found out that the recipe was based on a special pancake mix, Kodiak Cakes Flapjack and Waffles Mix.
The classic recipe of american pancakes contains butter, sugar and all purpose flour, but applying the principles of Clean Eating, there is no ingredient you cannot substitute, am I right? How did I do that? Easy, I replaced the all purpose flour with rolled oats and I just gave up on the sugar, although you can use honey just as well. Instead of butter, I used greek yogurt, and a banana, so that my batter was greasy enough for the actual pancaking!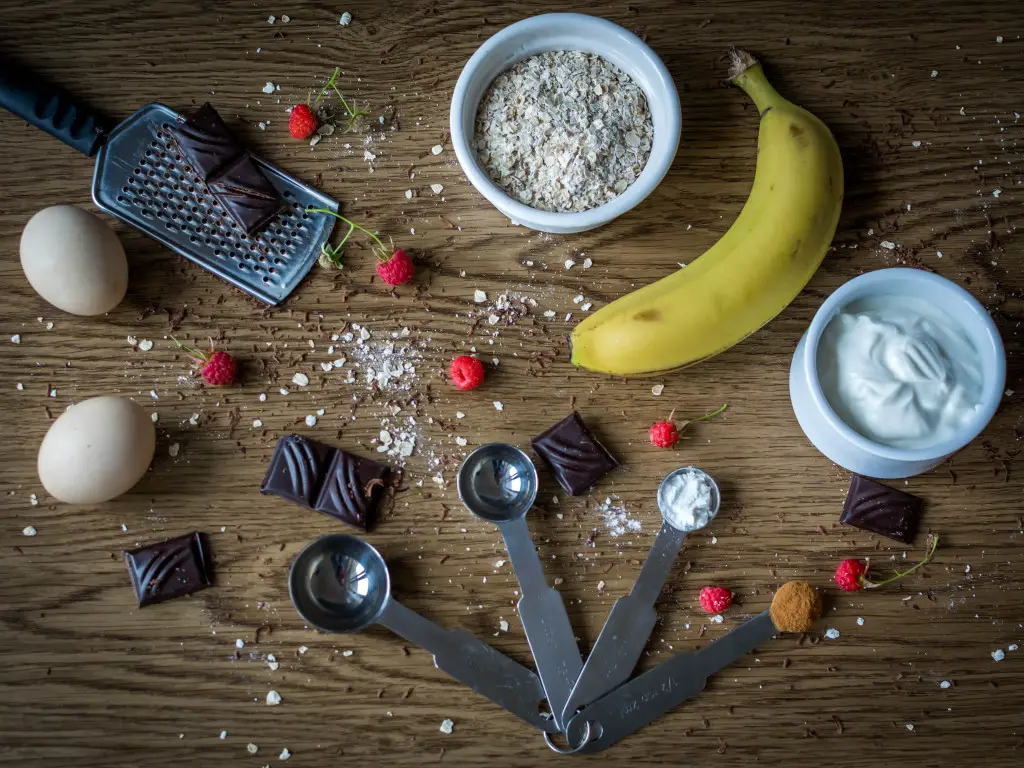 Being a fitness enthusiast, Gabi prepared his serving of Clean Eating Pancakes with Chocolate and Raspberries by adding a scoop of his favorite protein, Sun Warrior Chocolate Blend. You can follow his example because protein pancakes are the perfect breakfast before a work-out, giving you the right amount of energy and nutrients for sustained physical effort.
As far as the cooking process goes, don't be alarmed if the first one or two pancakes get burned or not properly cooked in the middle (we ate those also and they were damn delicious anyway!). You`ll get the hang of it from the third pancake forward and it will be very easy and fast, I promise you.
Also, don't stress very much over the shape of your pancakes! On the day I tested the recipe, I used a normal skillet and everything ran smoothly, as the batter has the tendency of "arranging" itself in the pan. Even so, if you want your pancakes similar in shape and size, I`ll give you a tip: buy a smaller skillet, like I did, one with the diameter of 14 cm. It looks like a toy, but trust me, it gets the job done fast, easy and super effective. Here's what you have to do: Preheat both skillets and spray them with oil. After they are heated, lower the intensity to minimum. Pour the batter onto the small skillet and when it's done on one side, just flip it in the bigger pan. Your pancakes will have the same size and shape, but unfortunately, you will have more dishes to wash. Choose wisely!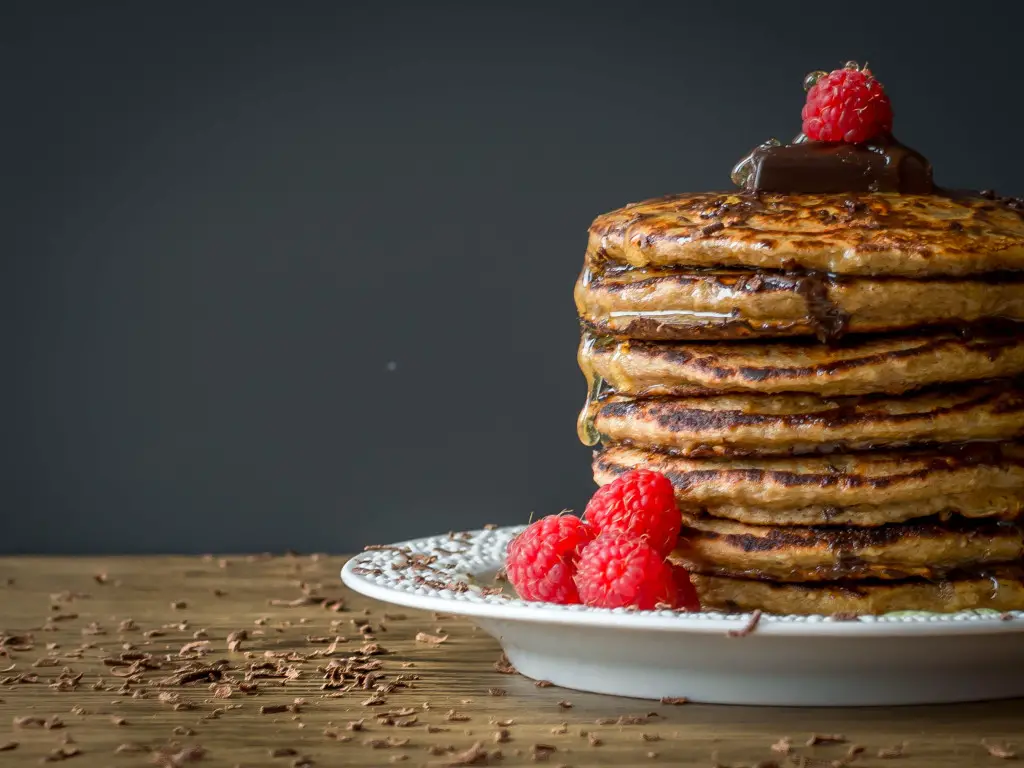 For the topping, I went with chocolate and raspberries. If you need to know why, let's just say it's not much of a pancake recipe if it doesn't have chocolate. Some Nutella would have been amazing, but sadly I have not learned how to prepare it from scratch. Baby steps! So instead, I chose a dark chocolate, which brings a lot of health benefits, such as reducing blood pressure, helping the brain to fight against insomnia and fatigue and is a rich source of antioxidants. To keep it full Clean Eating Dessert, I went with a chocolate with no added sugar, sweetened with stevia. It was great!
The raspberries are 100% organic, from our small garden. They were delicious. I almost forgotten how fresh raspberries tasted after months of eating frozen ones. That being said, I wasn't even sure if I could gather a small cup for the photos (they were kinda mandatory since the recipe is called Clean Eating Pancakes with Chocolate and Raspberries), since they don't actually get to stay ripe and unpicked.
The whole thing was topped with organic honey, from a local producer. Great stuff!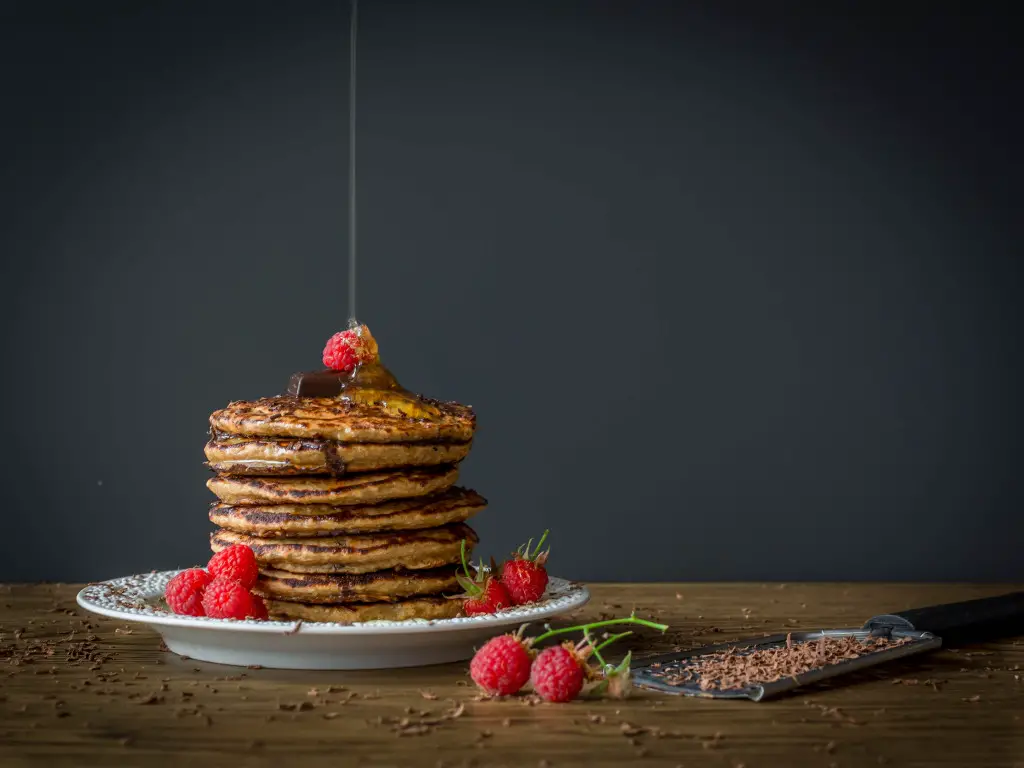 The Clean Eating Pancakes with Chocolate and Raspberries were fluffy and sweet, a healthy breakfast to brighten your mornings! I served them cold, as taking the pictures took a while, and they were to die for nonetheless!
Print
Clean Eating Pancakes with Chocolate and Raspberries
---
Description
Clean Eating Pancakes with Chocolate and Raspberries, a delicious Clean Eating breakfast recipe, with no flour or sugar,extremely healthy and easy to make.
---
70

gr rolled oats

1 tsp

Baking Powder

1 tsp

Cinnamon

1

banana, aprox. 100-110 grams

2

eggs

100

gr greek yogurt

20

gr chocolate

½ cup

of raspberries

2 tbsp

honey
---
Mix all the ingredients in a blender, until the batter is smooth and has a thick consistency, much like cream or greek yogurt.
Preheat the skillet over medium heat and spray with your choice of oil. I used coconut oil.
Pour the batter in the middle of the skillet, using a laddle, about ¾ full. Thanks to it`s thick consistency, the batter will spread nice on its own. If however you get the impression that it`s too thick, add 1 tbsp of water in the batter.
Cook the pancake on low heat, for 1 minute, or until the top dries and bubbles start to form.Flip it on the other side, and cook it for another 2 minutes, or until it becomes golden-brown.
Between every pancake, spray the pan with oil.
Serve it with grated chocolate, raspberries and honey.