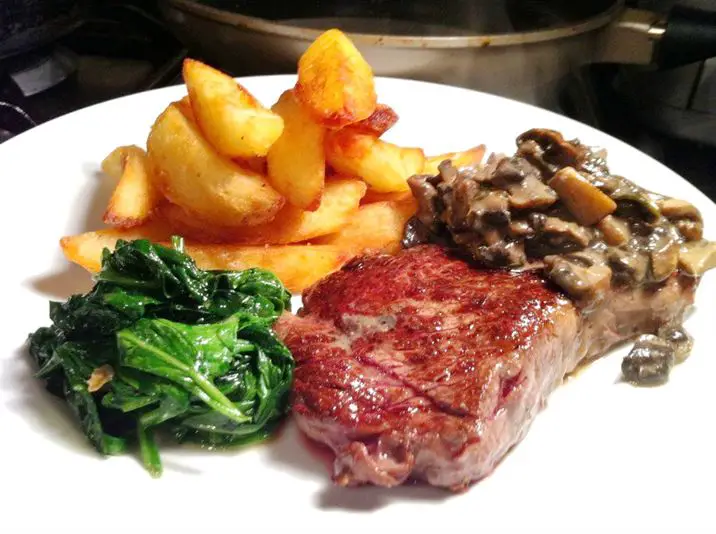 Im not really a fan of simple cooking. Its too quick and easy, allowing far too much time to devote to other chores like ironing and cleaning. Id rather immerse myself in something massively complicated so that I have an excuse not to do any of the other stuff I cant stand. Like job-hunting.
With this in mind, I was beginning to regret this weeks Recipe Shed challenge form the moment I suggested it: 5 INGREDIENTS OR LESS (excluding salt, pepper and cooking oil.
What on earth can you do with 5 ingredients or less that isnt a sandwich or an assembled pasta dish? One recipe immediately came to mind @the_moiderers one-ingredient slow-cooked gammon, but Ive posted that here before. I wanted to share something that had a bit more technique.
And thus, I present to you my SOUS VIDE STEAK WITH THRICE-COOKED CHIPS AND STILTON MUSHROOMS
For 2 people
2 thick sirloin or rib-eye steaks, approx. 250-300g in weigh
4-5 large floury potatoes (I used Maris Piper), peeled and cut into thick chips
3 Portobello breakfast mushrooms, chopped
100g Stilton cheese, chopped
1 litre vegetable or sunflower oil
Lots of freshly ground black pepper
Seat salt
Equipment:
1 Sous Vide water bath
1 Sous Vide vacuum sealer
1 cast iron frying pan
1 deep frying pan
1 large saucepan
1 small non-stick saucepan
1. Fill the Sous Vide water bath below the Max. line with cold water. Set the digital temperature control to 57.5C, and the timer to 2 hours (Im not creating a link to the Sous Vide site here as people have complained about being bombarded with info. But if youd like to know more, just give it a Google).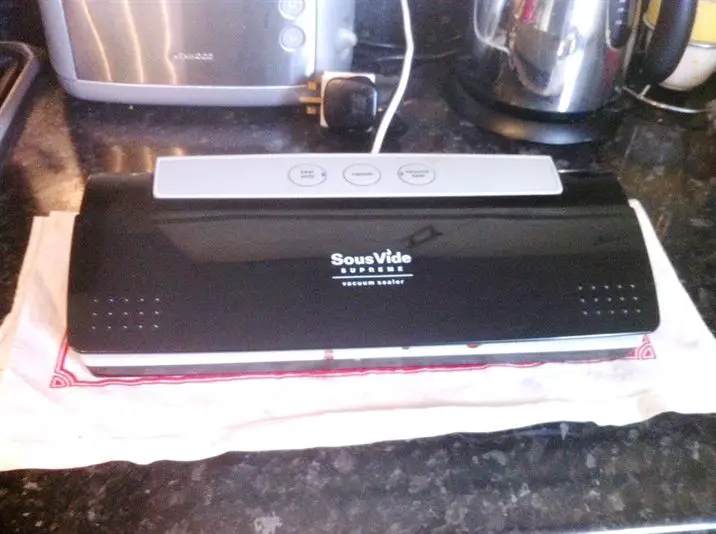 2. Vacuum-pack the steaks and once the water bath is at the correct temperature, gently lower the steaks into the water.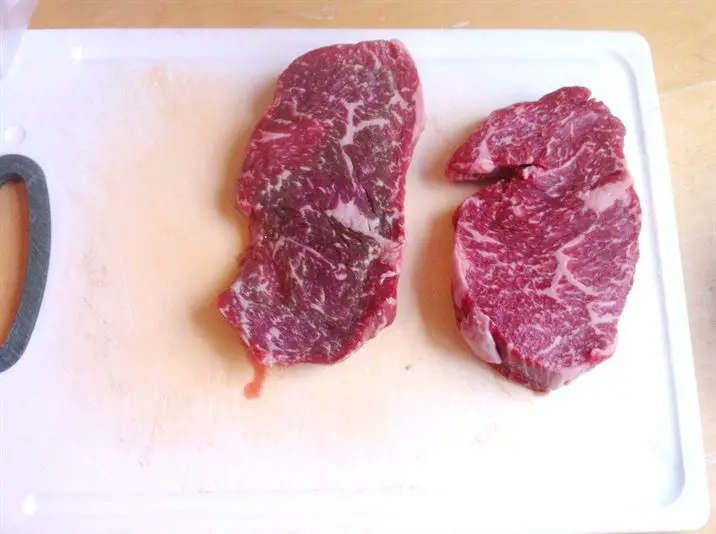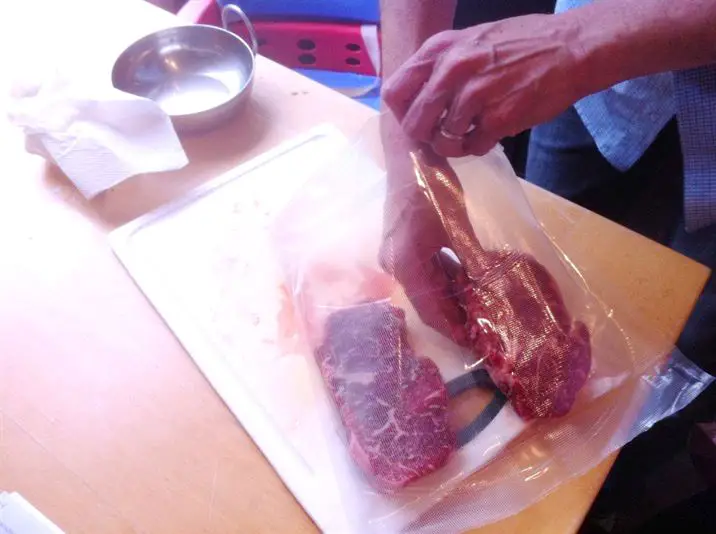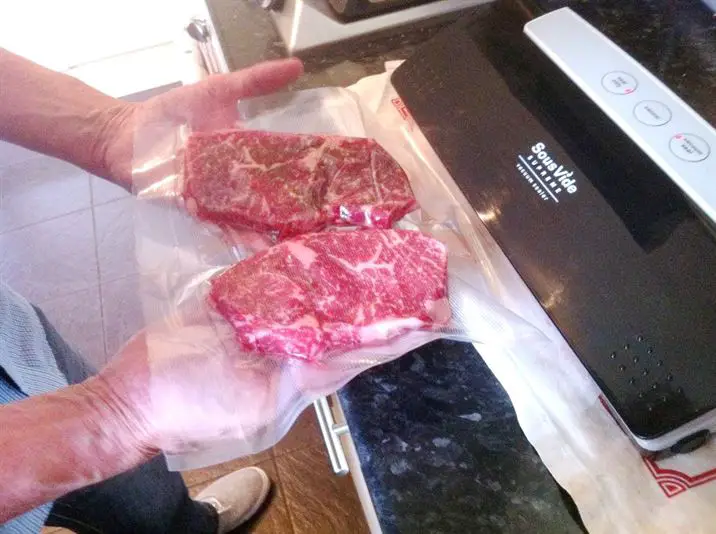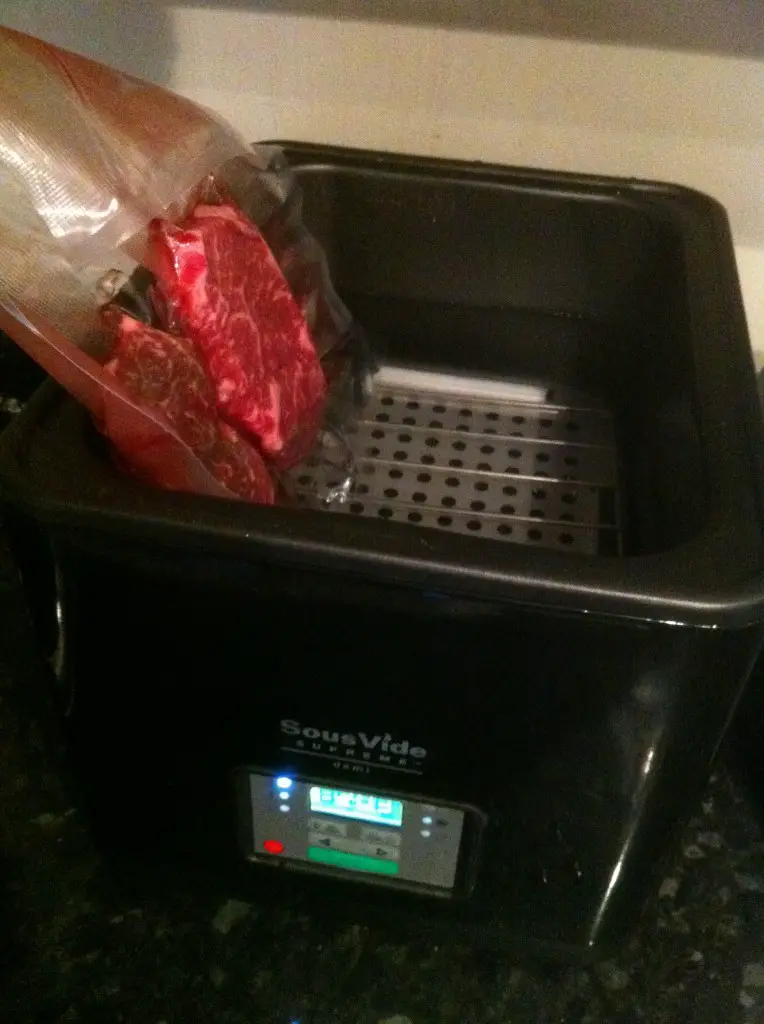 3. Meanwhile, bring a pan of salted water to the boil and parboil the chips for approx. 12-15 mins, until tender and at the brink of falling apart. Drain and transfer to a plate.
4. Heat the oil (reserving a little for oiling the steaks later) in the large frying pan and cook the parboiled chips in batches. This drives the moisture out of the potatoes and wrinkles the outsides to create a greater surface area for the final stage later.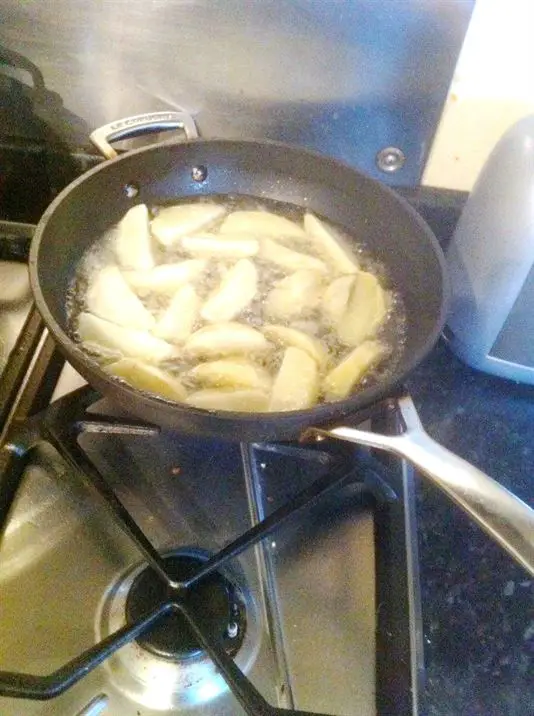 5. Prepare the sauce by mixing the chopped mushrooms and cheese together and very gently heating in a small non-stick frying pan, for approx. 10-12 mins.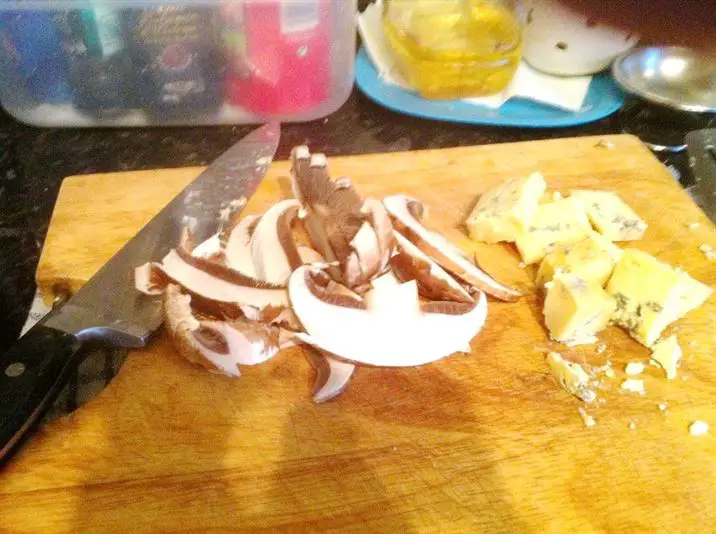 6. Heat the cast iron frying pan until it is white hot. Remove the steaks from the water bath, scissor-open the vac-seal bag, drain the juice and then, on a plate, rub the steaks with oil, a little salt and lots of freshly ground black pepper.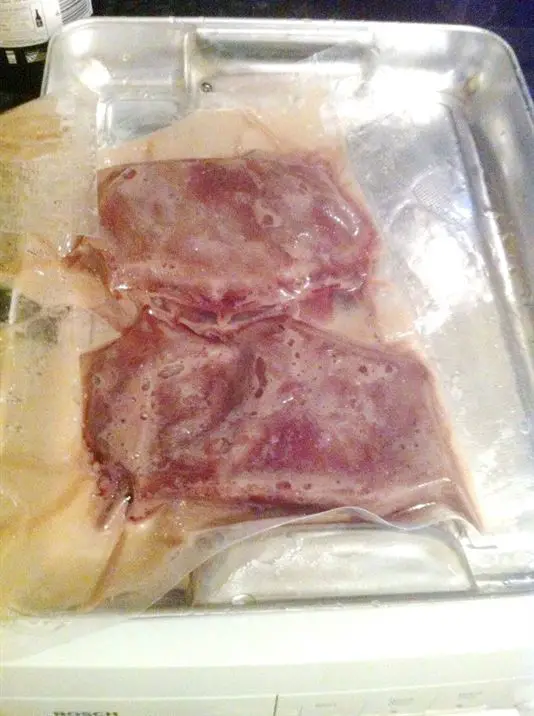 7. Re-heat the oil in the large frying pan for the third cooking stage for the chips. When the heat is close to smoking hot, cook the chips in batches for 1-2 minutes, until the chips are crisp and golden. Remove from the oil with a slotted spoon and drain on kitchen paper, before seasoning with salt and pepper.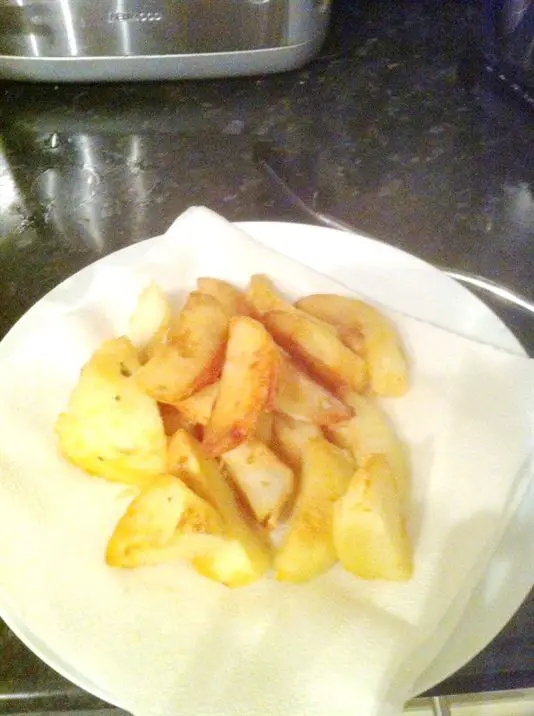 8. At the same time, flash-fry the oiled steaks in the cast iron pan, for about 1 min each side, to create a caramelised golden crust.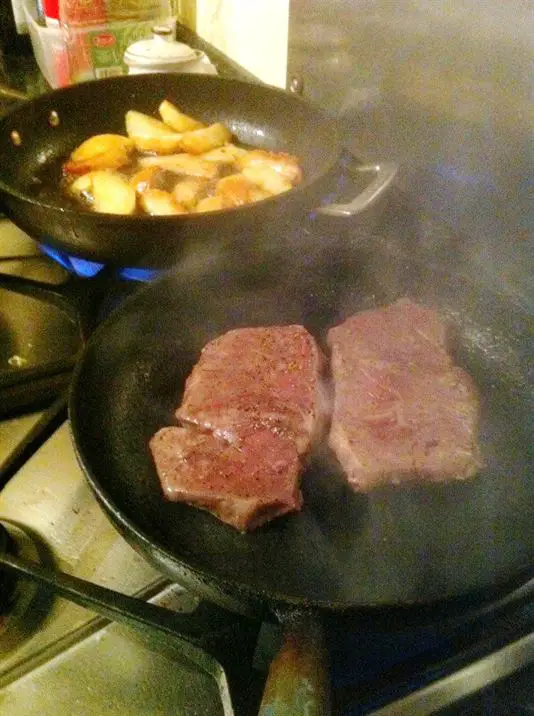 9. Serve the steak and chips with a big dollop of the creamy Stilton mushrooms and wilted spinach.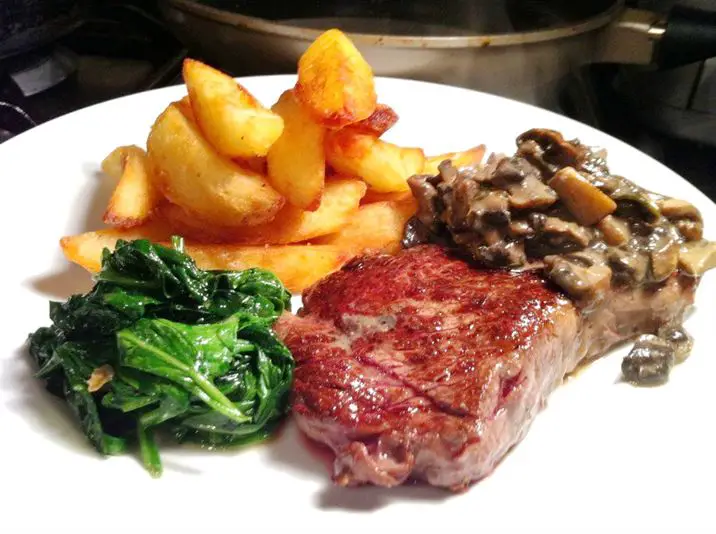 ¢ Do you have a recipe that involves 5 INGREDIENTS OR LESS to share? Let the wider world feel your love, by linking up your post, below¦
Mister Linkys Magical Widgets " Auto-Linky widget will appear right here!
This preview will disappear when the widget is displayed on your site.
For best results, use HTML mode to edit this section of the post.
¢ Next Thursdays Recipe Shed challenge will be¦CAKES AND BAKES. Savoury or sweet¦you decide.