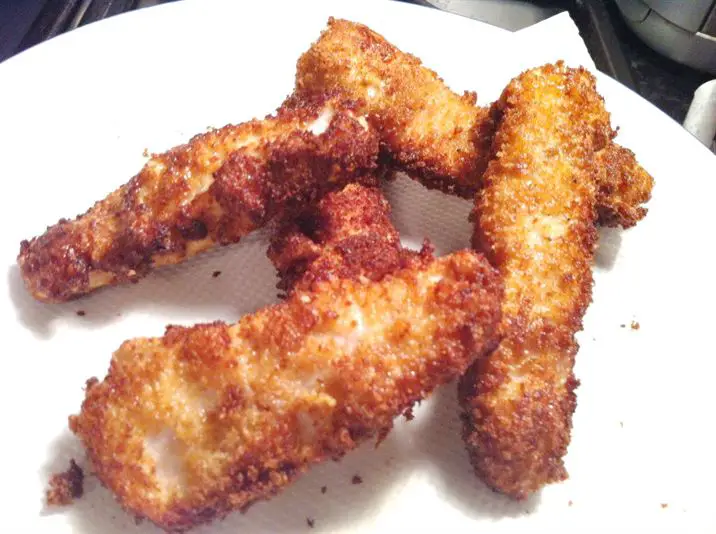 It finally looks as though my influence has rubbed off because my eight-year-old son has become interested in cooking lately. Nothing fancy a pancake here, a toad-in-the-hole there, eggy soldiers, ham-and-cheese topped pizzas. But Im delighted hes taking an interest. I learned to cook at school, not because my mum encouraged me, but because she was such a dreadful cook (God rest her soul) that I figured Id need to learn or starve when I left home.
This is my boys latest effort: breaded turkey goujons, with potato salad and sweetcorn. Nothing special, nothing fancy, but all the lads own work (with a little help from his five-year-old brother).
Serves 3
1 large turkey breast, cut into long strips (you should have about 10 strips)
100g plain flour
2 eggs, beaten
Breadcrumbs, made from 2 slices of wholemeal bread, whizzed in a food processor with 1 tsp paprika and 1 tsp black pepper
300ml sunflower oil, for frying
1. Put the flour, eggs and seasoned breadcrumbs onto three separate plates. Dip the each turkey strip first into the flour, then the egg and finally the breadcrumbs. Press down to make sure the coating sticks.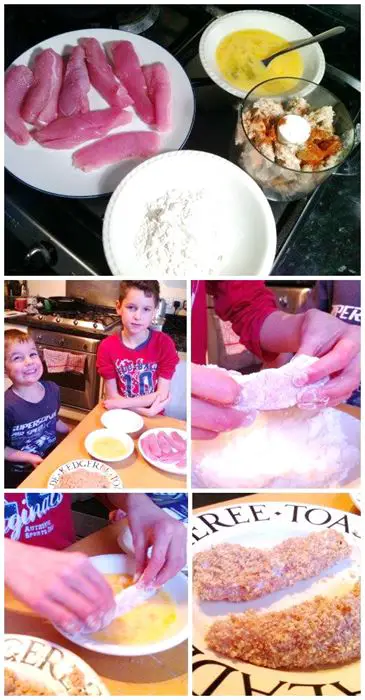 2. Add the oil to a large frying pan and heat until it starts to shimmer. Carefully lower each goujon into the oil (I did this, not my son dont call the health & safety police!). Cook for 7-9 mins until golden, turning constantly to ensure the breadcrumbs dont burn.
3. Serve with potato salad, made with par-boiled new potatoes, mixed with 2 tbsp mayonnaise and 1 tbsp creme fraiche, and sweetcorn, heated in a pan with a little butter.