Dont let your eyes deceive you: this magnificent cut of marbled meat isnt beef but pork. Yes, that animal you normally associate with pinkiness.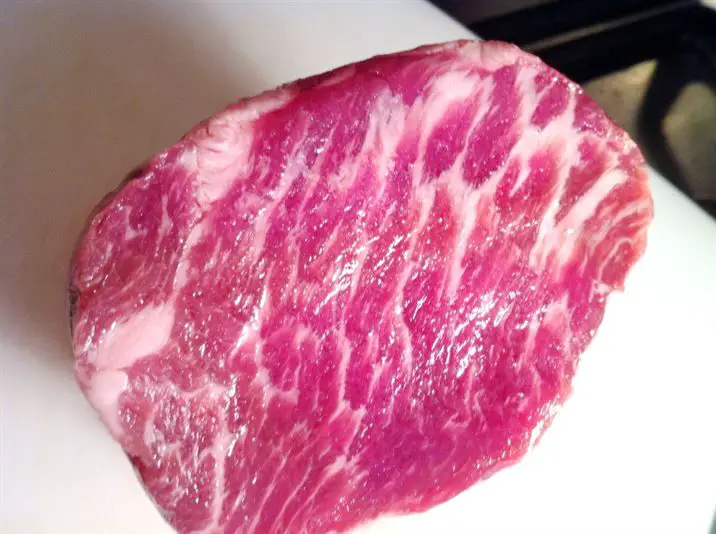 But this is no ordinary pork: this is the meat from the Iberico Pata Negra pig, the ultimate in organic free-range animals.
They roam free in the woods of Spain, feasting on acorns. Their meat is deep red, like wild boar, and has the rich nutty aroma of their diet.
But what makes it so different and expensive ((45 per kilo) is the marbling of intra-muscular fat. This gives it both its taste and juiciness.
And you can cook it medium-rare. Yes, really.
In the States, at least, pork can now be cooked to when the internal temperature of the meat reaches 62C (145F) – the same as whole cuts of beef and lamb.
This means that as long as youre sure of the provenance of the meat that it is at least free-range, but preferably organic – it is now safe to cook pork medium-rare, as long centre of the meat has reached that all-important 62C.
There are a couple of ways to achieve this. The first is by roasting in the oven with a digital probe inserted into the centre of your cut; the second is to carve the pork into steaks and fry in a searing hot pan.
Thats what Ive done here with this Iberico Pata Negra presa a boneless, rolled shoulder.
Fine Food Specialist, the site I bought this from, recommended simply oiling and seasoning the meat before searing in a hot pan for a couple of minutes pretty much as you would cook a beef steak.
So thats what I did, and then served it with wilted Cavalero Nero, chorizio-roast potatoes and a creamy paprika sauce. Quite splendid.
Serves 2
For the pork
400g Iberico pork presa, unrolled, trimmed of external clumbs of fat and carved into 1-2 cm-thick steaks
1 tbsp rapeseed or sunflower oil
For the paprika sauce
1 tbsp olive or rapeseed oil
2 garlic cloves, crushed & chopped
1 medium onion, chopped
300 ml chicken stock
2-3 tsp paprika
1/2 tsp cayenne pepper (optional)
100 ml creme fraiche
1 tsp corn flour
1. To make the sauce, add the oil to a saucepan and gently cook the onion and garlic until soft, approx. 5 mins.
2. Add the stock, paprika and cayenne pepper and cook over a low heat until the sauce has reduced by about a third, approx. 10 mins.
3. Add the creme fraiche and cook for a further 5 mins. Mix the corn flour with a little water and add to sauce to thicken.
4. For the pork, heat a dry cast-iron frying pan until smoking hot. Oil the pork steaks (not the pan) and season with a little salt.
5. Add the pork steaks and cook for 2-3 mins each side, flipping every 15-20 secs. If you dont trust me (weve never met, so I dont blame you) cook for longer until the pork steaks are cooked all the way through with no sign of pink. The meat is so juicy because of the marbling, that you will still get succulent results.
6. Remove the steaks from the pan and transfer to a plate and rest for 5 mins. 7. Serve with wilted Cavalo Nero and chorizo roast potatoes.
NOTE: This is not a debate the UK government enters into but heres the NHS advice on cooking, temperature and hygiene.