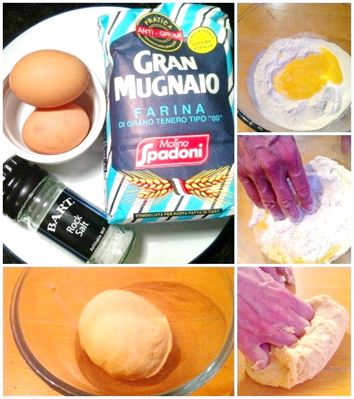 Look what I got for Christmas (youll have to scroll down a bit)! A fantastic, shiny pasta-making machine, the same brand as used by pasta master Theo Randall. Straight from Italy (though more likely John Lewis or Amazon).
Its called Imperia and it is imperious. A thing of wonder and beauty. I just have to find out how to switch the bloody thing on.
Ooops, whats that you say? Its manual? No buttons or batteries. Ahem, in which case, lets start again.
Its now a couple of weeks since I opened this beauty and Ive had several attempts at making pasta. My first effort was rubbery; the second dry and porous; the third kept falling apart; the fourt stuck to the table and bits of the dough are still there.
But after a visit to my local deli and a chat with the fantastic Italian fellow who owns it, I think Im on my way to somewhere. Not perfection, by any stretch, but somewhere tasty, and not half as chewy.
This ravioli, encasing two different homemade stuffing, and served with brown butter and crispy sage, is my best effort to date.
It was a mighty fine meal, I have to say: better than supermarket dried ravioli, but nowhere near as good as deli-fresh stuffed pastas.
But its a learning curve. Bear with me.
This recipe makes 10-12 good-sized ravilois. Or is it raviolae?
To make the dough (this is a very basic recipe, but I will be trying other variations in the future)
200g 00² fine flour
2 large eggs, lightly beaten
Large pinch of salt
1. Sift the flour and salt into a large bowl. With your fingers, make a well in the centre of the flour and pour in the egg.
2. Use your fingers to flick the flour onto the egg, gradually bringing it all together into a big, sticky lump. Dont worry about it clumping around your fingers as you work the dough, the mixture will gradually come together and eventually be quite smooth.
3. On a very lightly floured table or board, knead the dough, pressing and pushing with the heel of your hand and your knuckles. Do this for around 10 mins, then form the dough into a ball, put in a bowl, cover with plastic wrap and leave for 10 mins.
To make your own pasta with the pasta machine.
1. Cut the dough ball in half and roll each half out with a rolling pin, using light strokes, to about 1 cm thick.
2. Set the machine thickness dial to its thickest setting then, hovering the freshly rolled pasta sheet over the gap between the rollers, rotate the handle so that it pulls the pasta through the rollers. If youre old enough to remember drying clothes through a mangle, its just like that.
3. Once the pasta emerges through the other side, take care to keep it as a single sheet, then fold over once, reduce the thickness dial a notch, and repeat the process. Do this until you are down to the second thinnest or thinnest notch (I havent worked out the perfect thickness yet). Repeat the process with the other rolled out slab of pasta. You now have a couple of thin sheets of pasta. Lay them out on the floured table and get ready for the filling stage. But first¦
Two lovely ravioli stuffing recipes
Ricotta and mushroom stuffing
Knob of butter
2-3 garlic cloves, finely chopped
6-8 shitake mushrooms (or any mushrooms)
100g ricotta cheese
Heat a small pan over a low heat. Melt the butter and add the garlic. Cook for 1-2 mins until tender, then add the mushrooms. Cook for 5-7 mins until all the liquid has evaporated from the mushrooms. Allow to cool a little, then stir in the ricotta. Mix thoroughly and allow to cool. Transfer to a small bowl and allow to cool completely.
Butternut squash and nutmeg stuffing
1 tsp olive oil
2-3 garlic cloves, peeled and finely chopped
Half butternut squash, peeled, deseeded and chopped into 1 cm cubes
1 tsp dried thyme
Good grating of nutmeg
1. Add the oil to a small pan and gently heat. Add the garlic and cook until tender for 1-2 mins, then add the squash cubes. Stir-fry for 2-3 mins until the sugars caramelise a little. Add enough water to come halfway up the sides of the cubes and boil for approx. 10 mins, until very tender. Add the thyme and continue to cook for a further minute. Once all the water has boiled away (it should be as dry as possible), remove from the heat, grate in the nutmeg and mash with a potato masher. Transfer to a small bowl and allow to cool completely.
Fill the ravioli.
1. Flour your table or board, and lay out two rectangles of rolled pasta.
2. Put a teaspoon of your chosen filling on one of the rectangles, and then 8 or so more 2-3 cms apart from each other so that you have two neat lines of perfectly spaced dots of filling. Brush the edges of the rectangle all around with a little egg wash or water.
3. Take the second rectangular sheet of pasta and carefully lay it on top of the first rectangle and the fillings, making sure all the dots of filling are covered.
4. Using your hand, carefully press the pasta down all around and in between the filling mounds to seal.
5. Use a knife or a pasta wheel to slice through the pasta, in between the filling-mounds, then pull apart to crate individual ravioli parcels.
Cook and make the sauce
1. Bring a large pan of salted water to a rolling boil.
2. Carefully lower the ravioli parcels into the water a few at a time. Cook for 3-4 mins, until the pasta is tender. If you got the sealing stage right, there will be no leakage of the stuffings.
3. Make a simple brown butter sauce by gently melting 100g butter in a saucepan, then adding a dozen or so sage leaves. Cook until the butter starts to brown and the sage leaves crisp up, approx. 2 mins. Take care not to burn.
4. Serve the ravioli on a large plate with the brown butter and sage sauce drizzled over. Finish with a handful of grated Parmesan cheese, if you like.