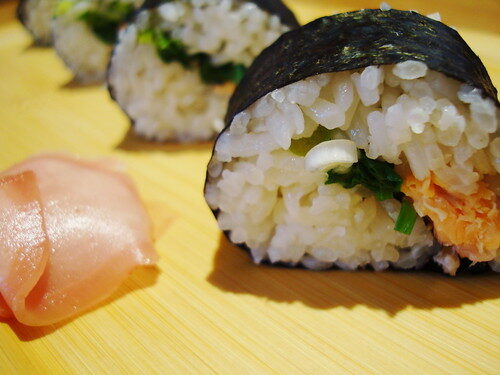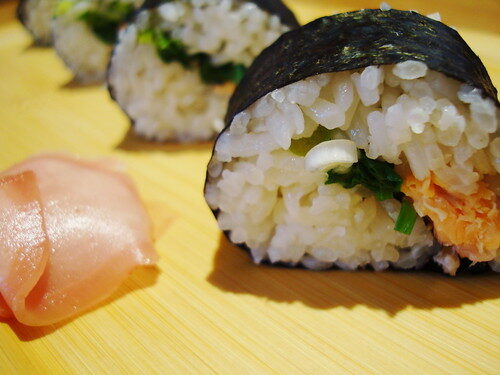 Maki sushi or sushi rolls can be a fun and creative way to eat healthily, as you can make plenty with children (not the cutting part!) or with friends, and fill them with anything you like. There are a million and one recipes for these online, but here's how I made them, based on instructions on the back of the sushi rice and nori packets and on memory from having made them with Japanese friends in the past.

First you need to have the basics to hand. It's all about being organised and having everything ready, so that you can start assembling. I only made three rolls with the ingredients below, but after making them and tidying and washing up, I realised I should have made far more, and saved them for dinner. Which is why having friends or family over to make them and then eat them together is recommended. Otherwise it's a lot of work for just three rolls!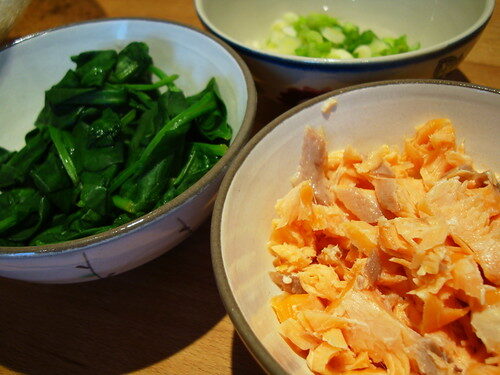 Print
How To Make Sushi Rolls
---
Description
Basics:
bamboo sushi mat
wooden rice spatula
large bowl
sharp knife
something to fan the rice with
nori (seaweed sheets)
gari (pickled sushi ginger)
wasabi (I use the powdered version)
soy sauce
---
Scale
Ingredients
Sushi rice ingredients:
250g

sushi rice

2 tbsp

Japanese rice vinegar

1 tbsp

mirin

2 tsp

caster sugar

1 tsp

salt
Filling ingredients: (basically, use anything you like!)
1

hot smoked salmon fillet

4

spring onions

half a

bag of spinach
---
What to do, step by step:
1. Boil the rice using either a saucepan or rice cooker. According to the instruction, use 330ml water to cook 250g rice, but to judge the amount of water, I always stick my little finger upright in the saucepan, touching the base. With the rice in the water, it should come up to the second knuckle (of course we won't all have the same length fingers, but this is how I was taught!). Bring to the boil with the lid off, then turn the heat all the way down and simmer for another 10 minutes with the lid on. Then turn the heat off, but leave to stand for another 15-20 minutes, keeping the lid on. Don't be tempted to lift the lid to check on the rice!
2. Mix the sushi rice ingredients together in a small cup, stirring until the sugar and salt have dissolved completely
3. While the rice is cooking, prepare the filling ingredients. As I had no sashimi-grade fresh fish to hand (some salmon or tuna would have been lovely), I chose hot smoked salmon which I flaked roughly, barely wilted spinach (this needs about a minute in a shallow pan with some water) and finely chopped spring onions. Another nice ingredient is toasted sesame seeds (add seeds to hot, dry frying pan and stir until brown and popping)
4. Transfer rice to a large bowl, and using the wooden rice spatula, fold in the sushi rice ingredients, so that the grains are evenly coated. Continue folding until the rice cools down (it helps to fan it as well during this process, which is why extra pairs of hands are useful). When it is sticky and warm, then you're ready to start rolling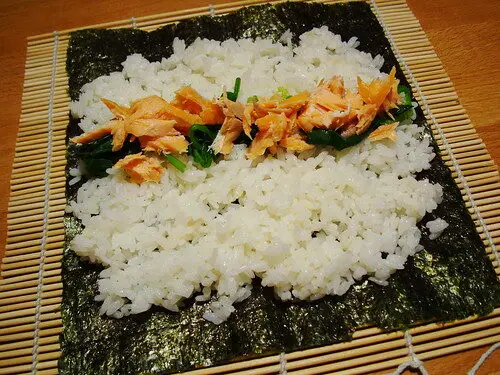 5. Place a sheet of nori on the sushi mat and spread a layer of rice evenly over it, leaving a small section uncovered at either end. Try to get the right proportion of rice to filling, otherwise you'll find yourself eating a lot of rice and not much filling (as I found out). Also remember not to overfill the roll
6. Starting with the edge closest to you, roll up gently but firmly into a tight roll, pulling the edge of the mat back as you go, so it does not roll into the sushi. When you reach the uncovered end, wet with a bit of water to seal, then finish rolling. This rolling part takes some practice to get right
7. Cut roll into pieces with a sharp, moistened knife. Don't cut the roll until you're ready to serve, otherwise the rice will become dry
8. Serve with gari on the side and a little dipping dish of soy sauce with wasabi. Eat with your fingers like the Japanese do!
Please let me know if you have any useful tips or favourite fillings for making sushi rolls! I'll be making these regularly from now on, so any suggestions are more than welcome.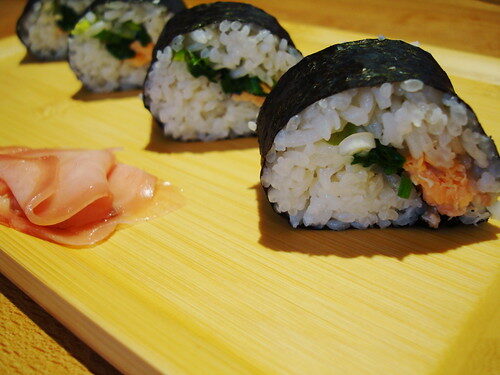 Tags: cookery, cooking, food, Japanese, maki sushi, sushi, sushi rolls, travel eating