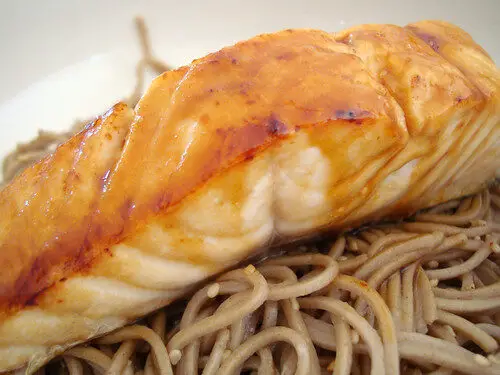 Earlier in the month, I wrote about 8 Useful Japanese Ingredients. I also learnt how to make salmon teriyaki from cookery writer Kimiko Barber at her Japanese Kitchen cookery workshop, held at Books for Cooks in Notting Hill, London. The following recipe is taken from Kimiko's recipe booklet that was handed out in class.

As my husband will testify, I don't cook that often. But Kimiko made it look so easy that I left Books for Cooks, headed for the supermarket and promptly produced teriyaki salmon that very evening. My husband only had to do the noodles!

You'll never need to buy teriyaki sauce again once you've tried making this. And of course, it goes with anything, so you could use beef, eel, tofu, vegetables, anything you like.

Ingredients for teriyaki sauce: (for 4 portions of salmon)


150 ml soy sauce

150 ml mirin

50 ml sake

50 ml sugar
For 2 portions, I reduced the quantities and used 5 tablespoons of soy sauce, 5 of mirin, 3 of sake (drinking, not cooking sake) and a dollop of honey instead of sugar. Kimiko said you can do this if you're keen to cut down on sugar. You could also make more sauce than you need and store it in the fridge for up to 4 weeks.

add ingredients to a shallow saucepan and bring to the boil over a medium heat, stirring constantly
reduce to low heat and simmer for 15-20 minutes, or until the liquid has reduced to about a third and becomes syrupy (not too thick, not too runny) and glossy-looking. Remember to keep stirring and not let it burn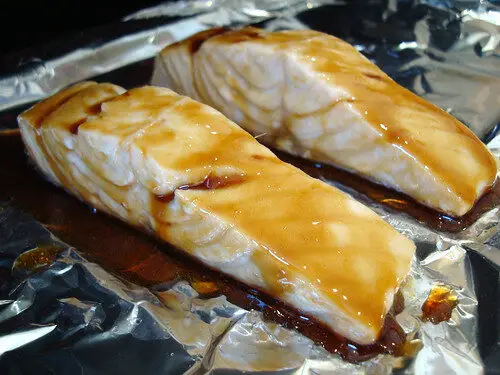 To prepare the salmon:

turn the grill on high and line grill pan with foil
brush fillets with vegetable oil and sprinkle with a bit of sea salt
place skin-side down under grill and cook for 5 minutes
turn over and cook for 3 minutes until skin is slightly blistered. I skipped this part as the kitchen started to smell too fishy, so I just left the fillets as before for 3 more minutes
brush the teriyaki sauce on with a brush, place under the grill for a minute, then repeat this process a couple more times
the sauce will burn if you're not careful, as I discovered, which is why it's only brushed on towards the end. And as you can see from the photo, if the sauce hasn't reduced properly, it will be slightly too runny! So be patient and don't rush the reduction process
if you find the sauce has hardened a bit in the saucepan, all you have to do is heat it up for a few seconds and it will become runnier again
Serve with Japanese rice or noodles. Enjoy!

If you liked this, try these recipes from the same cookery course:

How To Make Japanese Beef Tataki Salad
How To Make Japanese Chicken & Shimeji Mushroom Rice
How To Make Japanese Baked Aubergine Miso
How To Make Japanese Beans with Sesame & Miso Dressing
How To Make Japanese Leek and Shiitake Mushroom Miso Soup
How To Make Japanese Dashi Stock
Click for all the Japanese recipes on Lay The Table

@ Lay The Table