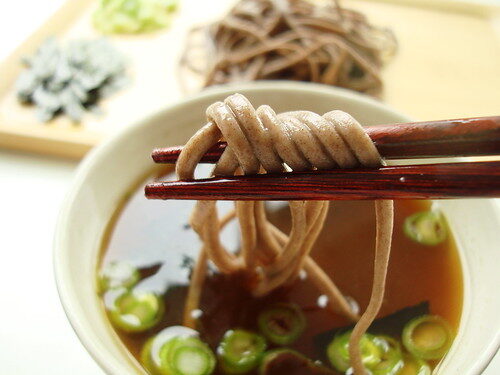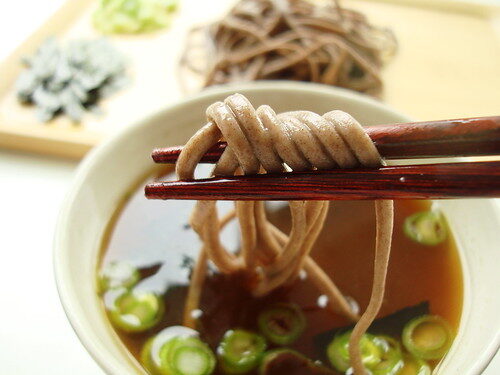 Here's a really simple recipe for zaru soba, cold Japanese soba or buckwheat noodles served with a soy-based dipping sauce. This isn't for making soba noodles from scratch (although we do have buckwheat flour to make the flour blend!), but for preparing the dipping sauce. Although you can buy the dipping sauce in bottles, it's very easy to make your own and I think it tastes much nicer.

I love eating zaru soba, particularly in the summer time. On a hot, sticky day, there's nothing nicer than slurping down some cold noodles!

Ingredients: (serves 4)


soba noodles (the higher the buckwheat percentage, the better)
nori, cut into small strips
spring onions, very finely chopped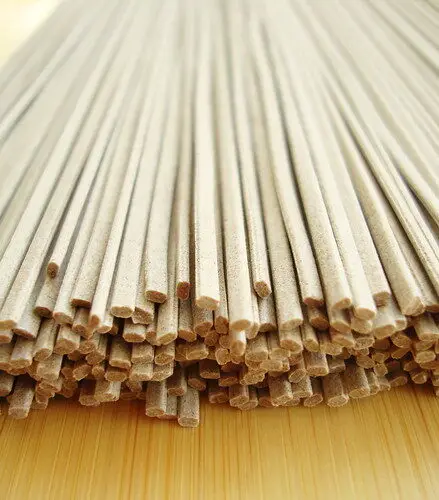 What to do next:

There are different ways of preparing the dipping sauce, but this one is really easy and one I've used many times over the years. Follow the simple method to make fresh dashi stock – it takes about 5 minutes. Let it cool.

Meanwhile, cook the soba noodles according to the instructions on the packet. I cooked mine for about 6 or 7 minutes, as they should be al dente and definitely not overcooked and soggy. Drain and then rinse under cold tap water, which removes the starch and sliminess from the noodles. I then left them in a bowl of cold water while I prepared the dipping sauce.

Finely chop some spring onions and cut a sheet or two of nori into small strips.

In Japanese restaurants, zaru soba is usually served on a small bamboo mat on a tray, with the dipping sauce in a small bowl. Wasabi and spring onions are often served on the side, so that you can add as much or as little as you like.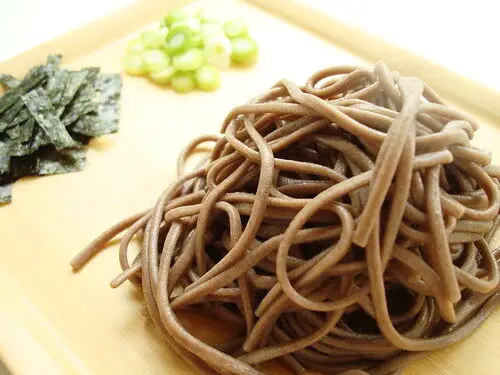 Pour the dashi into a large bowl, then add the mirin and soy sauce. I also added the wasabi at this stage, but if you prefer, you can serve this separately, as not all your guests may like the same amount of wasabi.

Divide the dipping sauce into small serving bowls. Drain and serve noodles on four separate plates or in bowls. I placed the nori and spring onions on the side of the noodles, to be added to the dipping sauce. Enjoy while cold!

See more Japanese recipes on Lay The Table, while this post on 8 Useful Japanese Ingredients may be helpful.

@ Lay The Table