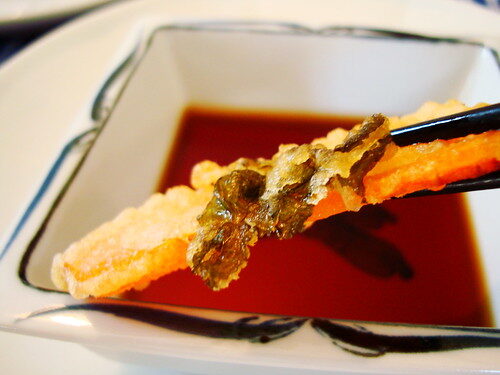 If you've enjoyed this tasty dish in a Japanese restaurant, then here's how to make it at home! My Japanese stepmother-in-law is an expert at preparing tempura and has kindly given me this recipe, along with some others. I've had it at her home and can promise you that it's fantastic.

All the ingredients can be easily found in any Japanese supermarket or if you're lucky, your local one. And if you want purely vegetarian tempura, then just skip the seafood ingredients and if you like, add other vegetables instead. Let me know what you think!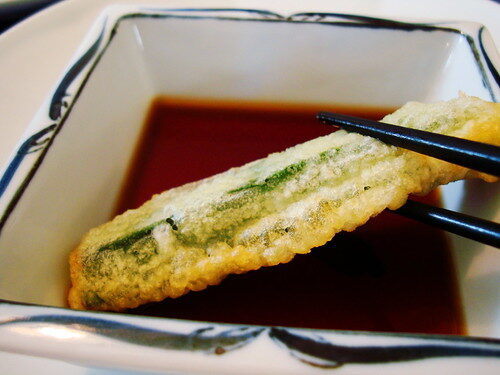 Tempura: (serves 4)

Vegetables & seafood –

4 spring onions

1 aubergine

1 carrot

4 shiitake mushrooms

1 small sweet potato

1 whole squid

8 king prawns

225g white fish fillets
Batter –

6 cups vegetable oil for frying

1 cup flour for coating

2 egg yolks

2 cups (500ml) ice water

2 cups (250g) tempura flour
Dipping sauce –

1 cup dashi (Japanese fish stock)

3 tsp mirin

4 tsp soy sauce

6 tsp finely grated daikon (white radish)

2 tsp finely grated root ginger
What to do next:

For the dipping sauce, bring the dashi to the boil (follow link for fresh dashi, but you can always use dashi granules if you're pushed for time). Add soy sauce and mirin, reduce heat and keep warm.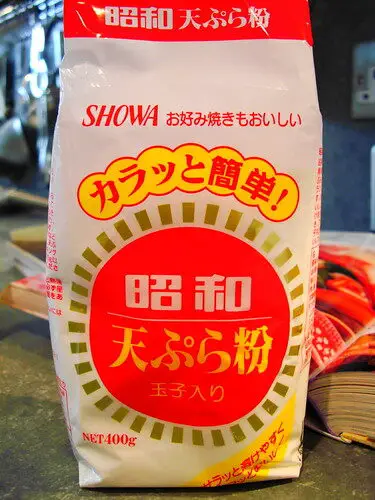 Chop spring onions in half. Cut aubergine into quarters lengthwise, leave ½ (12cm) flesh on skin and slice into fan shape. Cut sweet potato crosswise into 6cm slices.

Remove shells but leave tails on king prawns. Make 2-3 short deep cuts on the inner curve to prevent curling during cooking and press slightly to straighten.

Clean and skin squid, and cut through both layers crosswise to form rings.

Cut white fish fillets into 5 x 25 cm pieces and pat fish dry with kitchen towel.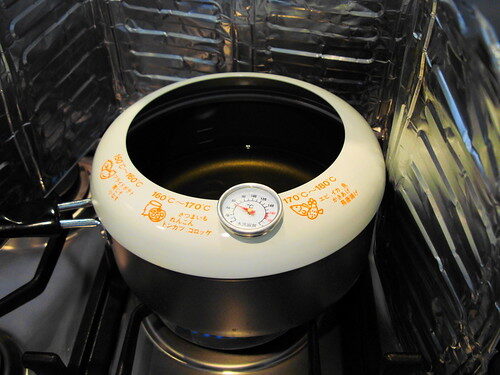 Prepare batter – beat 2 egg yolks in bowl and add 2 cups (500ml) ice water, beat lightly to mix well, add 2 cups (250g) flour and mix ingredients. You can also buy special tempura flour – just add the right amount of water according to the instructions.

Heat oil to 160C and maintain temperature (check out the nifty temperature gauge, only in Japan!).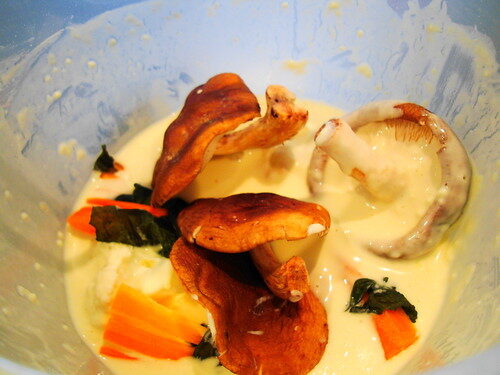 To cook, coat ingredients in flour, shake off excess, dip into batter and fry (most things need just 2-3 minutes). Drain on kitchen paper on a plate.

Watch out you don't get splashed with the hot oil, but it's not as scary as it sounds.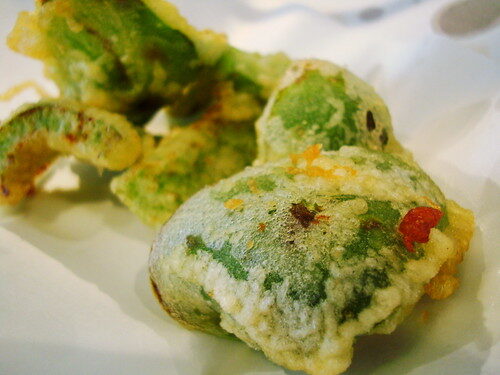 In each serving bowl, pour ¼ cup (60ml) dipping sauce and add 1½ tsp daikon daikon and ½ tsp ginger. Eat the tempura while hot and don't drown it in the dipping sauce, otherwise it will get really soggy.

Here's a recent post that might come in handy – 8 Useful Japanese Ingredients.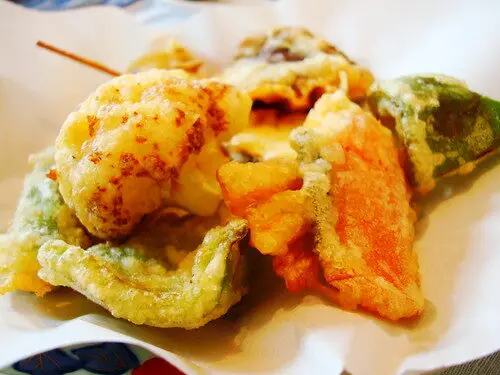 My stepmother-in-law's other recipes:

How To Make Japanese Fried Prawn Gyoza
How To Make Japanese Grilled Sea Bass
How To Make Japanese Brussels Sprouts in Sesame Sauce
Click for all the Japanese recipes on Lay The Table

@ Lay The Table