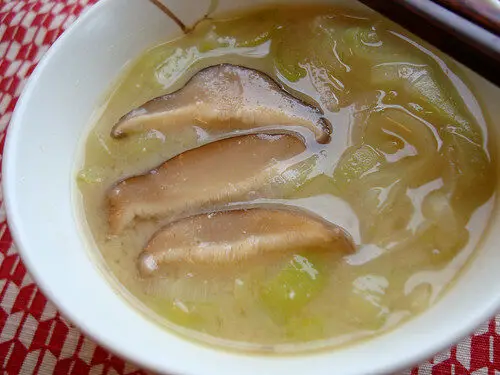 Last month, I wrote about 8 Useful Japanese Ingredients. Here's a simple recipe for leek and shiitake mushroom miso soup that I learnt from cookery writer Kimiko Barber at her Japanese Kitchen cookery workshop held at Books for Cooks in Notting Hill, London. The recipe is taken from the workshop recipe booklet that was handed out in class.

Kimiko explained that more formal Japanese meals will start and end with a soup. A clear soup is followed by various courses – tempura, sashimi and so on, then the end of the meal is marked with shokuji, the main course of miso soup, rice and Japanese pickles. Japanese people do not feel that they have eaten properly unless they have had a bowl of rice with their meal (this is how Chinese people feel about their meals as well. My mother always says she feels weak if she hasn't eaten rice at least once a day). A meal means miso soup, rice and pickles, with every preceding course regarded as 'side dishes'. Many Japanese still start the day with a bowl of miso soup – also a great hangover cure, according to Kimiko!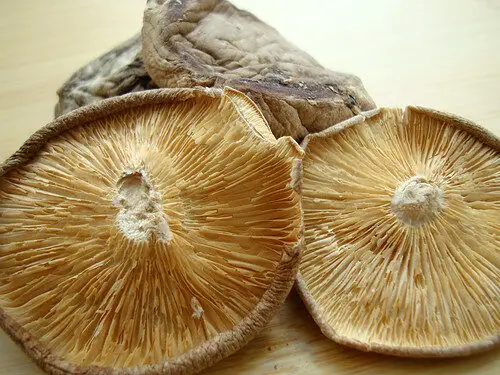 Ingredients:

1 leek

4 shiitake mushrooms (fresh or dried – if dried, they should be soaked in warm water for about 30 mins until soft)

850ml / 1½ pints dashi stock – here is Kimiko's recipe for fresh dashi stock which takes 5 minutes

4 – 6 tbsp medium-coloured miso paste (I tend to use only 2-3 tbsp of the white / shiro miso, as I don't like my miso soup too strongly flavoured)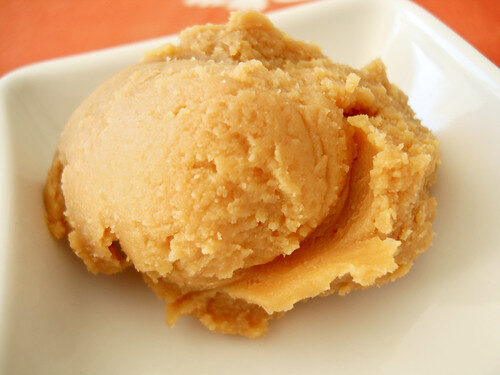 What to do next:

Remove shiitake mushroom stalks and thinly slice caps. Finely chop leek. Add mushrooms and leeks to saucepan, followed by the fresh dashi stock. Cook over a low heat for about 10 to 12 minutes, or until the leek and mushrooms are soft.

Place miso paste in a small heat-resistant bowl and add a ladle of the soup. Stir continuously to dilute the paste, rather than adding the miso paste directly into the saucepan. Add the diluted miso to the soup and stir.

You can adjust the flavour at this stage. If the soup is too strong, add a little water. If it's too weak, add a little more miso paste. Return to just before boiling point, turn off heat and serve immediately.

If you liked this, try these recipes from the same cookery workshop:

How To Make Japanese Beef Tataki Salad
How To Make Japanese Chicken & Shimeji Mushroom Rice
How To Make Japanese Baked Aubergine Miso
How To Make Japanese Beans with Sesame & Miso Dressing
How To Make Japanese Dashi Stock
How To Make Japanese Teriyaki Salmon
Click for all the Japanese recipes on Lay The Table

@ Lay The Table