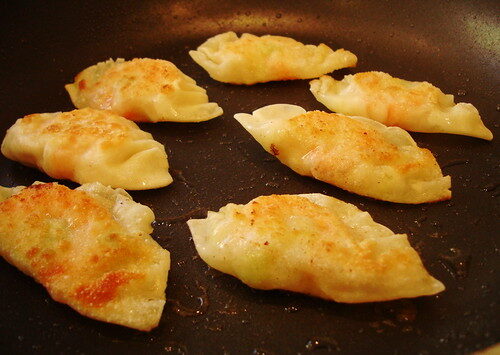 Another delicious recipe from my Japanese stepmother-in-law! She passed it on after our recent discussion about gyoza (the Japanese name for Chinese pan-fried dumplings, also known as 'potstickers' in the States).

Japanese Fried Prawn Gyoza: (for 4 as a starter or for 2 big eaters!)


24 prawns, cooked

24 gyoza wrappers (gowgee in Cantonese, jiaozi in Mandarin, from an Asian supermarket)

1 piece fresh ginger (about 5cm), grated

3 or 4 spring onions, finely chopped

vegetable oil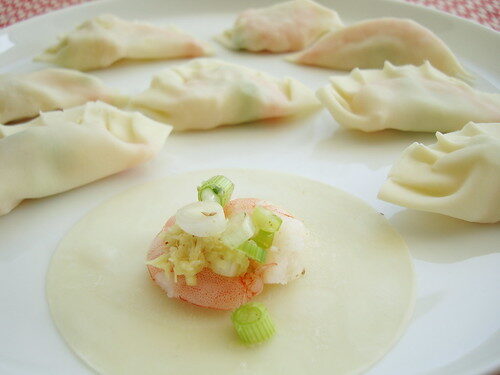 What to do next:

I used frozen king prawns, which were already cooked. This made the whole process much simpler. I left them out to defrost for a couple of hours before making the gyoza.

Grate ginger, chop spring onions, add to small bowl and mix.

Dampen edge of wrapper with a little water. Place prawn and a little ginger and spring onion mixture in the middle.

Fold wrapper over and press edges together to seal, then pleat. There are many ways of pleating dumplings, so try whatever you're most comfortable with. The important thing is that the edges are completely sealed.

Heat some vegetable oil in a frying pan and fry for about 3 minutes on a medium heat, making sure they don't burn. One side should be more fried than the other.

Serve them hot with a dipping sauce of your choice. I used a little light soy sauce, sesame oil and XO sauce, but I also like the simple combination of soy, vinegar and slivers of ginger, or soy with chilli oil.

Posts that might come in handy – 8 Useful Japanese Ingredients and How To Make Chinese Steamed and Pan-fried Dumplings.

My stepmother-in-law's other recipes:


How To Make Japanese Tempura
How To Make Japanese Grilled Sea Bass
How To Make Japanese Brussels Sprouts in Sesame Sauce
Click for all the Japanese recipes on Lay The Table

@ Lay The Table