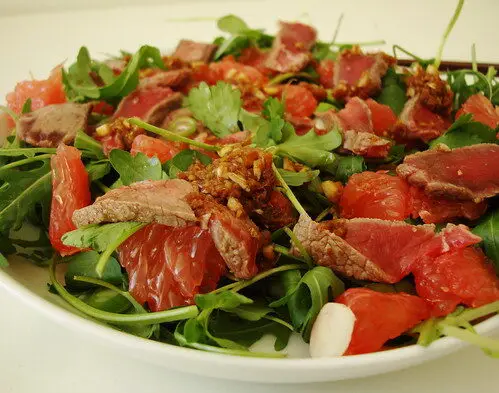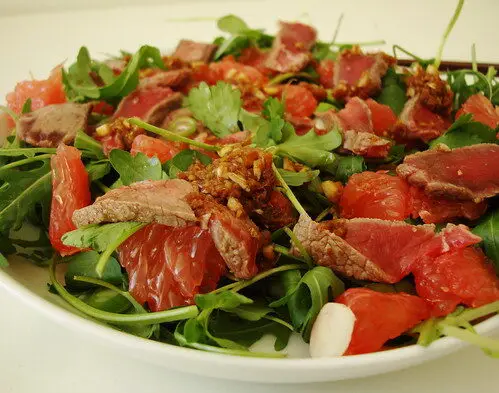 Back in January, I wrote about 8 Useful Japanese Ingredients. Here's a simple recipe for beef tataki salad with watercress and grapefruit that I learnt from Kimiko Barber at her Japanese Kitchen cookery workshop held at Books for Cooks in Notting Hill, London. She's written various cookery books on Japanese food, and focuses on home-style cooking. The recipe is taken from the workshop recipe booklet that was handed out in class.
Ingredients: (serves 4)

200g / 7oz fillet of beef

100g / 3½ oz watercress, trimmed

100g / 3½ oz wild rocket

2 spring onions, finely chopped

1 grapefruit, peeled and segmented

1 tsp vegetable oil

2 tbsp rice vinegar

sea salt and ground white pepper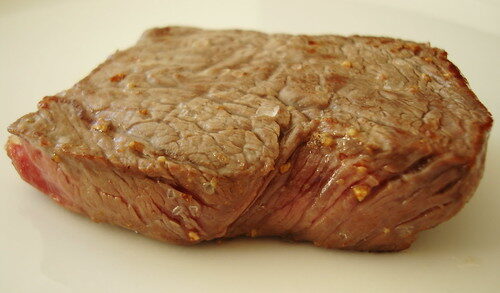 Salad dressing:

½ tsp grated garlic

1 tsp grated ginger

1 tsp sugar

4 tbsp soy sauce
What to do next:

Mix all the ingredients together for the salad dressing. Add grapefruit, spring onions and salad leaves to large serving plate.

Allow beef to reach room temperature. Brush with vegetable oil and rub with salt and pepper. Heat frying pan over high heat and quickly sear on both sides. Remove meat, place on chopping board and let it cool down enough to be handled.

With a sharp knife, slice the meat into 5mm thick pieces and pour rice vinegar over it to stop it from cooking further, and also to tenderise. Arrange slices on top of the grapefruit and salad leaves. Drizzle dressing and toss before serving. This would make a delicious summer dish!

If you liked this, try these recipes from the same cookery course:
@ Lay The Table