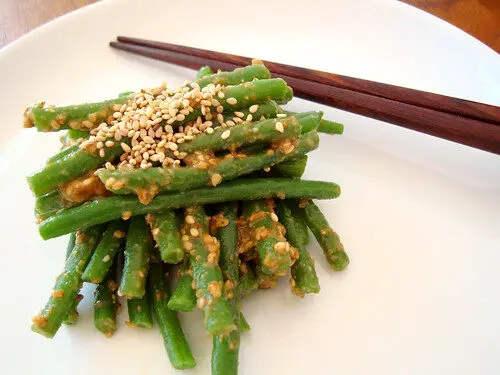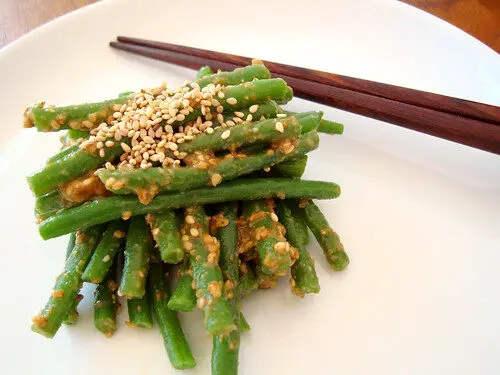 In January, I wrote about 8 Useful Japanese Ingredients. Here's a simple recipe for fine beans with sesame & miso dressing that I learnt from cookery writer Kimiko Barber at her Japanese Kitchen cookery workshop held at Books for Cooks in Notting Hill, London. The recipe is taken from the workshop recipe booklet that was handed out in class.

Ingredients:

2 tbsp toasted sesame seeds

1 tsp toasted sesame seeds for garnish

1 tsp sugar

1 tsp miso paste

1 tbsp soy sauce

200g / 7oz fine beans, trimmed



What to do next:

Grind sesame seeds into a coarse paste with a pestle and mortar. Add the rest of the ingredients and continue to grind until smooth. Boil the beans for 2 mins maximum, drain, place in ice water for 2-3 mins and drain again.

Coat with the dressing, garnish with sesame seeds and serve. This would make a delicious side dish.

A similar dish from my Japanese stepmother-in-law is her recipe for Brussel Sprouts in Sesame Sauce.

If you liked this, try these recipes from the same cookery course:

How To Make Japanese Beef Tataki Salad
How To Make Japanese Chicken & Shimeji Mushroom Rice
How To Make Japanese Baked Aubergine Miso
How To Make Japanese Leek and Shiitake Mushroom Miso Soup
How To Make Japanese Dashi Stock
How To Make Japanese Teriyaki Salmon
Click for all the Japanese recipes on Lay The Table

@ Lay The Table