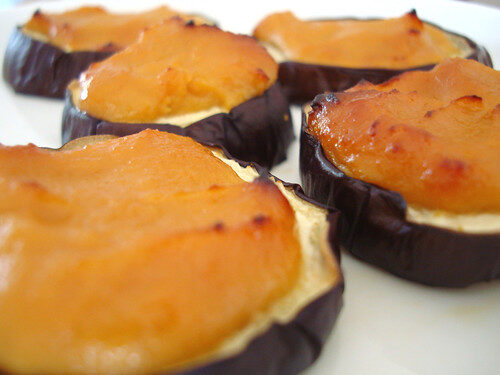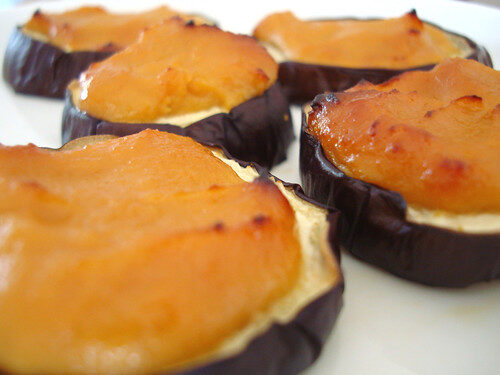 Back in January, I wrote about 8 Useful Japanese Ingredients. Here's a simple recipe for baked aubergine miso that I learnt from Kimiko Barber at her Japanese Kitchen cookery workshop held at Books for Cooks in Notting Hill, London. She's written various cookery books on Japanese food, and focuses on home-style cooking. The recipe is taken from the workshop recipe booklet that was handed out in class.

Ingredients for miso mixture:

200g / 7 oz medium miso paste (alternatively you could use a very dark one)

1 to 2 egg yolks

2 tbsp sake

2 tbsp mirin

1 tbsp sugar (or honey)
2 aubergines

vegetable oil for brushing



What to do next:

Pre-heat oven to 170°C / 325º / Gas 3. Add all ingredients for miso mixture into saucepan and cook over gentle heat, stirring constantly for 10 mins or until the mixture becomes thick and glossy. Take off heat and set aside.

Halve aubergines lengthways, or cut into slices of about 1½ – 2 cm thick. Make crosses in flesh with knife. Brush oil over flesh and bake in oven for 10 – 15 mins. Cover each piece with miso paste, then bake for a further 8 – 12 mins. Be careful not to let the miso paste burn. Serve hot. This would make a delicious starter.

A tip: When I made this again, using a more medium miso, I discovered (afterwards when it was too late) that I had covered each slice with too much miso paste, and it was extremely salty. I would therefore suggest sticking to the original recipe, using a darker miso and covering each slice with just a thin layer of paste. The dark one used in the last photo, which was taken at the cookery workshop, was fermented for three years. But it really depends on your individual taste.

Here's a useful article from Mitoku on the different types of miso and how to use them.

If you like this dish, you might like some of the others from the cookery course:

How To Make Japanese Beef Tataki Salad
How To Make Japanese Chicken & Shimeji Mushroom Rice
How To Make Japanese Beans with Sesame & Miso Dressing
How To Make Japanese Leek and Shiitake Mushroom Miso Soup
How To Make Japanese Dashi Stock
How To Make Japanese Teriyaki Salmon
Click for all the Japanese recipes on Lay The Table.

@ Lay The Table