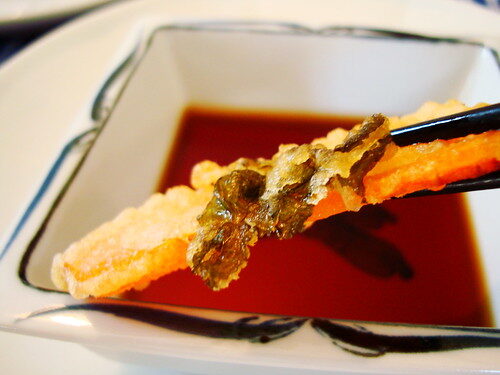 Imagine my reaction when we were recently invited by my in-laws for Sunday lunch. I charged up BOTH my camera batteries and hastily re-read the operating manual, fiddling with the settings to ensure that I was primed and ready to record what was guaranteed to be a superb home-cooked Japanese lunch.

Yes, I am blessed to have an amazing cook in my family – my Japanese stepmother-in-law. Her modern kitchen is a foodie's dream, and her shelves are stuffed with complicated cookery books. And she's going to hate reading this post, because she's extremely modest…

We arrived at 11:30, as I was keen to photograph the action in the kitchen, only to find that much of the work had already been done! Rice was cooking in the rice cooker, soup was simmering away, hijiki salad was ready, as were the potato salad and the inari, while the apple pie was warming in the oven. But luckily for me, there was still quite a bit to do…

The vegetable tempura had to be prepared (click here for Y's indepth recipe, with these recent tempura- making photos added). The vegetables – okra, carrot wrapped in shiso leaf, shiitake mushroom, pepper, cauliflower and onion – were dipped in the tempura batter, then added to the hot oil in small batches and deep-fried for several minutes, before being drained on paper.

This time, Y used ready-made tempura flour (all you have to do is add the correct amount of water to the flour used), but it's easy enough to make your own too (see recipe). She also had a nifty gadget attached to the rim of the saucepan, a temperature gauge for deep-frying tempura. It really takes very little time to prepare tempura, but you have to be on your toes all the time to make sure nothing burns (and avoid getting splashed with hot oil). Anyway, Y made it look extremely easy.

Next to be finished were the onigiri rice balls. The rice had been cooking in the rice cooker with a splash of sake, while fresh peas had been added about 10 minutes before the rice was ready. My small but vital task was to pack the rice into an onigiri mould (what a brilliant invention!), then press down as hard as I could with the lid part to form the compacted rice balls. It was a little tricky extracting them from the mould, but Y did that part for me. I alway wondered how onigiri were so perfectly shaped, and now I know.

Finally the miso paste had to be added to the okra and seaweed soup that had been simmering away. Y used a white miso from Kyoto, which imparts a much lighter flavour. A generous scoop was added into a sieve and dissolved using a spoon to stir it. There are different methods of adding miso, but as long as the paste dissolves properly in the soup, it doesn't matter how it's done.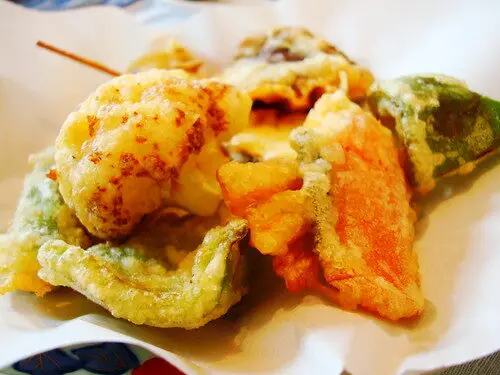 We started with the tempura and miso soup. The tempura batter was so light and of course there wasn't even the slightest hint of oil. Why can't all deep-fried food taste like this? And although I don't usually like okra, it was delicious both in the soup and as tempura. The onigiri and the inari (rice inside pockets made from bean curd, seasoned with sesame) were lovely, while I could have eaten the entire hijiki salad on my own.

As Y knows I love potato, she made a delicious Japanese-style potato salad (I got to take this home with me, along with everything else that we couldn't finish). Finally, we had low-calorie home-made apple pie with apples from the garden, and a raisin wich, which is a tasty Japanese biscuit with a fresh cream and rum & raisin filling!

Here's a quick recipe for salad dressing (mixed with the radish, celery and avocado, the latter which requires a good squeeze of lemon juice to stop it from darkening). Mix the ingredients together and add to the salad. Then sprinkle sesame seeds and bonito flakes on top. It's delicious!

¼ cup of vinegar (Japanese is best, but you can also use apple cider vinegar)

½ tbsp soy sauce

½ ground sesame seeds

1 tbsp sugar
Click for all the Japanese recipes on Lay The Table

@ Lay The Table