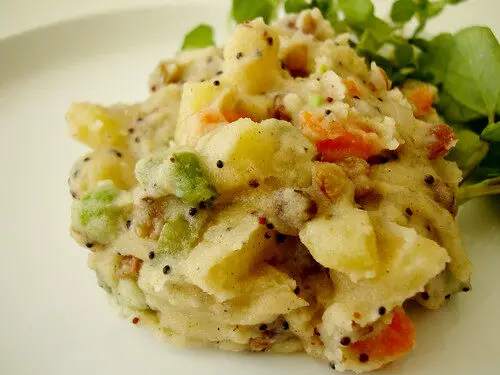 This is a personal recipe for vegetable upma, an Indian breakfast/brunch dish, from my friend Jaishree Misra, a London-based Indian novelist who spends her time creating tasty dishes in between writing books! It's always very exciting to be invited to her home to sample them…

Ingredients:

5 tbsp vegetable oil

1 cup semolina (grainy is better than smooth)

1 medium sized onion, finely chopped

1 green chilli, deseeded if preferred and finely chopped

1 ½ inch piece of ginger, finely chopped

1 cup mixed vegetables (peas, corn, carrots, broccoli, cauliflower, beans, potatoes), all chopped into small pieces and ¾ cooked. Frozen also works

2 cups boiling water

salt to taste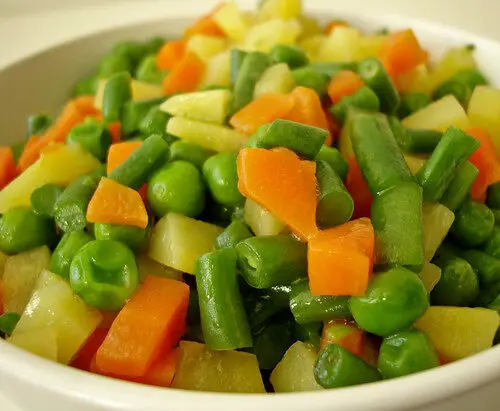 For the garnish:

1 tsp mustard seeds

1 dried red chilli

2 tsp dried lentils (urad and channa are preferable)
What to do next:

Finely chop onion, ginger and green chilli and set aside.

Prepare the mixed vegetables and cook in a saucepan on a low heat until semi-cooked (I cooked mine in a little oil and water, to avoid any sticking or burning, and it worked really well).

Dry roast the semolina on a low flame until it is pale brown and smells nutty. Set aside. In the same pan, heat the oil and when it is very hot, throw in the garnish of mustard seeds, dried red chilli and dried lentils. Don't let this burn, but the seeds should crackle nicely.

Add the onion, green chilli and ginger. Fry until onion is soft and throw in the chopped, semi-cooked vegetables. Fry gently before adding the roasted semolina. Once all this is mixed through, add the boiling hot water (double the quantity of the semolina) and cook on a low heat (it shouldn't need more than 10 minutes to cook through).

Please let me know how your upma turned out!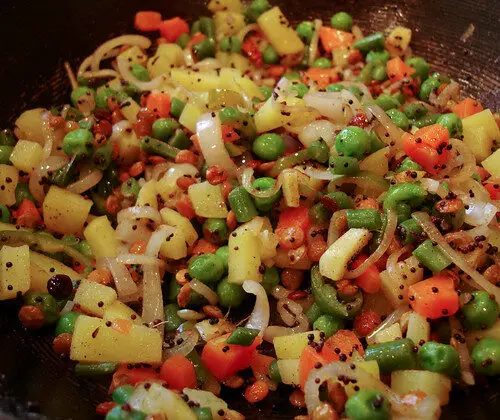 Other Indian Recipes on Lay The Table that you might like:

How To Make Indian Saag Aloo
How To Make Indian Cardamom Ice Cream or Kulfi
How To Make Indian Tarka Dal
How To Make Indian Vegetarian Desi Pasta
How To Make Indian Cumin & Coriander Potato Cakes
How To Make Indian Cabbage With Red Chillies
Click for all the Indian recipes on Lay The Table.

@ Lay The Table