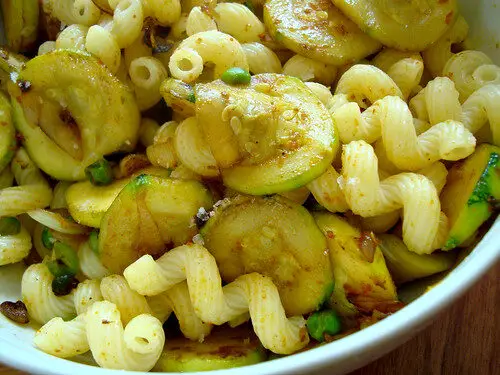 This is based on a recipe for quick curry paste that I learnt at the cookery workshop Easy Indian With Manju Malhi at Books for Cooks in Notting Hill, London two weeks ago. It's taken from the recipe booklet handed out at the workshop, and can also be found on Manju's website and in her Easy Indian cookery book. Manju made chicken jalfrezi using the medium-hot curry paste, but because of the vegetarian husband, I made curry pasta instead, which Manju told me is called desi pasta. I was so pleased that there's a name for it! Italian food is apparently the top favourite cuisine in India, where spicy pastas are very popular.

Manju Malhi's Quick Curry Paste: (makes 6 ½ tbsp)


2 tbsp sunflower or vegetable oil



Mix all the ingredients in a small bowl to form a thick, reddish-brown paste. Whatever you don't use up can be stored in an airtight container and refrigerated for up to 9 days. And you can cook many different dishes with it. I still have some left in the fridge for the next few days.

What to do next: (for 2 people)

While your pasta is boiling, fry 2 or 3 finely chopped shallots, 3 cloves of garlic and about a cm of ginger (you can either grate this or finely slice it). Then add any vegetables you have to hand. I used 1 sliced courgette and a cup of frozen peas. When the vegetables are cooked, add the curry paste. I used about a teaspoon and a half, but it depends on how strong you want it to taste. Cook for another minute or two, stirring to ensure that the vegetables are evenly coated with the paste.

Drain pasta, add to serving bowl and mix with vegetables. Season with salt and pepper. It's really tasty!

Let me know how you make your desi pasta!

Other Indian Recipes that you might like:

How To Make Indian Saag Aloo
How To Make Indian Cardamom Ice Cream or Kulfi
How To Make Indian Tarka Dal
How To Make Indian Cumin & Coriander Potato Cakes
How To Make Indian Cabbage With Red Chillies
How To Make Indian Vegetable Upma
Click for all the Indian recipes on Lay The Table.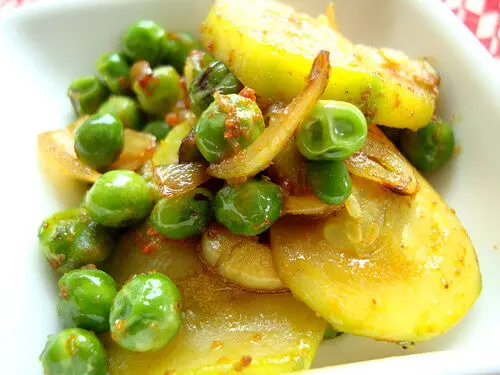 @ Lay The Table