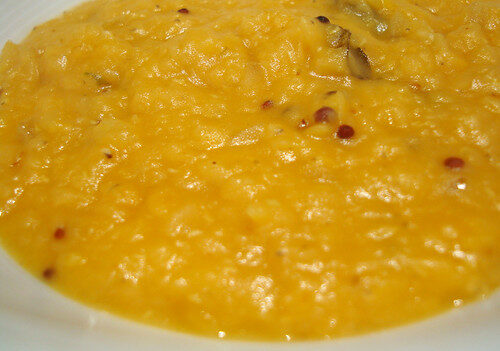 Here is another recipe that I've tried at home a few times since attending cookery workshop Easy Indian With Manju Malhi at Books for Cooks in Notting Hill, London. It's taken from the recipe booklet handed out at the workshop, and can also be found on Manju's website and in her Easy Indian cookery book. Best of all, it's really easy to make! I served it with steamed rice and white cabbage with red chillies, another of Manju's recipes.

Ingredients: (for 2 hungry people)

200g / 7oz split red lentils
½ tsp brown mustard seeds
pinch of asafoetida (if you don't have this, you can use half a finely chopped onion & 2 cloves of garlic, also finely chopped. I actually prefer not using it)



What to do next:

Bring 500ml / 17fl oz water to boil in a large saucepan. Add lentils and return water to the boil. Reduce heat to low and simmer uncovered, stirring occasionally, for 20-25 minutes until mushy. Make sure lentils do not burn and add extra water if necessary (which I had to do, in small amounts).

Melt butter in frying pan over medium heat. Add curry leaves, chilli, mustard seeds, turmeric, salt and asafoetida. Fry, stirring constantly for 30 seconds or until the spices splutter. Again, make sure they do not burn.

If you are using chopped onions and garlic instead of the asafoetida, then fry these first until golden brown before adding the other ingredients.

Stir into lentils, cook for another 2 minutes and serve! A little sprinkle of sea salt was needed.

The verdict?

This is a dish that I'll be adding to my small repertoire that I'll make time and time again. I really enjoyed making it, as it involved no stress whatsoever! Best of all, the ingredients are cheap and you can make it for lots of people without any extra work.

Other Indian Recipes that you might like:

How To Make Indian Saag Aloo
How To Make Indian Cardamom Ice Cream or Kulfi
How To Make Indian Vegetarian Desi Pasta
How To Make Indian Cumin & Coriander Potato Cakes
How To Make Indian Cabbage With Red Chillies
How To Make Indian Vegetable Upma
Click for all the Indian recipes on Lay The Table.

@ Lay The Table