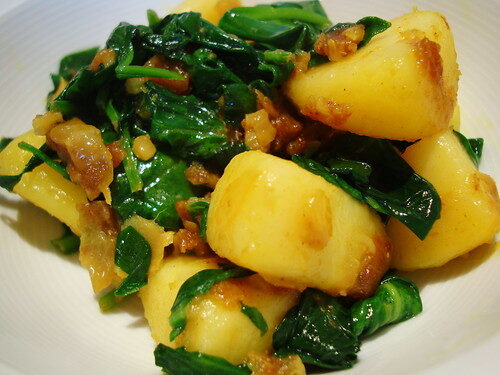 Here is the final recipe that I've tried at home since attending cookery workshop Easy Indian With Manju Malhi at Books for Cooks in Notting Hill, London last month. Manju didn't teach us how to make this, but the recipe can be found on her website and in her Easy Indian cookery book. I love saag aloo, in fact, anything made with potatoes…

Ingredients: (serves 4)

60g / 2¼oz butter or ghee

5cm / 2in piece root ginger, peeled and grated

4 garlic cloves, chopped

2 onions, chopped

2 green chillies, chopped

200g / 7oz floury potatoes, peeled and cut into 5cm / 2in pieces

1 tsp ground cumin






1 tsp ground coriander

½ tsp turmeric

¼ tsp salt

500g / 1lb 2oz spinach leaves, rinsed and chopped (you can also use frozen spinach, defrosted)

pinch garam masala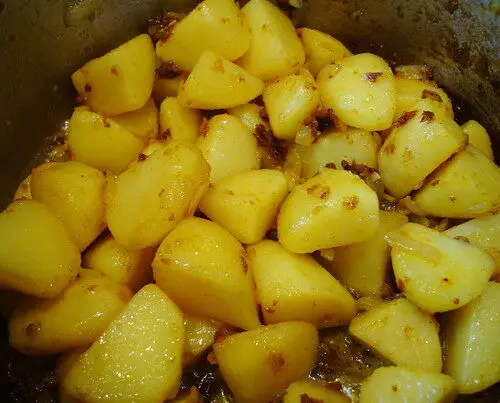 What to do next:

Melt butter or ghee in large saucepan over medium heat. Fry ginger, garlic, onions and chillies, stirring frequently, for 2 minutes.

Add potatoes and continue stirring for 5 minutes. Then add cumin, coriander, turmeric and salt. Continue frying and stirring for 15 minutes, or until potatoes are tender. I found that everything really stuck to the base of the pan unless I stirred non-stop. If this happens, add a little vegetable oil rather than more butter.

Throw in the spinach at the very end. You want it to stay nice and fresh, so take the saucepan off the heat after you've stirred it in, as it will continue to cook for a while with the heat from the potatoes.

Sprinkle garam masala over and serve hot. This would go nicely with Manju's tarka dal and rice.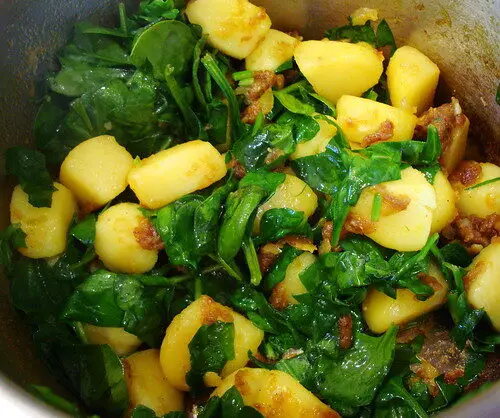 Other Indian Recipes on Lay The Table that you might like:


How To Make Indian Cardomom Ice Cream or Kulfi
How To Make Indian Tarka Dal
How To Make Indian Vegetarian Desi Pasta
How To Make Indian Cumin & Coriander Potato Cakes
How To Make Indian Cabbage With Red Chillies
How To Make Indian Vegetable Upma
Click for all the Indian recipes on Lay The Table.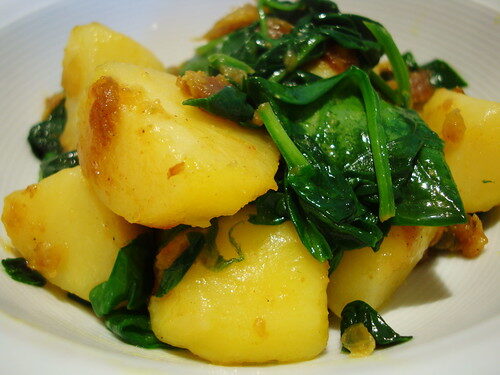 @ Lay The Table