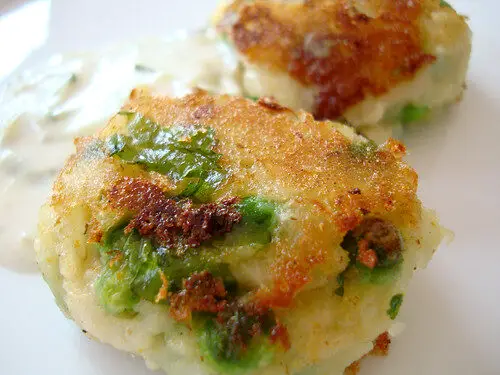 This is the second recipe that I've tried at home since attending cookery workshop Easy Indian With Manju Malhi at Books for Cooks in Notting Hill, London last week. It's taken from the recipe booklet handed out at the workshop, and can also be found on Manju's website and in her Easy Indian cookery book. I thought I'd try the recipes one by one, rather than create chaos by making all the dishes in one go.

This isn't the easiest one, but it's definitely the tastiest, as I love anything made with potato and peas. Best of all, it's vegetarian, so I can make it for vegetarian husband when he needs a break from slaving over the hot stove. I've also included below Manju's short recipe for preparing the accompanying cucumber relish.

Ingredients: (serves 4)

3 slices white bread

200g / 7 oz floury potatoes, peeled and boiled

100g / 3½ oz peas, defrosted

1 onion, finely chopped

½ tsp ground coriander

¼ tsp salt

¼ chilli powder

¼ tsp ground cumin

5cm / 2in piece root ginger, peeled and grated

a few coriander leaves, finely chopped

4 tbsp sunflower or vegetable oil for frying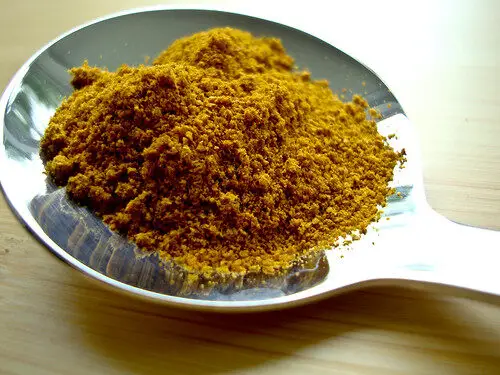 What to do next:


You have to be a bit organised, especially if it's your first time. Manju and her mum made it look deceptively easy, so I was all over the place when it was my turn to make it at home.

Take out peas and defrost. Peel the potatoes and start boiling them. In India, many people boil potatoes with the skins on, then peel them afterwards. Soak bread in bowl of cold water for 5 mins. The bread acts as a binding agent and is commonly used in India. It's important to squeeze out as much of the water as possible.

Make the cucumber relish in advance, so that it's ready for serving when the potato cakes are cooked. You don't want to be making it at the last minute.

Add all the ingredients to a bowl and mix and mash together with a wooden spoon. Wet hands slightly and form 12 balls, flattening them until they are about 1cm / ½ in thick.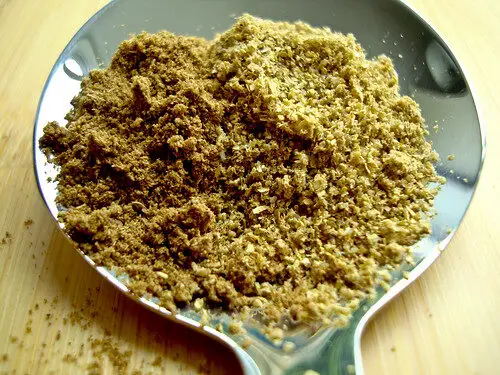 Heat oil in frying pan over a medium heat. Add as many cakes as you can and fry them for about 4 minutes, turning once, until golden brown and crisp on both sides. If you don't want to shallow-fry the potato cakes, you can also cook them on a griddle.

Remove from pan, drain well on kitchen paper and serve hot with the cucumber relish as a side dish or starter.

The verdict?

I think I need to practise making the potato cakes a few more times before they're presentable for dinner guests. My mistake was making the mixture slightly too wet and then the cakes were a little too large. The result was that the cakes didn't keep their shape so well, and more importantly, the onion didn't completely cook through. But I still managed to eat the entire lot on my own, and they were tasty. To see what the potato cakes are really supposed to look like, go to Easy Indian With Manju Malhi (last photo). My tip is to follow the recipe precisely until you feel comfortable enough to experiment!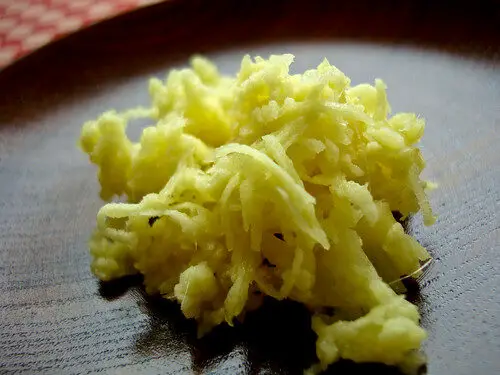 Cucumber Relish: (serves 4)

¼ cucumber, coarsely grated

300ml / 10½ fl oz natural joghurt, whisked

¼ tsp salt

¼ tsp ground cumin

pinch freshly ground black pepper

pinch chilli powder
Squeeze any excess water from the grated cucumber, using your hands. Add to bowl and stir in joghurt. Add salt, cumin, black pepper and chilli powder. Cover the bowl with cling film and refrigerate until required. Serve chilled.

Other Indian Recipes that you might like:

How To Make Indian Saag Aloo
How To Make Indian Cardamom Ice Cream or Kulfi
How To Make Indian Tarka Dal
How To Make Indian Vegetarian Desi Pasta
How To Make Indian Cabbage With Red Chillies
How To Make Indian Vegetable Upma
Click for all the Indian recipes on Lay The Table.

@ Lay The Table