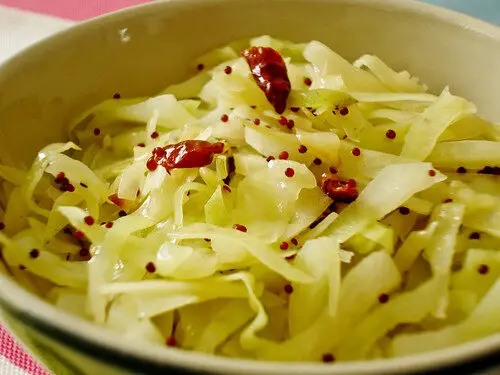 This is the first recipe that I've tried at home since attending cookery workshop Easy Indian With Manju Malhi at Books for Cooks in Notting Hill, London last week. It's taken from the recipe booklet handed out at the workshop, and can also be found on Manju's website and in her Easy Indian cookery book. I thought I'd try the recipes one by one, rather than create chaos by making all the dishes in one go. Of course, I chose the easiest one to try!

Ingredients: (serves 4)


3 tbsp vegetable oil

2 dried red chillies

1 tsp brown mustard seeds

400g white cabbage, finely shredded

1/2 tsp salt

1 tsp fresh lemon juice

1 tbsp dessicated coconut (optional)




What to do next:

Heat the oil in a large frying pan or wok over a medium heat. I used a wok as my frying pan isn't that large. Add the chillies and mustard seeds and fry for 30 seconds, stirring constantly or until they begin to splutter. Take care not to burn them.

Add cabbage and salt and increase heat to medium-high. Stir-fry constantly for 5-6 minutes until cabbage is tender. Sprinkle with lemon juice and coconut and stir before serving. I didn't use the coconut, as I'm not that keen on it (and also didn't have any!).

The verdict?

This is a really easy and delicious side dish, which would go with lots of non-Indian mains too. I really enjoyed making it, as it took no effort, but the result was fantastic.

Other Indian Recipes that you might like:

How To Make Indian Saag Aloo
How To Make Indian Cardamom Ice Cream or Kulfi
How To Make Indian Tarka Dal
How To Make Indian Vegetarian Desi Pasta
How To Make Indian Cumin & Coriander Potato Cakes
How To Make Indian Vegetable Upma
Click for all the Indian recipes on Lay The Table.

@ Lay The Table