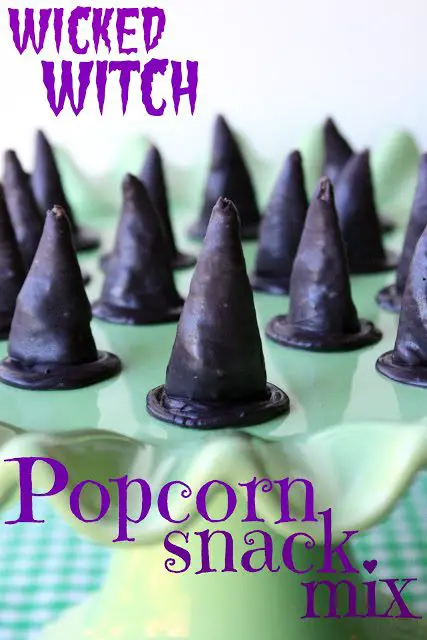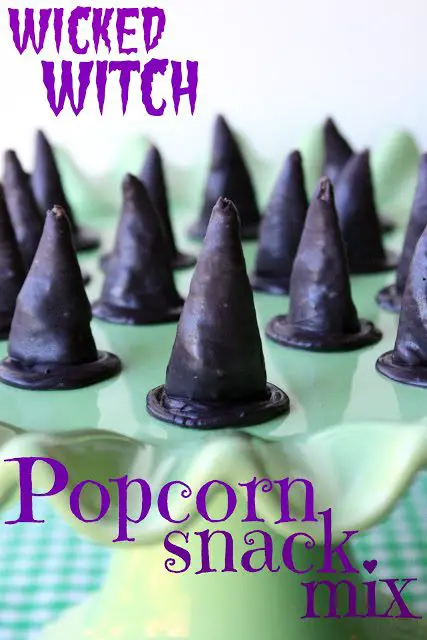 I was sort of excited when I came up with the idea to make some little, edible witch hats from Bugles and candy melts. I knew they would be a very fun add-in to a Halloween snack mix, so created a wicked witch themed snack just so I could feature them:)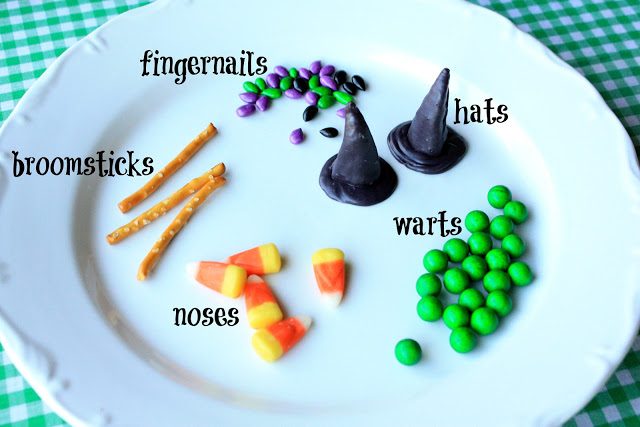 I rummaged through my pantry and came up with these wicked witch components…broomsticks (pretzel sticks), noses (candy corn), fingernails (chocolate-covered sunflower seeds), warts (green sixlets), and of course, wicked witch hats (original Bugles and black candy melts). I added some melted purple candy melts to popcorn to bring it all together, and there you have it!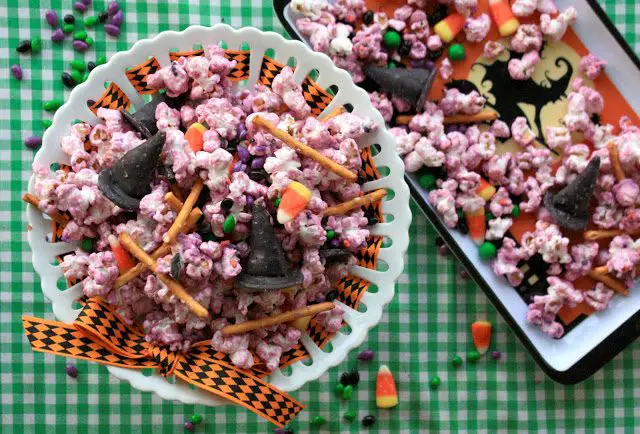 Wicked Witch Popcorn Snack Mix 1. Make stovetop popcorn: I used a 4 quart pan, covered the bottom of pan with vegetable oil (about 2 tablespoons) and then filled the bottom of the pan with a layer of popcorn. Cook over medium heat, moving pan back and forth (so as not to burn it) over burner, until all popcorn is popped. Of course you may use microwave popcorn if you prefer. 2. Line two baking sheets with wax paper. Spread popped popcorn onto the two sheets. 3. Melt a bag of purple candy melts (I used Wilton) and drizzle over the popcorn. Mix well. 4. Add all the other add-ins, and mix.
Witch Hats
1. Line up about 3 dozen original Bugle snacks on wax paper.
2. Melt a package of black candy melts in a deep bowl. 3. Using a fork, dip each bugle in the black melted candy. Gently tap off excess and stand up on wax paper to dry. 4. When they are completely dry, make the hat rims: 5. Place some black melted candy in a decorating bag or a plastic squirt bottle. 6. On a piece of wax paper, make black round circles about the size of a quarter. While still wet, place the dry, top part of the hat onto the middle of the wet, black disc. Let them dry completely.
Add the witch hats to the popcorn mix or eat as a Halloween snack on their own:)
Linked to:
Crazy Sweet Tuesday
I'm Lovin' it Party