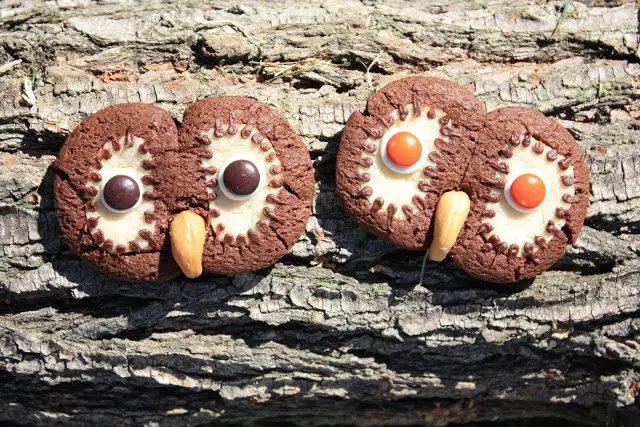 My Gooseberry Patch calendar proclaims today to be the "First Day of Autumn, " so I'm taking them at their word. Happy (official) Fall! I clipped this recipe for "Night Owl Cookies" out of a magazine a few years back, and decided to finally get around to making them. These owls remind me of fall and bring Halloween to mind, which is just around the corner!  It's a recipe courtesy of m&m's.  Aren't they cute?  They are pretty simple to put together too, as you shall see…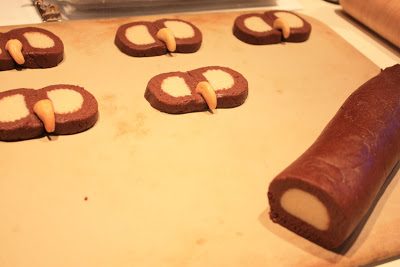 This photo shows what the "log" will look like(Step 2.) and how you place the cookie dough slices on the baking sheet to look like owls(Step 3.).
Night Owl Cookies (My adaptations are at the end of the recipe.)
Prep Time: 25 min.
Bake Time: 11 min.
Refrigeration Time: 30 min.
Decoration Time: 15 min.
Difficulty: Moderate
Yield: Makes 20 owl cookies.
1 roll (18 oz.) refrigerated sugar cookie dough
1/4 cup flour
1/3 cup cocoa powder
20 whole cashews
¼ cup chocolate frosting
½ cup M&M'S® Brand Peanut Chocolate Candies
2 cookie sheet pans
Plastic wrap paper
Resealable plastic bag
1. Divide the sugar cookie dough in three pieces. Knead the flour into one piece of cookie dough until smooth, set aside. Combine the remaining two pieces of cookie dough and knead in the cocoa powder until smooth, set aside.
2. Roll the lighter colored cookie dough into a 1-inch round log about 10 inches long, and move it off to the side. Roll out the chocolate cookie dough on a lightly floured surface to a 10 x 4-inch rectangle. Place the light colored log of cookie dough on top of the chocolate rectangle. Wrap the chocolate cookie dough completely around the lighter colored log. Pinch edges to seal and roll the log smooth. Wrap in plastic and refrigerate for at least 30 minutes.
3. Preheat the oven to 350°F. Cut the cookie log into 1/4-inch slices. Place 2 slices, side by side, on sheet pans. Press a cashew into cookie at the point the slices touch. Repeat with remaining cookie slices. Bake for approximately 8-11 minutes, or until cookies are just beginning to golden. Remove from the oven and transfer to a wire rack to cool.
4. Spoon the chocolate frosting into a resealable bag and snip a small corner from bag. Using the photograph as guide, pipe eyelashes and a dot to secure candies. Add the M&M'S® Brand Chocolate Candies for eyes. 
 My adaptations: I actually used Reese's peanut butter pieces for the eyes because I couldn't find the fall colored m&m's the day I was at the market.  I also made it easy on myself and used store-bought chocolate and vanilla frosting:)and used a Wilton #2 tip for the chocolate "eyelashes" and a Wilton #3 tip for the white frosting to secure the eyes. I used disposable frosting bags for both icings.
 These owls were a lot of fun to make and I'm really happy with the results! Tasty too!