I didn't hear about this Christmas Cookie group until after I visited a few blogs last Friday and saw "Week #1" posted. I quickly asked to jump on the bandwagon and my request was readily granted:)  Thanks, April! (I just may pass my peanut butter cookies off as Week #1…just substitute red and green m&m's for the Reese's,  and Voila, you've got Christmas cookies! 🙂

I thought it would be fun to post some gumdrop cookies that I have made once before, but the recipe is in a Christmas book in a box, in the garage, in the rafters, and I didn't feel like going to the trouble to get it down. I may make that recipe for another week.  Though they both involve gumdrops, they are quite different cookies.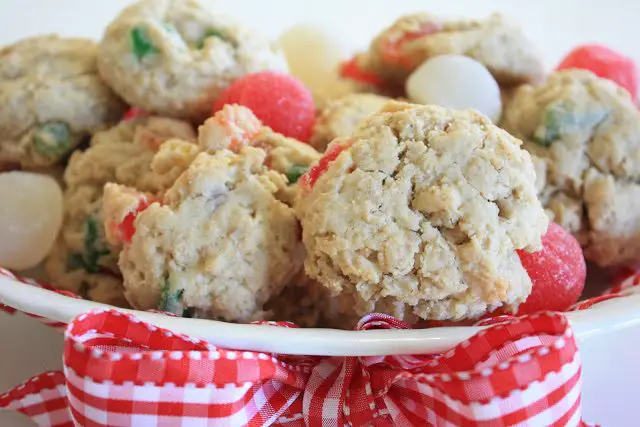 I googled "gumdrop cookies" and came up with this recipe from Paula Deen, and figured I couldn't go wrong using one of her recipes. I was right! These are an easy drop cookie and they taste great and have a wonderful texture with the oats.  The gumdrops really soften up after the cookies are baked and add a festive, tasty touch 🙂 I'm looking forward to checking on all the other Christmas cookies! 10 more weeks to go! Get in on the fun and join the bloghop!
Gumdrop Cookies
Paula Deen
1 1/2 cups gumdrops
1 cup butter, softened
1/2 cup sugar
1/2 cup firmly packed brown sugar
2 large eggs
1 teaspoon vanilla extract
2 3/4 cups all-purpose flour
1 teaspoon baking powder
1/2 teaspoon baking soda
3/4 teaspoon salt
2 cups quick-cooking oats
Instructions
Preheat oven to 350˚. Line baking sheets with parchment paper.
Using scissors, cut gumdrops into small pieces; set aside.
In a large bowl, beat butter and sugars at medium speed with an electric mixer until creamy. Add eggs, one at a time, beating well after each addition. Beat in vanilla.
In a medium bowl, combine flour, baking powder, baking soda, and salt; gradually add to butter mixture, beating until combined. Stir in oats and gumdrops.
Roll dough into 1-inch balls. Place 2 inches apart on prepared baking sheets, and bake 10 minutes, or until lightly browned. Let cool on pans 2 minutes. Remove to wire racks to cool completely. Store in airtight containers.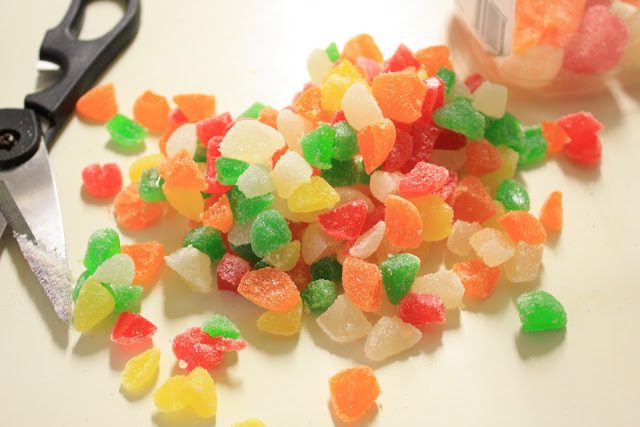 Gumdrop tip:  When cutting up the gumdrops,  the scissors continually get quite sticky which makes them difficult to use.  To alleviate the stickiness I dipped the tips of the sticky scissors into sugar and it really helped. (I had to do a lot of cutting because I had LARGE gumdrops left over from a Halloween treat.)