Welcome to Week #3 of Twelve Weeks of Christmas Cookies brought to you by April of Abby Sweets.
A few months ago I visited a friend's blog and she mentioned making Sugar Cookie Bars:) I had never heard of them, and emailed her right away asking about the recipe. She sent me the link and I printed the recipe. I never got around to making the bars…until today!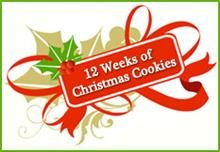 We are getting ready to leave on a weekend camping trip tomorrow to Big Sur, so this uncomplicated cookie bar recipe came in very handy. It's a snap to prepare…mix everything together, spread the dough in a baking pan, throw it in the oven and TA DA, you have some delicious sugar cookies in bar form.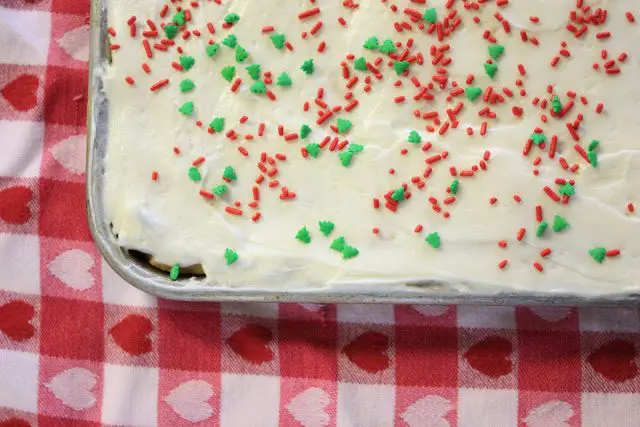 Slather on some buttercream frosting (or whatever you prefer) and finish it off with some sprinkles to add some holiday flair. Of course you can leave the bars plain, or just bake them with the sprinkles only.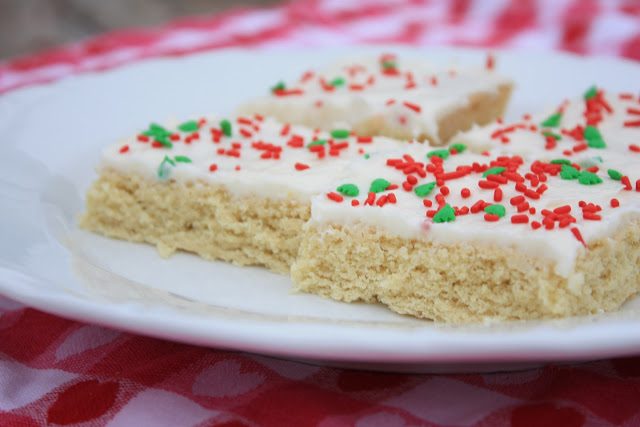 These bars are delicious and addictive! Just remember that it's better to underbake them. I wish I had pullled them out of the oven at 10 minutes instead of giving them an additional 3! The bars in the middle of the pan baked up just right, but the outer edge bars turned out a teeny bit too dry (The frosting compensated for that though). Next time I'll get it right, and you can be certain, there will be a next time! These sugar cookie bars are all over the internet, but this recipe is from the blog: One Ordinary Day.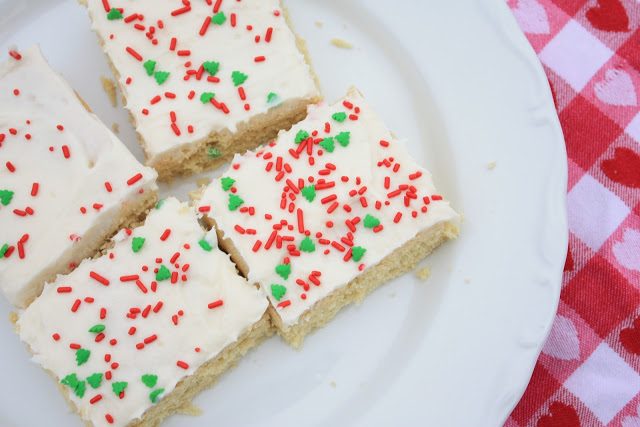 Recipe: Sugar Cookie Bars
(adapted from Real Mom Kitchen)
1 c. unsalted butter, room temperature
2 c. granulated sugar
4 eggs
2 tsp. vanilla
5 c. all-purpose flour
1 tsp. salt
1/2 tsp. baking soda
Cream butter and sugar until fluffy. Add eggs, one at a time, mixing after each addition. Add vanilla and mix well. In a separate bowl, combine flour, salt, and baking soda; stir with a whisk to combine. Add dry ingredients to wet ingredients and mix until just combined. Spread into a greased baking sheet (approx. 13×18″). Bake at 375 degrees for 10-15 minutes, or until golden and a toothpick inserted in the center comes out mostly clean. Cool completely and frost with your favorite frosting.
For the frosting: From Annie's Eats 1 cup (2 sticks) unsalted butter, at room temperature 1 tsp. vanilla extract Pinch of salt 4 cups confectioners' sugar, sifted 5 tbsp. milk
Food coloring (optional)
To make the frosting, place the butter in the bowl of an electric mixer. Beat on medium-high speed until smooth, about 1 minute. Blend in the vanilla, salt, and confectioners' sugar until smooth, 1-2 minutes. Mix in the milk. Tint as desired with food coloring. Spread over the cookie in the pan, cut into bars and serve.
ENJOY! (I'm glad I have room in my freezer for these Christmas cookies!)
Can I tell you a secret? I decorated half of the pan for Halloween:) Shhh…don't tell anyone.