One of the things that's so great about living on the central coast of California is our close proximity to many strawberry fields, which translates into many strawberry stands:) What a taste treat it is to eat sweet, red strawberries, picked fresh from a field only a few yards away!
This basket of strawberries is also packed with sweet, red berries…cookie-fied!

These strawberry cookies are not difficult to make and a few baskets can be filled up with these cuties in no time at all. No cookie cutter is used, and only a little bit of royal icing is needed for the stems. I did make some iced strawberry sugar cookies last April, that's why I called these "Take 2".

Spring around here is the onset of strawberry season and I have already made some jam, a strawberry trifle, and now these cookies, which actually only look like strawberries, but have no berries in them. Next up will be fresh strawberry cupcakes topped with fresh strawberry frosting:) Doesn't that sound yummy?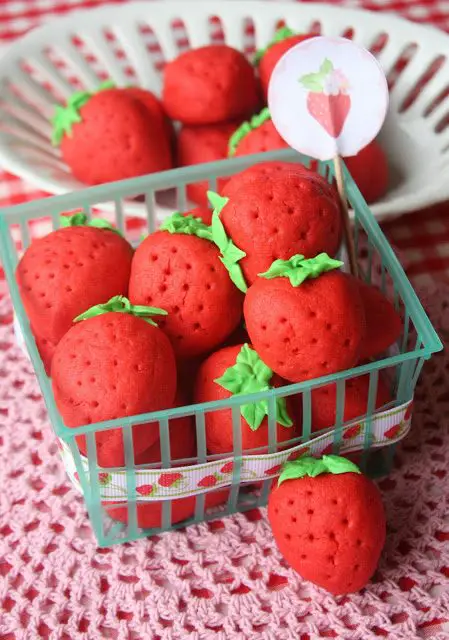 It was a lot of fun to make these cookies, and I was happy with how they turned out! They aren't juicy, but they are soft and sweet!
Strawberry Sugar Cookies
A batch of sugar cookie dough
Royal icing Green and red food coloring Wilton tip #352 (leaf tip) Toothpick
Mix up a batch of your favorite sugar cookie dough. Add some red food coloring (I used AmeriColor Super Red) and mix thoroughly.
Take a small amount (walnut size) and shape into a strawberry shape. Place on lined (Silpat or parchment) cookie sheet. With a toothpick, poke holes into the cookies to represent the seeds. Place cookie sheet in the freezer for about 15 minutes before baking, to help cookies hold their shape. Bake at 350 degrees for about 15 minutes, until set. . Let cookies cool.
Make some royal icing and add green food coloring to it.
With a leaf tip, add a few leaves to the top of each cookie. Let royal icing dry.
ENJOY!

Linked to:
Linking Up With Lil' Luna
Get Your Craft On Tuesday
Two Cup Tuesday
I'm Lovin' it Party
Kitchen Fun and Crafty Friday
Weekend Wrap Up Party
Strut Your Stuff Saturdays
Show and Tell Saturday
Finding the Pretty & Delicious Linky Party
Sunday Linky Party
Sweet and Savory Saturdays
Sundae Scoop Link Party
Time to Sparkle