When the talented Janine (Sugarkissed) contacted me to join her (and other cake poppers:)) in a cake pop "Spring has Sprung" event, I was more than happy to comply. Right away I thought of bird nests.
When I visited my daughter and family in Texas last month, my grandchildren and I enjoyed watching the birds eat from the bird feeder that my daughter hung from a tree. There was quite a frenzied crowd! I also noticed that there were nests in three of their barren, wintry trees. Springtime is definitely on its way, and I enjoyed seeing the early signs in nature.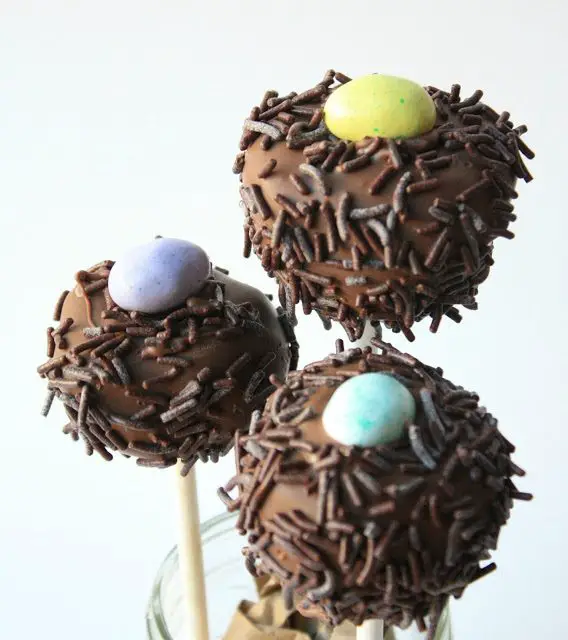 The nests were all ready, just waiting to house some eggs. Of course, I'm sure the real nests had deeper pockets for momma bird's precious cargo, but this is my cake pop interpretation:) I hope you see signs of spring where you are too!
Bird Nest Cake Pops
Supplies:
1 box of chocolate cake mix
1 tub of store-bought chocolate frosting
Chocolate candy melts (10-16 ounces)
Chocolate jimmies
Candy eggs
Lollipop sticks
Styrofoam block
Directions:
Prepare cake as package directs, and let cool completely
In a large bowl crumble the cake into fine crumbs with your hands
Add about a half tub of chocolate frosting to the cake crumbs, until it has a workable consistency.
Prepare cake balls and place them on a wax paper lined baking sheet.
Melt the chocolate, dip the tip of a lollipop stick into it and poke into the middle of each pop, halfway.
Place the baking sheet (with the pops) in the freezer for about 15 minutes.
Working with a few at a time take from the freezer, indent the top, middle of the pops with your thumb.
Dip the pop into the melted chocolate and let the excess drip off.
Sprinkle with the chocolate jimmies and press a candy egg into the middle.
Poke stick into styrofoam block until cake pops are dry.
Thanks Janine for including me in this fun, "Spring has Sprung" event!
Be sure and hop around to the other blogs featuring these pops! You can see from the collage how adorable and creative they are!
1. Bunny Cake Bites by Miss CandiQuik 2. Kite Cake Pops by Party Pinching 4. Fondant Daisies with Yellow Cake Pop Centers by The Partiologist 5. Chick Cake Pops with Bonnets by sugarkissed.net 6. Easter Cake Pops for Your Dessert Table by niner bakes 7. Springtime Cake Pop Nests by Munchkin Munchies 8. Elegant Spring Flower Cake Pops by Pint Sized Baker 9. Butterfly Kisses Cake Pops by Bubble and Sweet 10. Pastel Sparkle Cake Pops by Heavenly Cake Pops