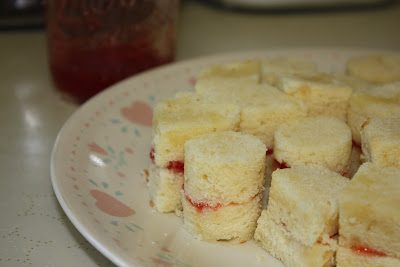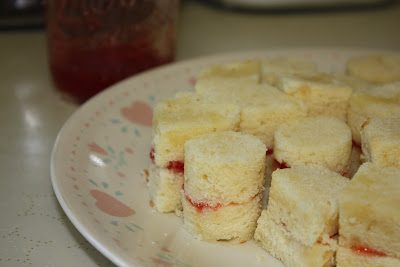 I have wanted to make petit fours for a long time! I have always liked their small size and their prettiness:) I just liked the looks of them. So…recently I came upon a recipe for them in Family Fun magazine when I wasn't really looking for one. Instead of store-bought pound cake I used a cream cheese pound cake that I made:) I got the recipe here. Basically the recipe(in Family Fun) is just for the icing. The petit four cutters that I ordered arrived last week, so yesterday I got around to making them:) I made four shapes: heart, circle, square and diamond. I also decided to cut each petit four into two layers and add a filling of homemade strawberry jam(made by my sister- in- law) to add a little pizazz:)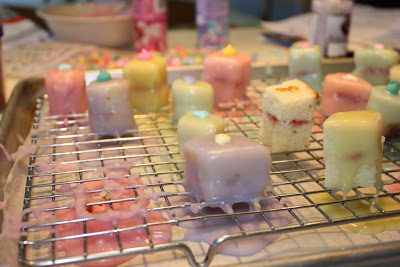 I set all the petit fours on a cooling rack, placed over a wax paper-lined jelly roll pan, to catch all the icing. I had five bowls of different colored icing. I just used a drop of each paste food coloring to achieve the pastel shades. I didn't particularly like how this icing behaved…it thickened too fast and I had to keep adding a bit of water. The consistency made it a bit difficult to completely cover each mini cake without having to spread it on. Ideally, it would be nice if each cake became covered with icing by just pouring it on:) Perhaps next time I will use a different icing recipe or cover it with fondant. Plus, I don't like the transparency in that you can see the jam filling through the icing. I put each decoration (things I had on hand) on as soon as I iced each one so that it would adhere to the wet icing. Let the petit fours dry for at least a half hour before serving.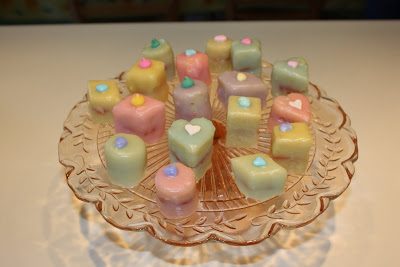 VOILA! Here is the finished product. I'm pretty pleased with how they look:) I'm so happy that I finally made them!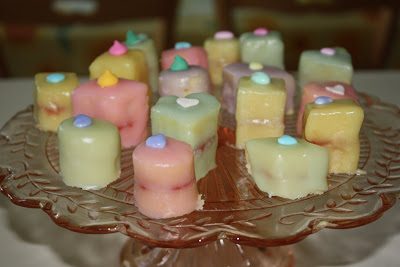 Here's a closer look:) I had Sarah over for lunch on her birthday yesterday, and Jim was able to join us too. Our dessert was the petit fours and they both said that they were very tasty!!! I enjoyed them myself too:)