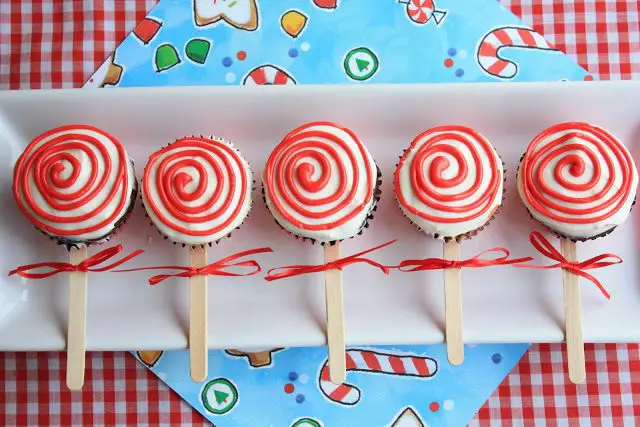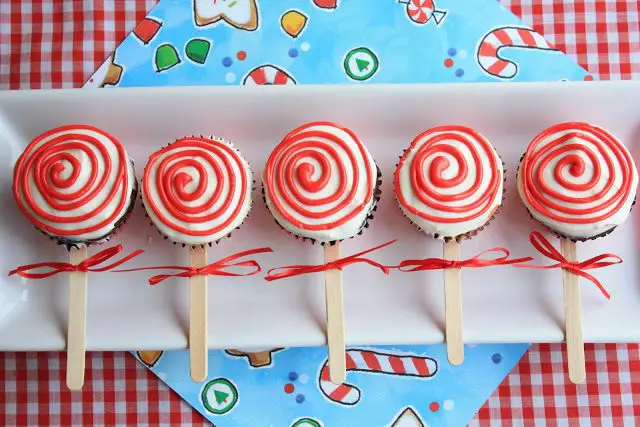 I can't believe that Christmas is in 4 days! I am really excited to have all my children and grandchildren together under one roof! Our house will be crowded, but brimming with love:) I think I have actually reached my Christmas baking limit. I still have to make pies for Christmas day dessert, and whip up two of my mom's Christmas cookie recipes(candy cane and magic cookie bars) for the sake of tradition and my kid's wishes, but other than that, I am done:)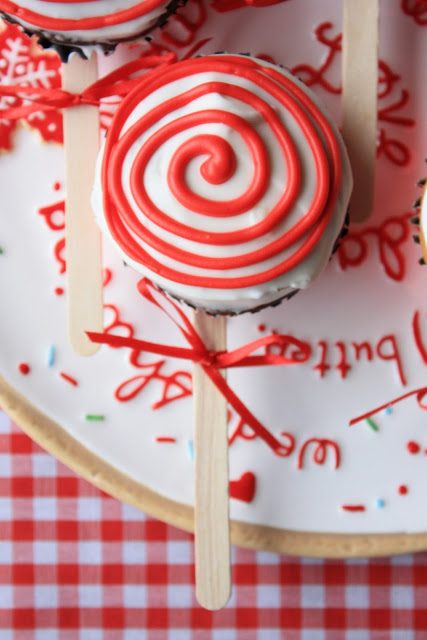 The cookies are all spread out on the table(many thawed from the freezer) and are being packaged up for gift giving. Of course, I'm saving some of them to eat with my family, and to decorate with the grandchildren:) As much as I wanted to make a gingerbread house, I ended up picking up a pre-baked, FULLY ASSEMBLED house at Costco. What a relief! It was nice to purchase one and let go of some of the overwhelming stress! I'm really looking forward to decorating it with my grandkids!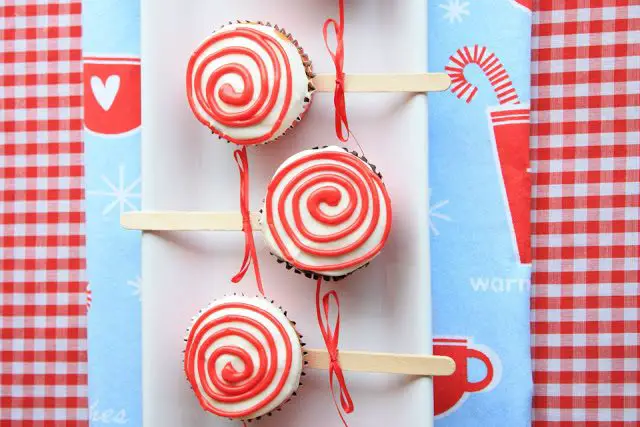 Now, to these cupcakes. I was grocery shopping about a week ago and was looking through a magazine that I hadn't ever seen before, entitled "Yum Food & Fun for Kids". I came upon a cupcake that spawned the idea for this one. Their icing was done with a wide tip, in a spiral and then red sugar was sprinkled into the crevasses making it loosely look like a lollipop. I didn't buy the magazine, but wanted to try my hand (unsteady though it is) at making my version of the lollipop cupcake. As you can see my spirals are not perfectly symmetrical, but I still think the cupcakes look pretty cute.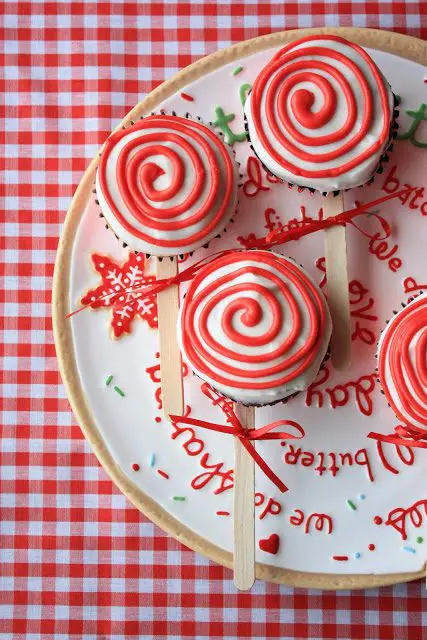 Half of the cupcakes were made with a white cake mix, and to it I added 1/2 teaspoon of peppermint extract and about a dozen crushed peppermint starlight mints. For the other half of the cupcakes I used a chocolate muffin recipe from the book "Chocolate Never Faileth" by Annette Lyon. Besides the recipes, I love this cookbook's graphics and the scalloped edges of the pages:) For the icing I used cream cheese icing. I meant to add peppermint extract to the red icing, but I forgot:(
Chocolate Muffins
2 eggs 1 cup milk 1 stick butter, melted and cooled 1 3/4 cups flour 1 cup sugar 1/2 cup cocoa 2 teaspoons baking powder 1 teaspoon baking soda 1/4 teaspoon salt Preheat oven to 375 degrees. Line muffin pan with paper liners or coat with nonstick spray. Beat eggs. Add milk and then the melted, cooled butter. Add the remaining ingredients; mix well. Bake for 18-20 minutes or until done. Makes 12-18 muffins.
Note on the lollipop sticks:
I used foil cupcake liners and had a difficult time cutting a slit into the side of each cupcake to insert the popsicle sticks. I decided to freeze the cupcakes and then making the slits in the side/inserting the sticks was easy:) Of course to eat the cupcakes, you need to remove the sticks:)
I am linked to Joni's "It's Your Wonderful Life" Party/Giveaway and
Alicia's "Tasty Tuesdays Bloghop".
These cupcakes are featured on Edible Crafts!
Merry Christmas!