In my blog-hopping the last few days I have encountered peanut butter, peanut butter, and more peanut butter! Peanut butter cookies, peanut butter bars and peanut butter brownies. I eat peanut butter from a spoon, so no complaints here:) I never tire of the stuff! I decided it was time to make a recipe I have on my infamous "to bake" list. I found it not too long ago on one of my favorite websites for recipes, Fine cooking. These cookies just jumped out at me when I saw them on their site! Just look at them…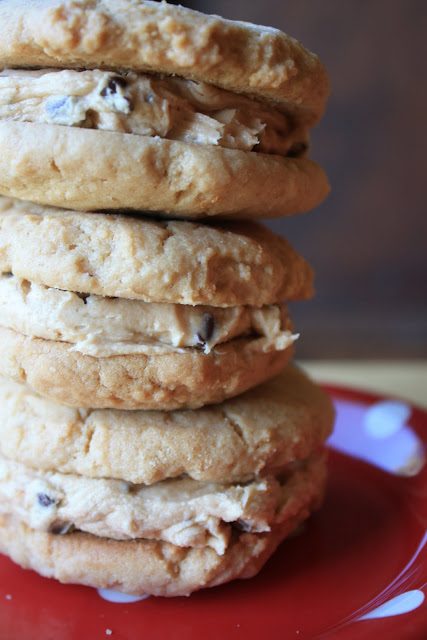 They did not disappoint! This truly is a 5-star recipe! The combination of the chewy/crispy peanut butter cookie and the creamy peanut butter filling is out of this world! These cookies are so rich, that eating just one(which is really like two:)) is quite enough to satisfy your sweet tooth and/or hankering for the goods from Skippy:) Try it, you'll like it! I guarantee.
Peanut Butter Sandwich Cookies
For the cookies: 6 oz. (1-1/3 cups) all-purpose flour 2 oz. (2/3 cup) cake flour 1/2 tsp. baking soda 1/4 tsp. salt 6 oz. (12 Tbs.) unsalted butter, completely softened at room temperature 3/4 cup smooth peanut butter 1/2 cup sugar 1/2 cup firmly packed light brown sugar 1 tsp. pure vanilla extract
1 large egg
For the filling: 1-1/2 cups confectioners' sugar 3 oz. (6 Tbs.) unsalted butter, softened at room temperature 3/4 cup smooth peanut butter 3 Tbs. heavy cream 1/4 cup coarsely chopped roasted unsalted peanuts
1/4 cup coarsely chopped semisweet chocolate, or mini semisweet chocolate chips
To make the cookies Heat the oven to 350°F. Line two baking sheets with parchment. In a medium bowl, sift together the two flours, baking soda, and salt. In the bowl of an electric mixer, cream the butter, peanut butter, and sugars with the paddle attachment until light and fluffy. Add the vanilla and egg; continue creaming until smooth and fluffy, about 3 min. with an electric mixer (longer by hand). Stir in the flour mixture by hand just until it's incorporated; don't overmix or the cookies will be tough. Drop heaping tablespoonfuls of batter, spaced about 2 inches apart, onto the lined baking sheets. With floured fingers, flatten each dab of batter into a 2-inch round. Bake until the cookies are puffed and golden, 12 to 14 min., rotating the baking sheets if needed for even baking. Transfer the cookies to a rack to cool.
While the cookies cool, make the filling
In a small bowl, cream the confectioners' sugar, butter, and peanut butter until smooth. Add the heavy cream; continue creaming until smooth and fluffy. Stir in the chopped peanuts and chocolate.
To assemble Transfer the cooled cookies to a work surface, flipping half of them over. With an offset spatula or a butter knife, spread a scant teaspoon of filling onto each turned-over cookie. Set another wafer on top of each filled cookie, pressing gently to spread the filling. Store sealed at room temperature or in the refrigerator.
ENJOY!