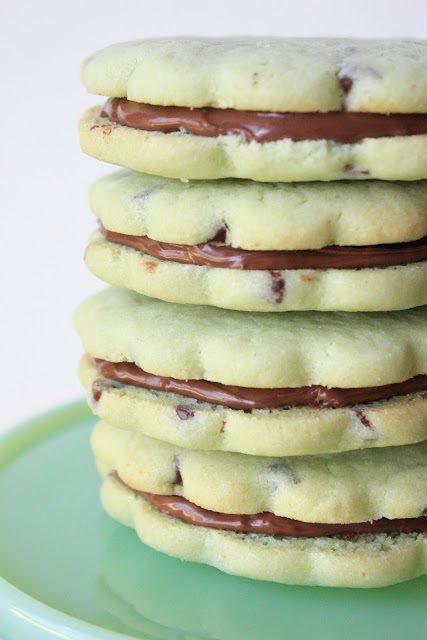 Seems everywhere you look today you see rainbows,  leprechauns, mint and chocolate, or more accurately, mint and chocolate together.  Though I made these cookies about a week ago, and they're long gone, I thought St. Patrick's Day would be the best day to post about them.  Don't get me wrong, they would be fabulous any day of the year!
This tasty recipe comes from Samantha of Flour De Lis:)  If you aren't familiar with Samantha and her cookies, you need to definitely check out her blog! 
This recipe is a cut-out cookie recipe and I used my 3-inch, round, scalloped cutter which produced such pretty cookies. I made them into sandwich cookies with Nutella taking center stage. It was the perfect complement to the mint!  They were a hit and we all gobbled them right up!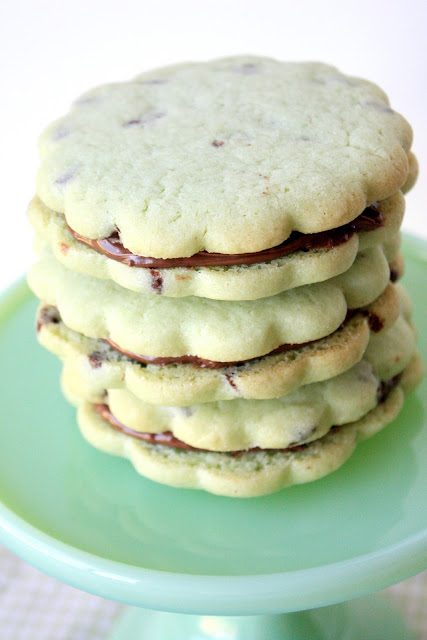 Crisp around the edges and soft in the middle:)

 Mint Chocolate Chip Nutella Sandwich Cookies
Ingredients:
1 cup unsalted butter
1 cup granulated sugar
1 egg
1/2 tsp peppermint extract
2 drops green gel food coloring
2 1/2 cups flour
2 tsp baking powder
1 tsp salt
1/4 cup mini chocolate chips
Nutella
Directions:
    1. In large mixing bowl, cream together butter and sugar until smooth and fluffy.
    2. Add egg, peppermint extract and green food coloring. Mix well.
    3. In a separate bowl, combine flour, baking powder and salt.
    4. Add dry mixture to creamed mixture in 2-3 additions. Mixing lightly between each.
    5. Mix all ingredients well, until dough pulls away from the side of the bowl and is soft but not sticky         
       to touch.
    6. Roll dough into ball and place on lightly floured surface.
    7. Roll out dough and cut into desired shapes.
    8. Place cookies on cookie sheet and freeze for about 10 minutes while oven preheats to 350 degrees.
    9. Bake cookies for 8-10 minutes depending on size.
    10. Cool cookies completely.
    11.  Spread some Nutella between two cookies, and sandwich them together. 🙂
This recipe makes about 18 yummy sandwich cookies.
Happy St. Paddy's Day!
Linked to:
Sweets for a Saturday