Have you ever visited Lindsay Ann's blog, Dollhouse Bake Shoppe?  If not, you're really missing out on an overload of cuteness, if there is such a thing. (Did I ever tell you that my H.S. psychology teacher, Mr Wagner, told me and my friends that we had a "high cuteness factor" because we were constantly calling "everything", cute!?!  Well, he did:) Lindsay Ann's tiny mugs of hot chocolate were the inspiration for my Cup o' Cocoa Cake.  I find it very fun making small things big, and big things small:)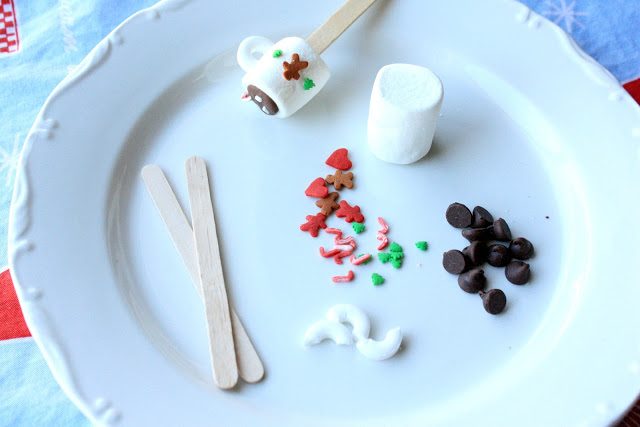 Aren't they cute adorable!?!
Mini Mug Pops (Dollhouse Bake Shoppe)
Ingredients: 
Regular size marshmallows Chocolate melts, chocolate chips or chocolate frosting Peppermint Lifesavers (Lindsay Ann used a marshmallow to fashion the handle, but I had these Lifesavers on hand, and decided to use them.) Assorted sprinkles White jimmies (not pictured on plate) Craft sticks Royal icing or white frosting
Directions:
1.  With a small, sharp knife, make a tiny slit in the bottom of the marshmallow and insert the stick about half way up. 2.  Using a toothpick dab a tiny bit of royal icing onto the sprinkles to adhere to the front of the mug for decoration. 3.  With a serrated bread knife, gently cut the Lifesavers in half with a sawing motion, dab a bit of royal icing on the cut ends and adhere it to the side of the mug.  You may want to hold it there for a few seconds to make sure it holds. 4.  Melt the chocolate and with a decorating bag and tip add a circle of the chocolate to the top of the marshmallow, not all the way to the edge (leave a rim). 5.  While the chocolate is still wet, add the white jimmies (break into pieces) to the top of the hot chocolate as the marshmallows. 6.  You may also add a tiny bit of white icing as whipped cream on top of the chocolate (I am going to do that the second time around), and a candy cane sprinkle too:)
These little cuties can be used for stirring your real mug of hot chocolate, or just eat as a treat.
Thanks for all of the inspiration, Lindsay Ann!