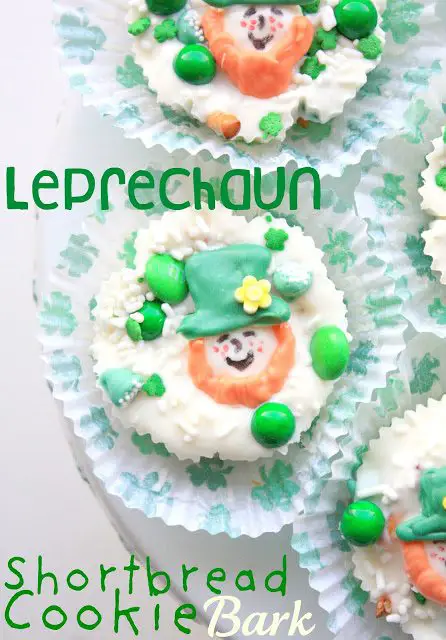 I couldn't let this St. Patrick's day pass me by without some sort of treat featuring some cute, little leprechauns. So I was scrolling through my facebook home page yesterday when lo and behold, a tiny leprechaun face was beckoning me from the computer screen:) I clicked on the shared link and was instantly smitten when I arrived at My Cake School blog, home to many adorable and creative sweet treats!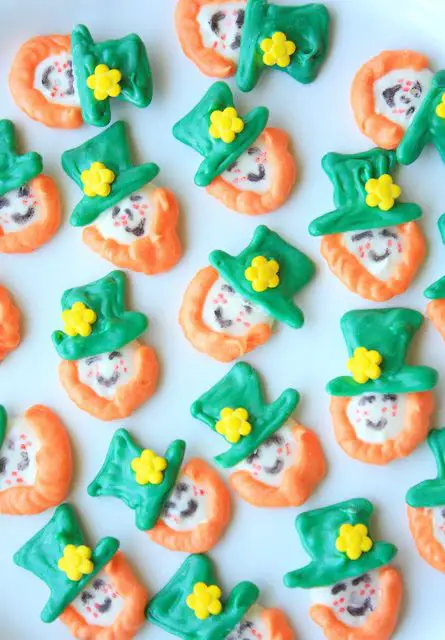 Leprechaun candy melt transfers
Melissa featured some darling St. Patrick's Day themed candy melt transfers, which she used to top some cupcakes. I was a happy camper to realize I already had the candy melt colors I needed to make the leprechauns:) I thought the bright yellow daisy sprinkles would be the perfect touch to detail the hats.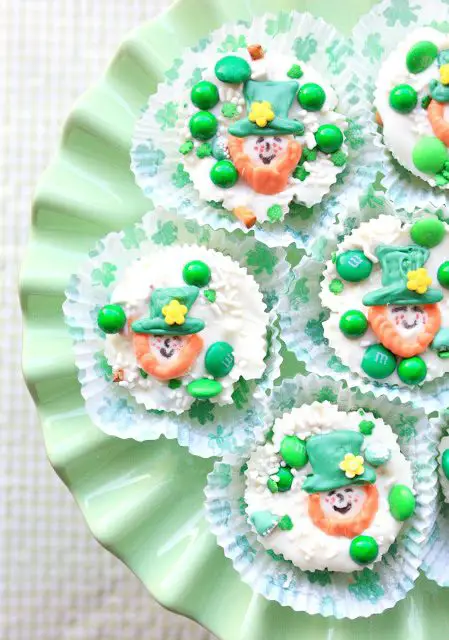 (As you can see, I finally succumbed to temptation and bought the pretty ruffled cake stands from Costco)
I knew I wanted to make some bark to feature the little guys, so decided to use the muffin liners for individual servings, each spotlighting a leprechaun. I was happy with how they turned out!
I only wish that my edible markers were more fine-lined for the face details. Perhaps they don't work as well on candy melts, or maybe I just need some new ones. Any tips?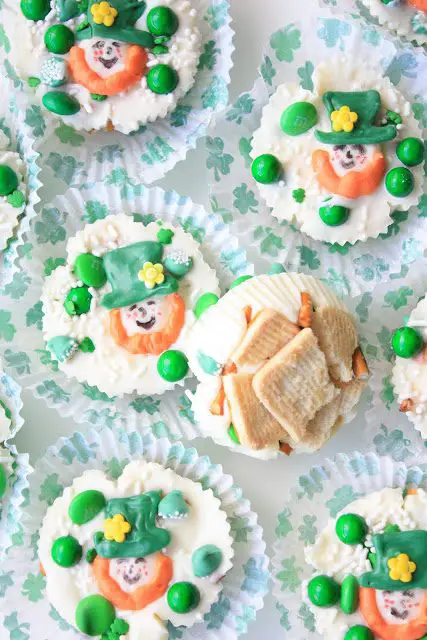 (A view from the underside, all held together with the bark candy)
I had some Pepperidge Farms Chessman cookies to use and thought they'd be perfect to line each bark "cupcake". Technically they are not shortbread cookies, but are butter cookies. I didn't realize this until I checked the package as I was writing this post. Oops! Whatever they are, they're delicious!
Bark is great because you can pretty much throw in all the leftover candy odds and ends(and other snacks) that you want to use up. Besides being CUTE, this bark is so tasty and super easy n' quick (aside from the few steps for the leprechauns)!
Leprechaun Cookie Bark
Ingredients:
1 package (24 oz.) vanilla almond bark. I only used about 16 oz.
Pretzel sticks
Leftover candy~green m&m's, green sixlets, green chocolate chips
Sprinkles ( I used Wilton's shamrock mix)
Yellow flower sprinkles
Orange candy melts
Green candy melts
Cookies (about 18) I used Pepperidge Farms Chessman cookies
Muffin Liners
Decorating bags and tip
Wax paper, or parchment
Leprechaun Toppers:
(I'm sorry I don't have any photos.)
1. Place a piece of wax paper (12-18 inches) or parchment on the table.
2. Using a small (1-inch) round cutter (or anything that will work) trace circles on the paper. Also draw (freehand) small hats. This will be your guide in making uniform transfers.
3. Cover the wax paper with another piece of wax paper.
4. Melt about 1/3 of the bark(according to package directions) and place into an icing bag(I used a spoon), fitted with a #4 tip.
5. Fill the circles (for the faces) with the melted white bark, following the guides you have drawn.
6. Do the same for the hats with some green candy melts. Before the hats dry, place a yellow sprinkle on each for decoration.
7. When the white faces have dried, melt some orange candy melts (same procedure as the others) and apply, freehand, around the face for the beard. Let dry. They don't take long to dry.
8. Add facial details with edible markers.
Directions for the bark cupcakes:
1. Line your muffin pans with the cupcake liners (I only had one pan, so did it in shifts)
2. Place the cookies in the liners (some I broke up, and some I kept whole)
3. Break up a few pretzel sticks (I didn't measure) into each liner.
4. Place a few candies into each liner
5. Melt the white candy melts according to package directions and put it into an icing bag. Snip off the end of the icing bag. Squeeze some melted candy into each cupcake liner, working about 4 at a time(before they dry), covering the cookie at the bottom. Sprinkle some more candy, sprinkles on top of the melted candy, leaving a little spot for the leprechaun topper. Place the leprechaun on top of each cupcake bark when the candy has cooled a bit(so the transfer won't melt).* Continue until you have done them all.
*You may just want to add all of the leprechauns at the very end by putting a small amount of candy melt on the backside of each leprechaun with a toothpick and placing in on top of each individual bark.
Makes 18 bark cupcakes.
Have Fun!
Linked to:
Sweet Treats Thursday
Weekend Wrap Up Party