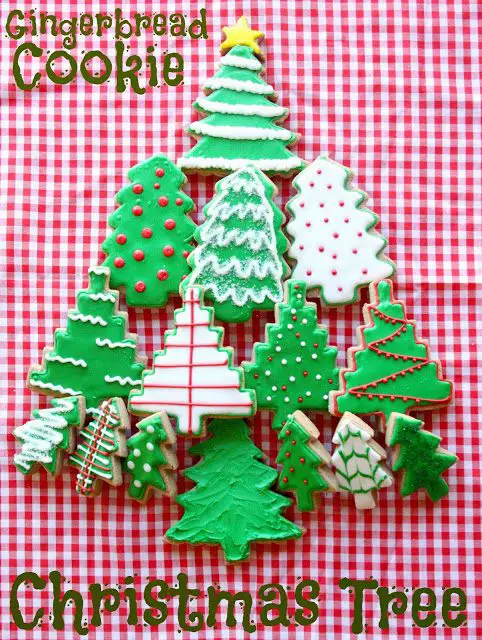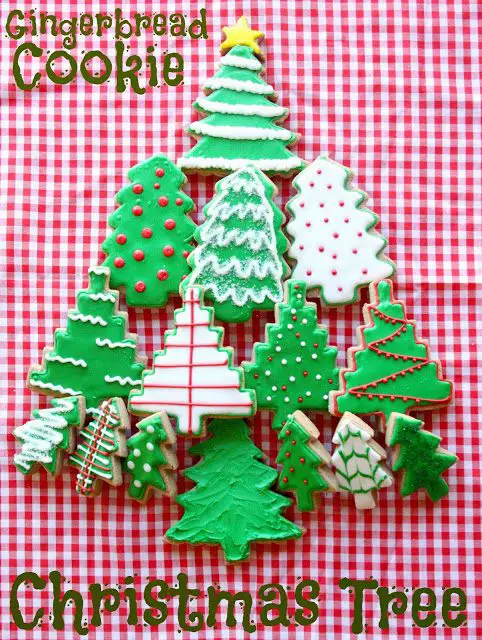 When two of my favorite bloggers, Jill (Kitchen Fun with My Three Sons) and Beth (Hungry Happenings) invited me to participate in a Christmas Gingerbread group project, I immediately said "Yes!" I happen to love gingerbread, especially at Christmas. In the past, I have made Woodland Santa cookies, Gingerbread grandchildren, a Ginger Manger, gingerbread cheesecake, Oreo gingerbread cookie truffles, more gingerbread truffles, and gingerbread men sandwich cookies. I told you I love gingerbread:)
In deciding what to make for this project, so many ideas flew through my head that I changed my mind quite a few times. I finally decided to do my version of the Christmas tree cookie platter that is featured on the current cover of Good Housekeeping magazine (I believe they used sugar cookies). Simply beautiful, I say.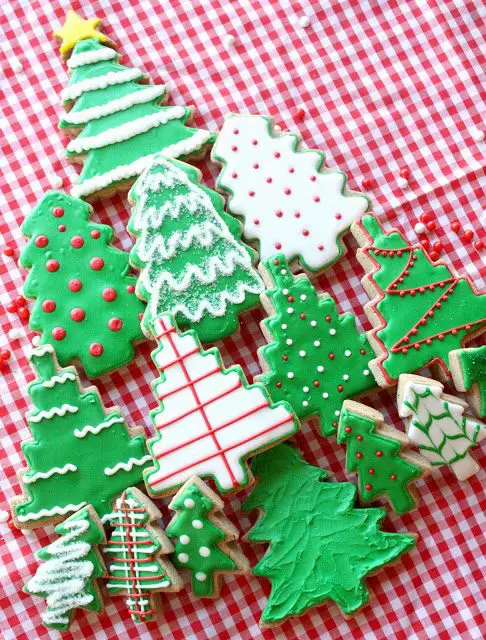 I used four different tree cutters for the project and I think it worked. It's such a great concept to put all the trees together to make up one giant Christmas tree! Maybe it can be done with all sorts of cookies…a bunch of Christmas stocking cookies to make up a giant stocking, for instance. Hmmm, maybe:)
For this project I used my favorite gingerbread cookie recipe, found HERE, on my blog. It's a keeper!
I had a bit of trouble with this batch because when I made it I wanted to double it, but ended up quadrupling the butter by accident, and then I had to quadruple the whole thing (didn't want to waste)! My mixer could barely handle it, so I had to mix by hand in my biggest bowl. Plus, I think I lost count of the cups of flour (should be 12, quadrupled), so the dough was a bit tough. Arrrgh, nothing like having a huge batch of mediocre dough!?! They did not turn out as beautifully brown as usual, but they worked for this project, and we are having no problem eating them;)
When made according to the recipe, these gingerbread cookies are a dream!
Gingerbread Cookie Christmas Tree
Gingerbread cookies
A variety of tree cutters
Decorating tips (I used #2 and #3)
Gel paste food coloring: red, green, yellow
A variety of decorations: sanding sugar, sprinkles
Bake your cookies and let cool.
Divide the royal icing up and tint some green (mostly), a small portion red, a tiny bit
yellow (star), and leave some white.
With a #3 tip, outline and fill in cookies.
Decorate cookies to your liking with icing, sugar or sprinkles.
Let cookies dry.
Arrange on a platter in the shape of a Christmas tree.
ENJOY!
Jill and Beth, THANK YOU so much for inviting me to participate in this fabulous project! I appreciate all of your hard work!
Be sure and scroll down to see all the fabulous gingerbread treats!

Give the Gift of Gingerbread Blog Hop and Giveaway
19 fun gingerbread themed recipes for the holidays.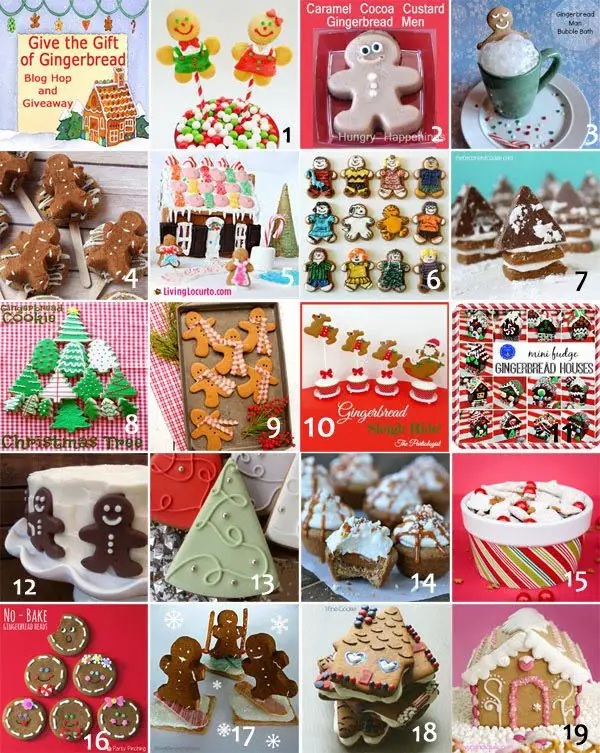 Use the links below to hop from blog to blog to see these wonderful gingerbread themed recipes. 1. No Gingerbread Boy and Girl Cookie Pops by Kitchen Fun with My 3 Sons 2. Caramel Cocoa Egg Nog Custard Gingerbread Men by Hungry Happenings 3. Gingerbread Men Bubble Bath by Creative Kids Snacks 4. Peeps Gingerbread Men Cookie Pops by Pint Sized Baker 5. Gingerbread Decorating Ideas by Living Locurto 6. Peanuts Gang Gingerbread Men by Sugar Swings 7. Gingerbread House Cookie Bites by The Decorated Cookie 8. Gingerbread Cookie Christmas Trees by Munchkin' Munchies 9. Gingerbread Men Cookies by The Barefoot Baker 10. Gingerbread Sleigh Ride by the Partiologist 11. Mini Fudge Gingerbread Housed by Hoopla Palooza 12. Chocolate Gingerbread Cake by Bird on a Cake 13. Simple Gingerbread Christmas Trees by Sweet Sugar Belle 14. Gingerbread Cookie Cups by Creative Juice 15. Gingerbread Puppy Chow by Make Bake Celebrate 16. No Bake Gingerbread Heads by Party Pinching 17. Snowboarding Gingerbread Peeps by Sweet Simple Stuff 19.Sugar Plum Gingerbread House by Miss CandiQuick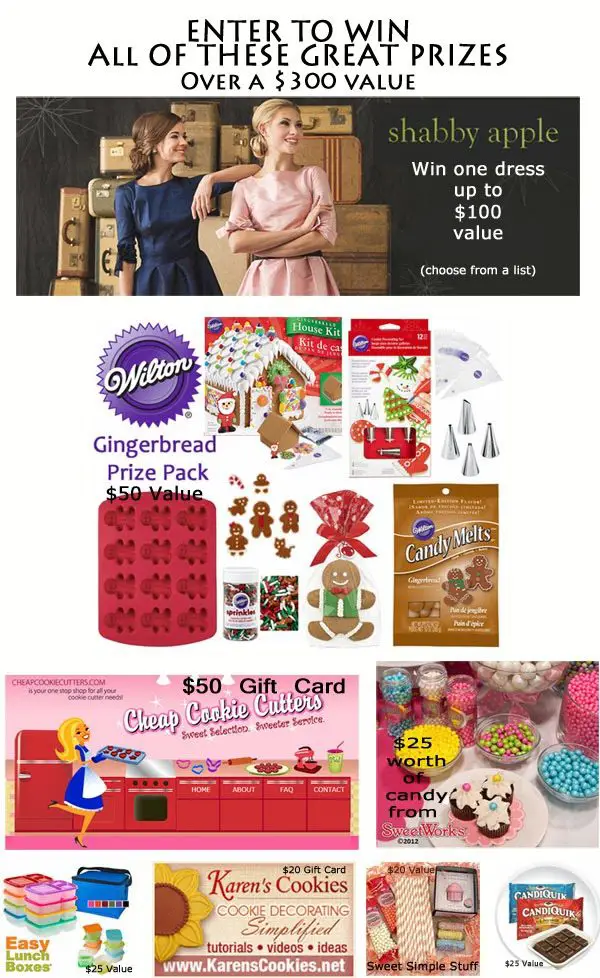 Thanks to our amazing sponsors, you have a chance to win one of these prizes:
Shabby Apple – Choice of a Dress (from a list) $100 value Wilton – Gingerbread Decorating Prize Pack $50 value Cheap Cookie Cutters – $50 Gift Card Sweet Works – Candy Prize Pack $25 value Easy Lunchboxes – lunch box set $25 value Karen's Cookies – $20 gift card Sweet Simple Stuff – Cake Pop Prize Pack $20 value CandiQuick – CandiQuick Prize Pack $25 value
The Give the Gift of Gingerbread Giveaway will run from December 11 through December 17, 2013. Entrants must be US residents, 18 years or older Void where prohibited by law.
Enter via the Rafflecopter entry form below.
One winner will be chosen to win the entire prize pack and will have 48 hours to respond with their mailing information. If the winner does not respond in 48 hours, another winner will be chosen.
Follow our sponsors on Facebook too….