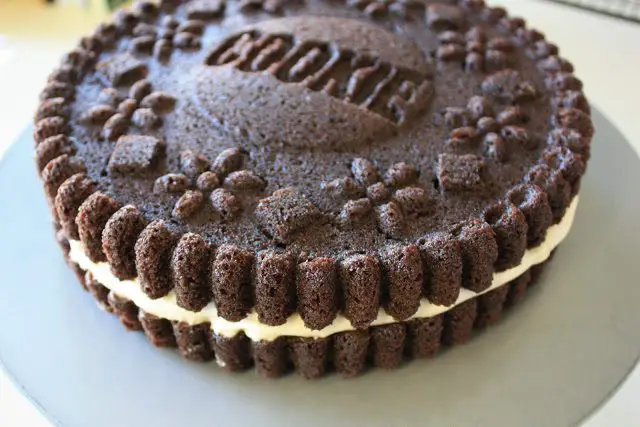 I have been seeing Oreo cookies all over the blogosphere lately!  They are dipped, put on a stick, decorated for every occasion and generally loved:)  It finally dawned on me one day that I had bought a sandwich cookie cake pan(of course you could just use a 9- inch cake pan and decorate your own details) set from Williams-Sonoma last year, and have never used it!  It was time to christen it!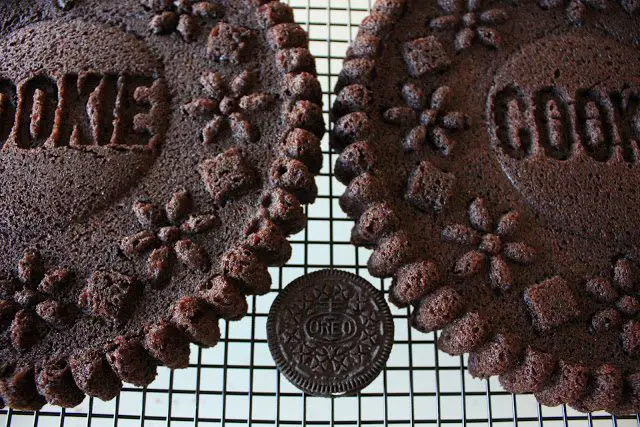 I checked the reviews on the store's site and read that many people had a hard time getting the cakes to come out of the pans.  Still others had disappointing results with the cakes showing no details when they did release from the pans.  So,  I looked for the reviews that had positive results and followed their lead…Using a single brownie mix ( FYI: Betty Crocker Dark Chocolate Fudge Brownie Mix) and spraying the pans with "PAM for baking" ( which I didn't know existed) and it worked very well! I forgot to tap the pans on the counter to get the air bubbles out, but I was pretty happy with the way the "cookies" turned out. I think the density of the brownies helped.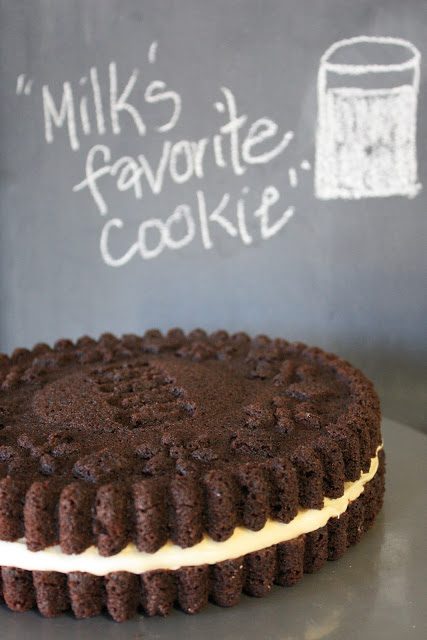 Well, after being sandwiched, it was actually one single cookie…giant size!  (Please excuse my chalkboard skills, or lack thereof.) I used a simple, homemade cream cheese frosting for the sandwiched cream in the middle. I Love the cookie!
As I was photographing my brownie cake,  a sort of light bulb went on, and I thought about this adorable Oreo creature…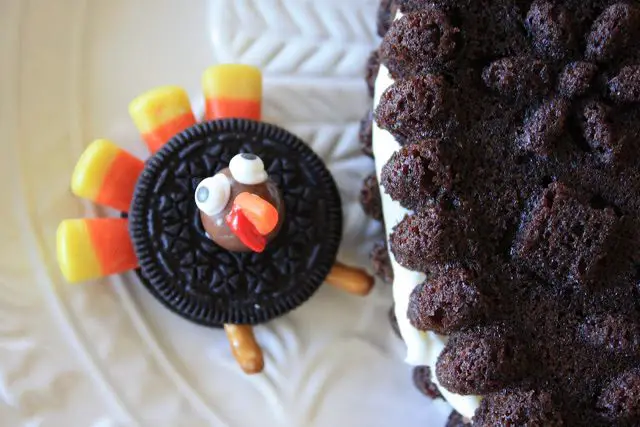 made "famous" by the very creative(and funny!) Shelly of Cookies and Cups(click for instructions). I love her blog! (I made my turkeys with the Whoppers, and only used 4 candy corn due to my limited supply.)   And then, just for fun, I decided to do this…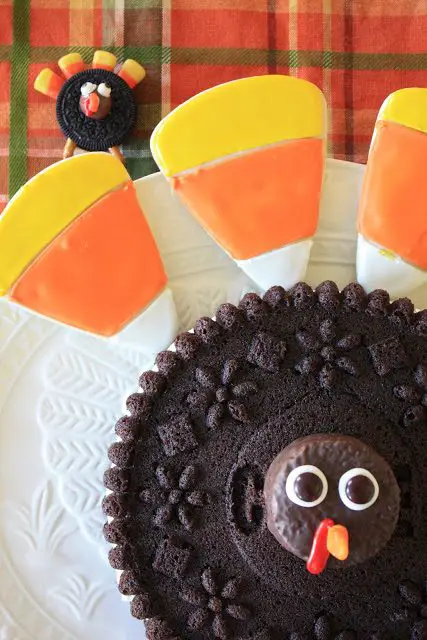 …make a giant turkey cookie! I already had 4 unfrosted candy corn sugar cookies(Don't look too closely at them.  I was so anxious to see the turkey put together that I set him up before the icing dried and a couple ended up getting smudged). I used a ding dong for his head, a whole candy corn for his nose, icing and m&m's for the eyes, red icing for the wattle and a pretzel rod for the legs:) FYI: As you can see,  I didn't actually push the cookies into the sandwich cream because I want to convert the turkey to a Christmas dessert by taking everything apart, flipping it over and putting it in the freezer for next month:) It may even end up as another blog post-ha ha!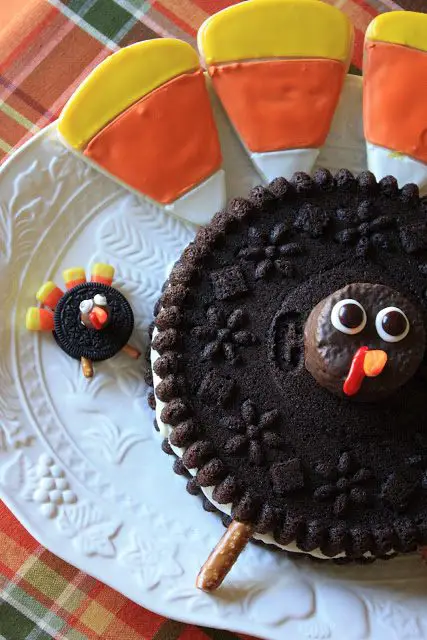 Have a Happy Turkey Day! 
Linked up to Tidy Mom's Lovin' it Fridays
and Alicia's Tasty Tuesdays at "A Beautiful Mess."
Thanksgiving Challenge: I'm very thankful that I can walk into my kitchen and  find whatever food I need, or want, there. Let's not forget to share our blessings with others, especially during this holiday season:)