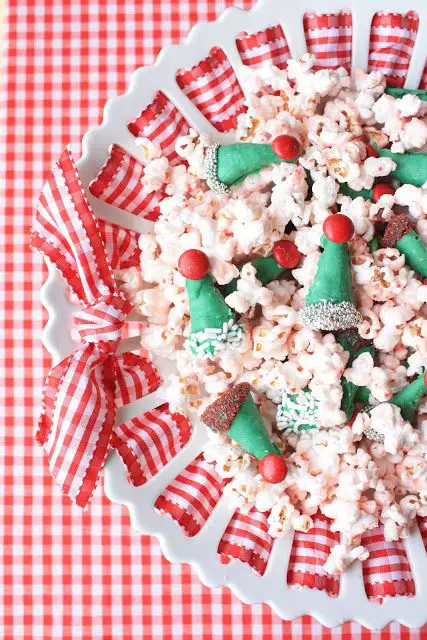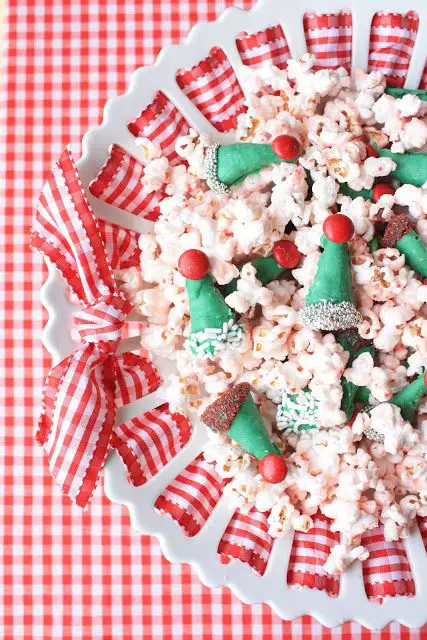 Last year, inspired by Shelly's (Cookies and Cups) darling Santa Hat Party Mix, I made a Snowman Hat Snack in January. Since I'm ahead of the game (barely) this year, I knew a Chrismas-themed snack would be in the cards. How about some Elf Hat Peppermint Popcorn? 🙂 The peppermint popcorn idea was a sure thing after I saw Bridget's (Bake at 350) fabulous Peppermint Popcorn Crunch…YUM!
Edible Elf Hats
I did make a couple of modifications determined by the ingredients I had on hand, but I was happy with the results.
Elf Hats:
1 bag of bugles original flavored snack, 7.5 oz. bag 7 ounces of green candy melts (half of a typical bag) red m&m's milk chocolate candies sprinkles/colored sugar Place a piece of wax paper on a work surface before you get started. Open the bugles and set aside the amount you will need for your elf hats (I made about 3 dozen) on the wax paper. Place some red m&m's in a bowl. Melt the candy melts as the package directs. Use a fork and dip each bugle in the green melted chocolate one at a time, until completely covered. Place a red candy at the tip of the bugle while the green chocolate is still wet. Place on wax paper to dry. Do this for each hat. Once they are all dry, re-melt the green chocolate, dip the bottom rim of each little hat in it and then dip it directly in the sprinkles, or whatever you are using to decorate the rims. Set on wax paper to dry.
Peppermint Popcorn:
1 cup of unpopped popcorn 10 oz. package of m&m's candy cane kisses 1 cup m&m's red & green milk chocolate candies salt to taste canola oil Pour oil into 4 quart sauce pan to cover bottom of pan. Dump in all of the unpopped popcorn and cover with pan lid. When the popcorn starts to pop, shake the pan over the heat until the popping stops. Add salt to taste. Divide the popcorn between two aluminum-lined, rimmed baking sheets. Unwrap all of the candy cane kisses (while watching your favorite Christmas movie), and melt them in a microwave-safe bowl in the microwave. Start melting for 1-minute and then 30-second increments until all the candy is melted and smooth. Pour evenly over all of the popcorn and mix. At this point, also add the m&m's candies so that they will stick to the popcorn (I forgot to add them at this point, so they were loose in the mix). Let dry. Add the elf hats to the popcorn and gently toss.
This recipe made a BIG popcorn bowl of Elf Peppermint Popcorn! I snacked on plenty, and packaged a bag for each munchkin, near and far. It was very tasty~sweet and salty yumminess!
ENJOY!
Linked to:
These Chicks Cooked
Sweet Treats Thursday
Crazy Sweet Tuesday
I'm Lovin' it Fridays
Inspiration Friday