Necktie Cookies. Father's Day is just around the corner and these would make a wonderful Double~Decker Dad's Day Dessert! Try saying that, five times fast:)
Last year I made a necktie cookie pop, and decided to make a small version this year, without the stick.
Here's my little template for the neckties. Usually I use a file folder to make templates, but I ran out of them. For this mini template (about 2-inches), and a small batch of cookies, this paper template worked out just fine!
As you can see, for the shirt I used a onesie cookie cutter and simply cut off the bottom part once I placed it on the baking sheet.
The ties are baked also, before being adhered to the shirts, hence the "double-decker" name:) My last post was also a double~decker cookie. I may need intervention, thanks to Bridget:)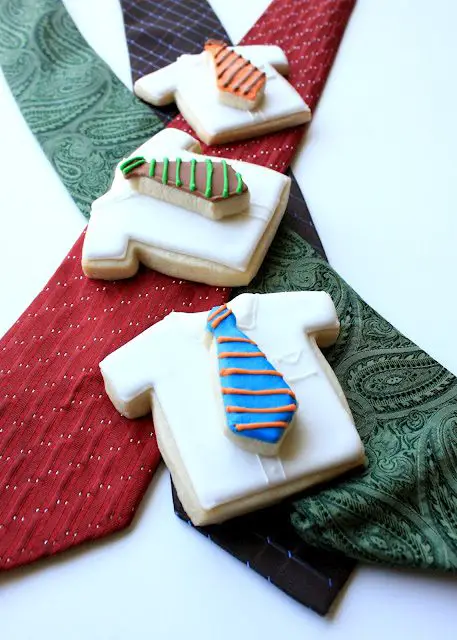 These cookies are a lot of fun and turned out pretty cute! The ties are a little extra bonus goodie for dad:)
Double~Decker Necktie Cookies
Ingredients:
Cookie cutters/templates
Sugar cookie dough
Royal Icing
Food coloring
Decorating bags and tips (#1, 2 &3)
Directions:
1. Whip up your favorite batch of sugar cookie dough, or other cut-out cookie recipe.
2. Use a shirt cutter (or onesie cutter & cut off the bottom part of the dough) to cut out your cookies and bake them up.
3. Make a little tie template (size it in relation to the size of your shirt), and bake up some tie cookies too.
4. Let all cookies cool completely.
5. Use your favorite royal icing (save some royal icing to adhere the ties to the shirts) and outline the shirts with a #3 tip (I have Wilton). Let dry for 15-20 minutes
6. Fill the cookies with royal icing. (I kept the icing white for the shirts.) Let that dry for about an hour.
7. Add the shirt details. For best results, thicken your icing and use a #1 tip. (At first I was lazy and didn't do these two steps.) The details look much better with a thickened icing, and thinner (smaller tip) lines.
8. Let shirt cookies dry overnight.
9. After icing the shirts, ice the ties (Tint with food coloring to make them any colors you fancy). Let the first layer of icing dry for a bit (15-20 minutes) before adding details (stripes, polka dots, etc…). Leave them to dry with the shirt cookies.
10. After the cookies are completely dry, add the ties to the shirts by putting some royal icing (not too thin) on the back of each tie and pressing it firmly, but gently, onto a shirt cookie.

Make these cookies for the dads in your life and they will have a tie-rrific Father's Day!