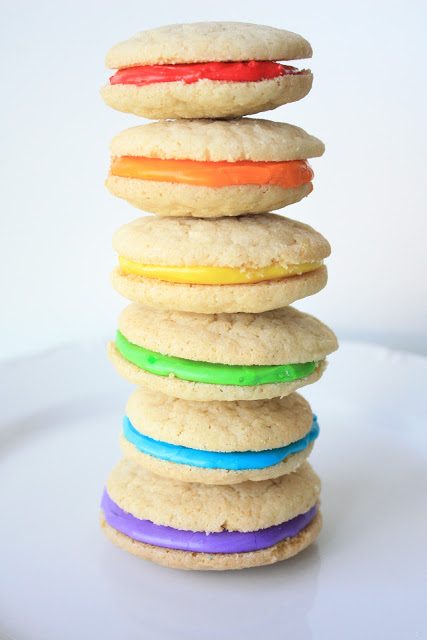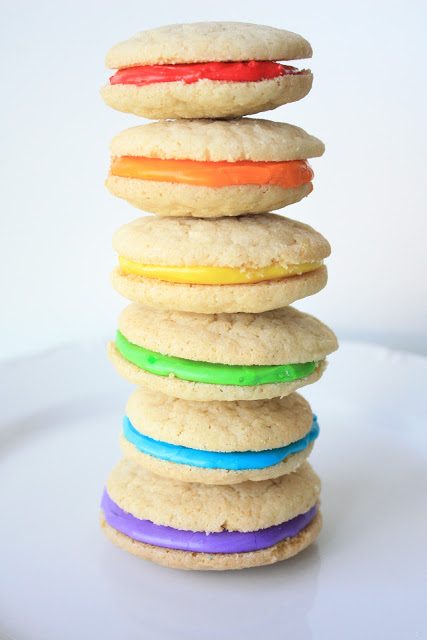 I have been seeing so many beautiful rainbow cookies, cakes and cupcakes around the blogosphere that I was itching to jump on the bandwagon! I also had this vanilla cookie recipe on my "to bake" list for awhile now. I decided to kill two birds with one stone by making the cookies into a rainbow.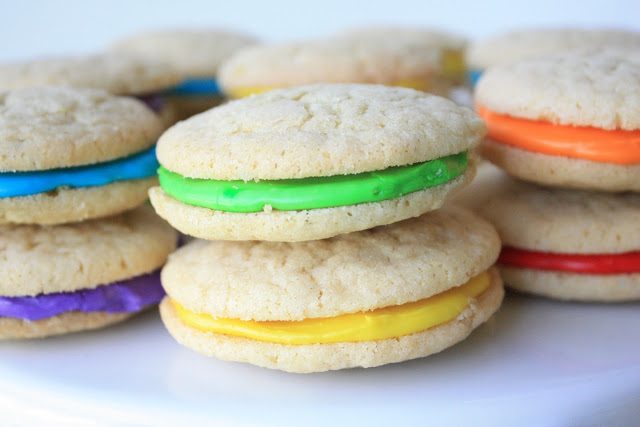 The original recipe called for glazing the tops of the cookies with untinted frosting, but I thickened the frosting, tinted it the colors of the rainbow and converted these into sandwich cookies. The cookies on their own are delicate and buttery, but with the smooth, sweet filling sandwiched between two of them, they're out of this world. It's a very tasty combination.
If you want to add some cheer to someone's day (including your own), go ahead and make these cookies. Just looking at them makes me happy:)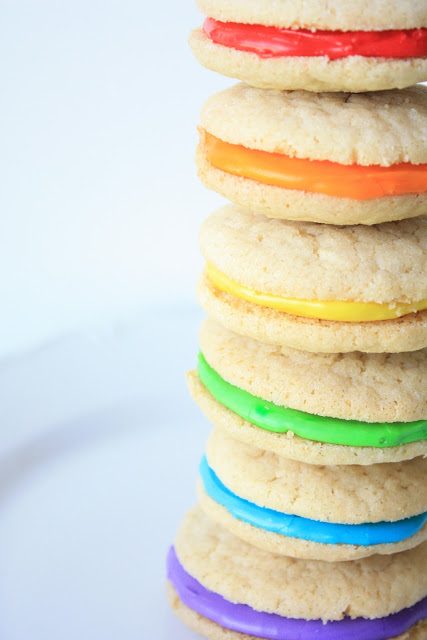 "May you always have work for your hands to do. May your pockets hold always a coin or two. May the sun shine bright on your windowpane.
May the rainbow be certain to follow each rain.
May the hand of a friend always be near you.
And may God fill your heart with gladness to cheer you."
~Irish Blessings quote
Double Vanilla Delights (adapted from Jess of my sweet gems)
Cookie Ingredients • 1 Tablespoon pure vanilla extract • 1 cup butter, softened • ½ cup sugar • ½ cup powdered sugar • 1 egg • 2 cups all-purpose flour • ½ teaspoon baking soda • ½ teaspoon cream of tartar • ¼ teaspoon salt • Sugar (for rolling cookie dough in)
Frosting Ingredients
• 1 Tablespoon pure vanilla extract • 1/3 cup half & half • 2 tablespoons butter, softened • 4 cups powdered sugar
Heat oven to 375°F. For cookies: Put softened butter into bowl and add the vanilla. Beat until creamed together. Add sugar, 1/2 cup powdered sugar and egg to butter mixture; continue beating until well blended. Reduce speed to low; add flour, baking soda, cream of tartar and salt. Continue beating until well mixed.
Place additional sugar into small bowl. Shape dough into 1-inch balls; roll balls in sugar. Place 2 inches apart onto ungreased cookie sheets. Bake for 9 to 11 minutes or until cookies are lightly browned. Cool completely.
Meanwhile, for frosting: Combine the vanilla, half & half, 2 tablespoons butter and 4 cups powdered sugar in medium bowl. Beat at low speed until smooth. Divide the frosting into six small bowls. Tint each with a different food coloring(I used Wilton concentrated paste): purple, blue, green, yellow, orange, and red. Take 2 cookies and sandwich some frosting between them. Makes 20 sandwich cookies.
Enjoy!
This cookie is linked up to Amy's (U Try it) Culinary Smackdown Battle-Cookies! Check out her wonderful blog and all the great cookie recipes linked up!