I finally found some Biscoff cookies!  They were right under my nose at a  nearby CVS pharmacy.  Hooray!
I've seen the cookies (and spread) used in recipes on many blogs, most recently on Bridget's Bake at 350(one of my favorites!) and knew I had to find some.  Visiting the Biscoff website solved the problem(retail locations listed), which is also where I found the pie crust recipe.
This Creamy Pumpkin pie is linked up to the "3rd Annual Love the Pie Party" at TidyMom's site.  Here's Cheryl's pie party invitation to all:
"Come join Love the Pie with TidyMom sponsored by Cherokee USA, Le Creuset, Wilton, Bags by Bloom and Harvard Common Press"
When Cheryl anounced her pie party I knew I wanted to participate, but had a hard time deciding on a pie.  That is, until I visited Emily's blog, So Domesticated (another favorite).  Emily posted a creamy pumpkin tart that looked oh, so good!
I knew I had found my pie!  I made a couple of changes, using whipping cream (vs. Cool Whip), and a Biscoff cookie crust (vs. gingersnaps, which is also a tasty crust).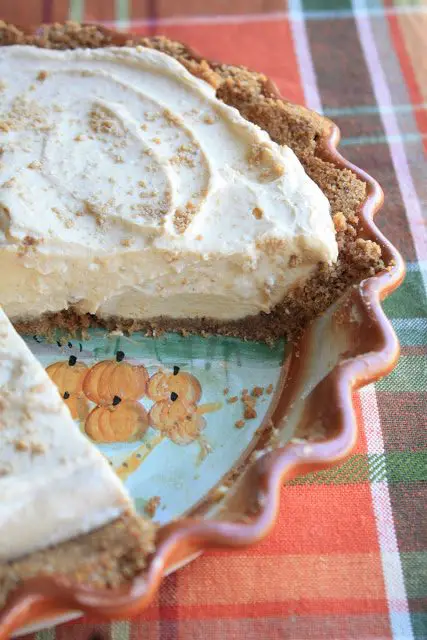 This pie did not disappoint! It is creamy with a capital C, with just the right balance of pumpkin. The whole dreamy, creamy concoction is housed in the Biscoff cookie crust, which makes it perfectly delicious! You'll love it!
Creamy Pumpkin Pie with Biscoff Cookie Crust
Ingredients for Biscoff crust: (recipe from Ambitious Kitchen, found via http://www.biscoff.com/)
1 package of Biscoff cookies (8.8 oz) 1/3 cup of melted butter 1/4 cup of granulated sugar
To make the crust:
1.  Preheat oven to 350 degrees F. 2.  Place Biscoff cookies in food processor and pulse until they become fine crumbs. 3.  Set aside 2 tablespoons of crumbs for topping the pie later. 4.  Add melted butter and sugar in food processor with crumbs. Pulse again until the cookie crumbs resemble wet sand. 5.  Scrape into 9-inch pie pan and press into the side of the pan. Make sure it is even, then bake in oven for 10 minutes. 6.  Take out of oven and place on wire rack to cool.
Ingredients for the filling: (recipe adapted from So Domesticated)
1 block (8 Oz.) cream cheese, softened at room temperature 1/2 cup granulated sugar, plus 1 tablespoon 1/2 cup sour cream 1 can (15 Oz.) pumpkin 1 teaspoon pumpkin pie spice 2 teaspoons pure vanilla extract, divided 1 cup heavy whipping cream
To make the filling:
Pour the whipping cream (along with 1 tablespoon sugar, and a teaspoon of vanilla) into an electric mixer and whip with a wire whip attachment, on high, until it is thickened and forms peaks. Set aside. In a large bowl, cream the cream cheese and sugar together. Then blend in the sour cream, canned pumpkin, pumpkin pie spice, and vanilla. Gently fold in the whipped cream. Pour the pumpkin filling over the cooled crust. Sprinkle with reserved Biscoff crumbs. Refrigerate covered overnight. Makes 8 servings.
P.S.  If you are making pies with a traditional crust, don't forget to make some "pie fries" with the leftover scraps of dough! Yummy!
Linked to:
These Chicks Cooked