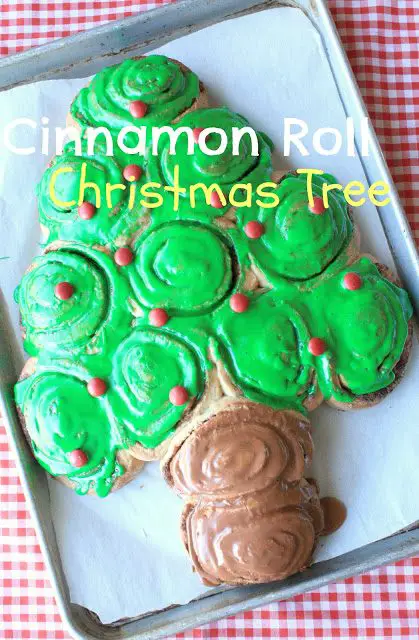 Well, It's December 1st and I thought it would be fun to do twelve posts ending up with the last of the twelve on my birthday, 12/12/12:)
The talented and sweet Nicole, of Salsa Sweets, mentioned the same idea to me on my facebook page, which firmed up my resolve.  Thanks for the nudge, Nicole! This recipe for cinnamon rolls is a family favorite and I thought I'd show you how to make it a bit more festive for Christmas.  I imagine that you could shape and frost them in any way you'd like…maybe a round white frosted one for a snowman, with the added details, of course! If you'd like to do the tree and this green is a bit much for you, the rolls can always be frosted in white with some green sprinkles (or sugar) added, which is what I had done before.  I think I will go back to that next time;) I made this batch of cinnamon rolls over Thanksgiving.  That's what happens when you have a food blog:)  The recipe makes two dozen cinnamon rolls, so my anxious family was able to eat the other non Christmas tree rolls, while I fiddled and photographed these.  The tree is now in my spare freezer in the garage.
I had a lot of family here when I was making these, including some munchkins, so didn't have time to photograph the process, but HERE'S some more photos when I posted about these same rolls before.
Cinnamon Rolls
Ingredient:
1 can evaporated milk, 12-oz size (you may use nonfat) 1-1/2 cup water warm 1-1/2 tablespoon quick-rise active dry yeast 1/2 cup vegetable oil 3/4 cup sugar (or honey) 1 egg (or 1 egg white) 1 teaspoon salt 1-1/2 teaspoon baking powder

8 cups unbleached, all-purpose flour (I used half white and half whole wheat)

1/4-1/2 cup butter, melted

1 tablespoon cinnamon (I don't really measure. I just sprinkle to my heart's content. I do the same thing for the brown sugar:))

4 tablespoons brown sugar

2 cups powdered sugar

2 teaspoons almond extract (optional, but it makes it so yummy)
milk
Preparation:
1. Warm the milk and add warm water. 2. Dissolve the yeast in the liquid mixture. 3. Mix the remaining ingredients into the liquid and add just enough flour to make a soft dough. 4. Knead the dough for 10 minutes and let it relax for 15 minutes. 5. Take the dough and roll it out with a rolling pin to 1/4 to 1/2 inch thickness. 6. Brush the surface with melted butter and sprinkle with cinnamon and  brown sugar. 7. Roll up the dough like a jelly roll and cut into 1″ slices with a serrated knife.

8. Put them on a prepared baking sheet(s)* and allow them to rise until they are  double in bulk (For a faster rise, place in oven set at 150 degrees for 15 minutes, then bake). 

9. Bake at 350 degrees for 20 minutes or until lightly brown.

10. Mix powdered sugar, almond extract and milk till smooth. Set a small amount aside for the tree trunk and add brown food coloring to it. For the remainder, add green.  Frost cinnamon rolls.  (Add more or less powdered sugar and /or milk depending on how thick/thin you want the consistency of the frosting.)
11. Add candy coated chocolate candies for the ornaments. Makes 20-24 cinnamon rolls.
ENJOY!
*This is the point in the process where you would place the rolls on the baking sheet(s) in the shape of a Christmas tree, or whatever you'd prefer.

Linked to:
I'm Lovin' it Party
Inspiration Friday
Kitchen Fun and Crafty Friday
Preschool Christmas/Winter Party 
Weekend Wrap Up Party